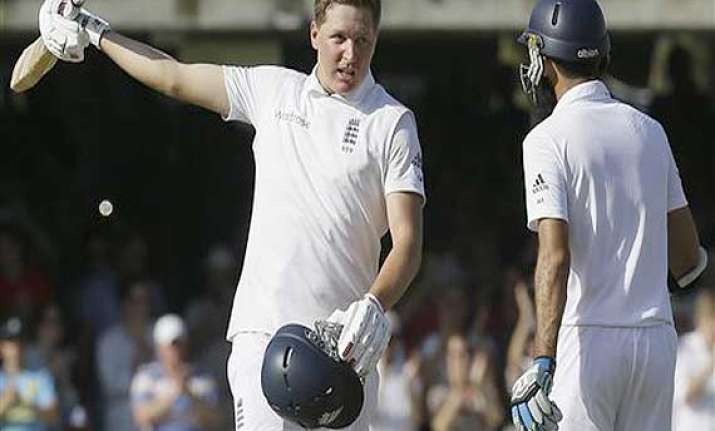 London:  England's century-maker on day two of the second Test versus India here, Gary Ballance today said that his side needs to make use of the remaining wickets tomorrow and try to take a lead in the first innings.
Ballance scored 110 runs and added to his century tally at Lord's, where he got his maiden Test hundred earlier in the summer against Sri Lanka. This was his second century in four Tests and helped England finish the day at 219/6, 76 runs behind India's total.     
"It is a nice place to play cricket, and I just love batting here. I thought that I will have to scrap hard on this wicket. It will not be pretty or exciting to watch, but at the end of the day, it's about doing a job. I tried to be patient," Ballance said after his hundred.     
"I knew I was going to play and miss, so tried to leave as much as I could and just waited for anything with a bit of width or anything too straight. Luckily, I fought hard - got an edge through the slips early on  and being patient paid off," he added.     
The edge he mentioned was induced by Stuart Binny in the 40th over of the innings and skipper-keeper M S Dhoni let it go as Shikhar Dhawan watched frozen at first slip. Ballance was on 32 at that time and made this chance count.     
"Just to score a hundred at Lord's is amazing really. It's been an interesting week. I didn't really expect it, but it's nice to score some runs and put us back in a decent position," he said, referring to the night-club incident after the drawn Test in Nottingham.     
The batsman had been photographed dancing with his shirt off and although he didn't break any curfew rules after the Test was over, he was slapped on the wrists by the ECB for indecent public behaviour.     
"I didn't see it coming, and it was a bit embarrassing. I was probably a bit naive, but I didn't really break any rules. I was just having fun after a Test match. But I'll learn from that, and probably won't do it again," said Ballance admitting regret.