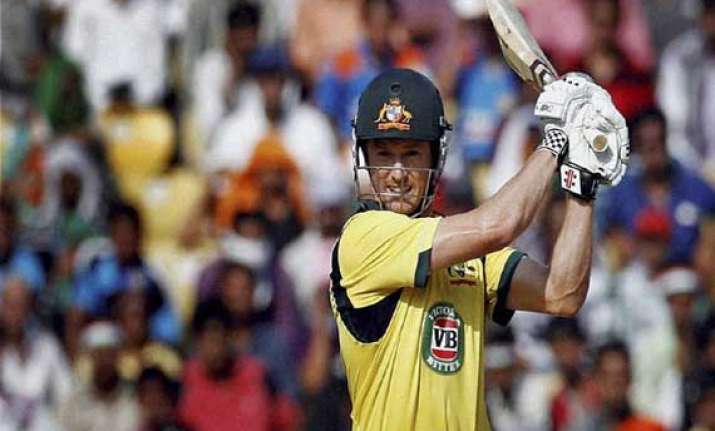 Nagpur: Despite Australian bowlers hammered all over the park by Indian batsmen, the visiting skipper George Bailey said he is proud of his bowlers the way they bowled and was not disappointed by their performance.
India chased down 351 Wednesday night with Kohli's (115) and
Shikhar Dhawan
(100) hitting tons that eclipsed  the commendable batting by Shane Watson (102) and Bailey (156).     
The result has left seven-match series tied at 2-2 with the final one-dayer to be played in Bangalore on November 2.     
"I think we bowled better than there. I thought we had much better plans here. I could really see what the bowlers were trying to do. We stuck at it really well. I'm certainly not disappointed with the bowlers tonight," Bailey told
reporters last night.     
"I thought we tried really hard. And how close? It's getting down to three balls at the end there. You're talking minuscule differences in the game," he said.     
Kohli carted the Australian bowlers around in a whirlwind knock which included 18 fours and a six. Bailey said his bowlers need to figure out a way to get Kohli out.     
"I'd like to find a way to get
Virat Kohli
out. That's probably my first thought. I don't think we should read too much into 360 and 350. It's quite clear that given the two new balls and the four (fielders) out, that maybe the new 300-290.
We're disappointed not to win. But we're not making too much of the score," he said.     
"I thought we fought are way back into the game really well. I thought Mitch and Jimmy found a way to get us back into the game. We've just got to try and find a way to sneak a couple of early wickets. That's probably been the difference.     
"To our bowlers' credit I think we tried to make Virat hit really good shots. Particularly towards the end we made him hit good balls for four and six. I was really proud of the way our bowlers finished," added the Tasmanian.