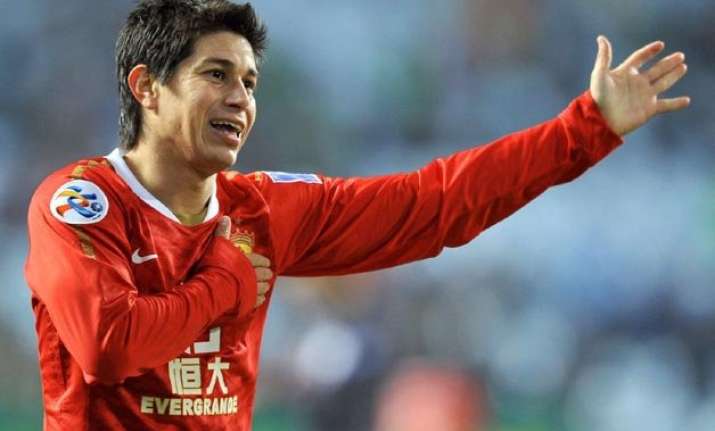 Rio de Janeiro: The best soccer players from Brazil have come to define the emergence of the football Super League in China.  A series of transfers from Brazil's top clubs to the Chinese Super League signal a trend that potentially mark a shift from football's current fixation with Europe.
According to Chinese news agency Xinhua, Argentina's Dario Conca's transfer to Guangzhou Evergrande for an annual salary of $12 million has made him football's third highest paid player after Cristiano Ronaldo and Lionel Messi, reports Xinhua.
And he is not the only one. In fact, big bucks being offered by the Chinese clubs have ensured a steady flow of Brazilians following Conca's footsteps. According to reports, the number is only multiplying in recent months.
Among current and former Brazil internationals lured by Chinese clubs in the past year are Diego Tardelli (Shandong Luneng), Robinho (Guangzhou Evergrande), Paulinho (Guangzhou Evergrande), Ricardo Goulart (Guangzhou Evergrande), Jadson (Tianjin Songjiang), Luis Fabiano (Tianjin Songjiang) and Renato Augusto (Beijing Guoan).
"It changes your financial life," Diego Tardelli told Globoesporte. "It's great to play in Brazil with the fans and the constant pressure to perform. But the salaries in China are higher and they are paid on time. I'm 30 years old and I have to think about my future."
Corinthians are the Brazilian outfit that have suffered most from China's thirst for world-class players. The 2015 Brazilian Serie A champions have already lost Jadson and Renato Augusto in the past month with Alexandre Pato, Ralf, Elias and Cassio also considering offers from Super League sides.
"We have been surprised by their departures," Corinthians president Roberto de Andrade said, adding, "Chinese clubs work differently.
They offer huge salaries and there is no way to prevent players from leaving. We could lose five, six or seven of them."
Interestingly, it is not just the players from Brazil who have been wooed to China. Former national team coaches Luiz Felipe Scolari and Mano Menezes are also now plying their trade in the Asian nation.
Menezes was appointed manager of Shandong Luneng in December, just weeks after 2002 World Cup-winning coach Scolari guided Guangzhou Evergrande to their fifth straight Super League title.
The Chinese Super League's burgeoning status as one of the world's top domestic competitions has been driven by reforms introduced by President Xi Jinping last year. They include a separation of the Chinese Football Association from the government in a move that gives the body financial and administrative autonomy. The financial position of clubs has also been bolstered by tax breaks offered to private investors.
Ma Yun, the owner of Chinese e-commerce giant Alibaba, last month paid 192 million US dollars for a 50% stake in Guangzhou Evergrande.
The reforms, which are part of a wider plan to bring international success to Chinese clubs as well as the men's and women's national teams, are already bearing fruit. Guangzhou Evergrande have won two of the past three AFC Champions League titles and finished fourth in the 2013 and 2015 editions of the FIFA Club World Cup. Progress has also been promising for China's men's team, which made the quarterfinals of last year's Asian Cup before being eliminated by eventual winners Australia.
(With IANS)