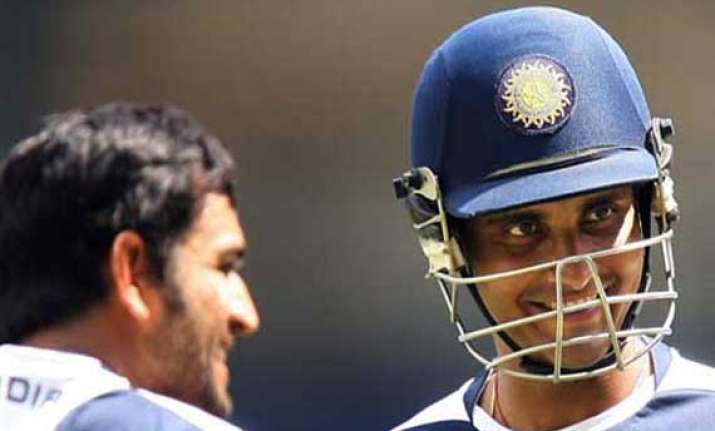 New Delhi: Mahendra Singh Dhoni's Test captaincy has come under severe criticism from former skipper Sourav Ganguly who described his leadership as "obnoxious" following India's humiliating series defeat against New Zealand.
Ganguly, one of India's most successful captains, said had the 50-over World Cup not been just one year away, he would have called for Dhoni's removal from captaincy.     
"His (Dhoni's) Test captaincy has been obnoxious. But changing captains now will unsettle the team. His place is not in doubt in Test cricket, but Dhoni needs to set the overseas record right," Ganguly said.     
"If the World Cup was not less than a year away, I would have agreed that Dhoni needed to be removed as captain," Ganguly told 'Headlines Today'.     
India suffered their fourth successive Test series defeat abroad after their 0-1 loss to New Zealand in the two-match rubber which concluded yesterday. India have now lost 10 of their last 12 Tests abroad -- the other two were drawn – a record that included two successive 0-4 whitewashes in England and Australia.     
Dhoni's reputation as India captain has been severely dented and his defensive tactics at crucial junctures first in South Africa and then in New Zealand have drawn flak from experts though he continued to harp on the "positives".     
Overseas, Dhoni has captained India in 23 Tests, of which they have won five, lost 11 and drawn seven. At home, his record is much better - 21 wins, three defeats and six draws.     
Another former captain Rahul Dravid agreed with the perception that Dhoni was a defensive captain, saying he needed to take risks if he wanted to win Test matches abroad.     
"I think he (Dhoni) has got to realise this very quickly, that if he wants to win Test matches abroad, he's got to risk it all. He's got to take that chance that he's going to have to lose some Test matches. The only way you can win abroad is to take a few risks, take a few gambles," Dravid was quoted as saying by Cricinfo.
"I think he (Dhoni) doesn't trust his bowling attack as much as I think he should. I saw that even in the Durban Test where he didn't take the new ball till 146 overs. In fact he was forced to take the new ball. He didn't trust his fast bowlers to be able to take wickets," said Dravid.     
"He kept playing with the older ball because he wanted to control the runs. So I think that is a slightly defensive mindset that he's got into."     
But Dravid added that Dhoni's leadership in Tests must be assessed after the Test tours of England and Australia that preceded the World Cup Down Under in February-March next year.     
"I've always seen this year of Indian cricket as these four big overseas tours, which is South Africa, New Zealand, England and Australia, with the World Cup next year in Australia. Let's presume that Dhoni is going to be India's one-day captain and take India into that World Cup. I think he's earned the right to do that.     
"In Test matches, I always saw these four Test (tours) as Dhoni's opportunity to redeem what has been a pretty poor overseas record for him as captain. He's achieved everything else. He's won one-day tournaments, he's won a World Cup, Champions Trophy, he's taken India to No. 1, he has a great record in India, (he) just hasn't had the results outside of India.     
"And I think he deserves the right, the chance to play out this year, and assess it at the end of the Australian series. End of that series, we'll really know where Indian cricket stands and where Dhoni stands, both as a player and as a captain," he added.