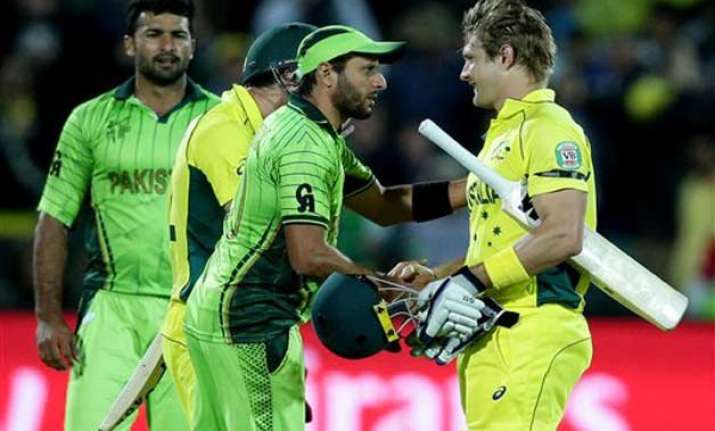 Islamabad: Pakistan fans smashed their televisions in anger in Multan after the national team was ousted from the Cricket World Cup quarterfinals by Australia on Friday.
Local TV channels showed a handful of people taking their TVs outside and breaking them on the streets after the six-wicket loss in Adelaide, Australia.
Pakistan won the toss and batted poorly in being dismissed for 213. Australia, thanks to two dropped catches by Pakistan, overhauled that total with more than 16 overs to spare.
"It was a good batting wicket, and Pakistan should have scored 270, but our immature batting lineup doesn't have the capacity to even bat out a full 50 overs," former fast bowler Shoaib Akhtar told Geo TV.
Akhtar rued the absence of fast bowler Mohammad Irfan, who was sidelined by a hip injury.
"In the absence of an unfit Irfan, Pakistan was left with just one strike bowler in Wahab Riaz," he said.
Murtaza Badar, a 24-year-old businessman from Rawalpindi, expected Pakistan to do much better.
"I switched off my TV and got back to work once Pakistan gave the target of only 214 runs," Badar told The Associated Press. "How long are we going to see old faces in the team, who are simply doing nothing?"
Two of those old faces, captain Misbah-ul-Haq and former skipper Shahid Afridi, retired from one-day internationals after the loss.
Misbah, who made his ODI debut in 2002, took over the captaincy after the last World Cup, where Afridi led the team to the semifinals. Misbah was the leading Pakistan run-scorer at the World Cup with 350, seventh best of all-comers.
Afridi played his first ODI in 1996 at 16, and will carry on as the Twenty20 captain. Just as Misbah will continue as the test captain.
But their ODI achievements will be acknowledged by the Pakistan Cricket Board when they return home.
"I take this opportunity to convey my personal appreciation for their immense contribution to Pakistan cricket. We shall honor them on their return to Pakistan," Pakistan Cricket Board chairman Shaharyar Khan said in a statement.