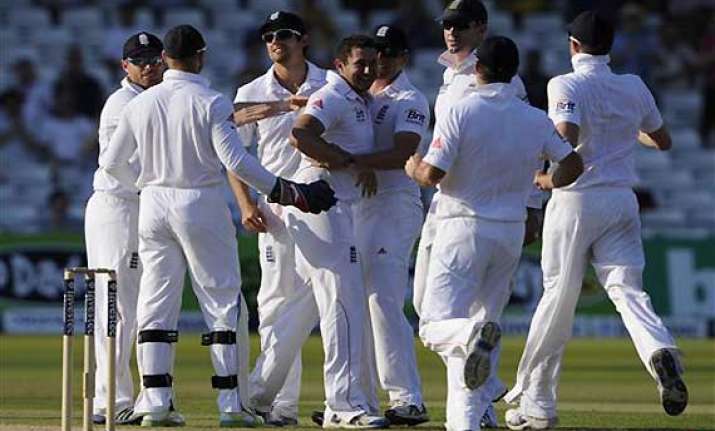 London, June 1: England will be toured by New Zealand next year before the Champions Trophy, then Australia afterwards.
England's defense of the Ashes will start at Trent Bridge in July 2013 and move on to Lord's, Old Trafford, The Oval, and, for the first time, Riverside Ground, the home of Durham.
New Zealand arrive first in England in May for tests at Lord's and Headingly, followed by three one-day internationals.
The teams will add two Twenty20s after the Champions Trophy, which starts in England for the first time since 2004 on June 6.
The Champions Trophy semifinals are set for The Oval and Sophia Gardens in Cardiff, and the final will be on June 23 at Edgbaston.
   New Zealand Itinerary
   May 4-6: vs. Derbyshire, Derby
   May 9-12: vs. England Lions, Leicester
   May 16-20: 1st test, Lord's
   May 24-28: 2nd test, Headingley
   May 31: 1st ODI, Lord's
   June 2: 2nd ODI, Rose Bowl
   June 5: 3rd ODI, Trent Bridge
   June 22: T20 vs. Kent, Canterbury(asterisk)
   June 25: 1st T20, The Oval
   June 27: 2nd T20, The Oval
   (asterisk)T20 match at Canterbury cancelled if NZ in Champions Trophy final.
   Australia Itinerary
   June 26-29: vs. Somerset, Taunton
   July 2-5: vs. Worcestershire, New Road
   July 10-14: 1st test, Trent Bridge
   July 18-22: 2nd test, Lord's
   July 26-28: vs Sussex, Hove
   Aug. 1-5: 3rd test, Old Trafford
   Aug. 9-13: 4th test, Riverside Ground
   Aug. 16-17: vs. Northamptonshire, Northampton
   Aug. 21-25: 5th test, The Oval
   Aug. 29: 1st T20, Rose Bowl
   Aug. 31: 2nd T20, Riverside Ground
   Sept. 3: ODI vs. Scotland, Grange
   Sept. 6: 1st ODI, Headingley
   Sept. 8: 2nd ODI, Old Trafford
   Sept. 11: 3rd ODI, Edgbaston
   Sept. 14: 4th ODI, Sophia Gardens
   Sept 16: 5th ODI, Rose Bowl