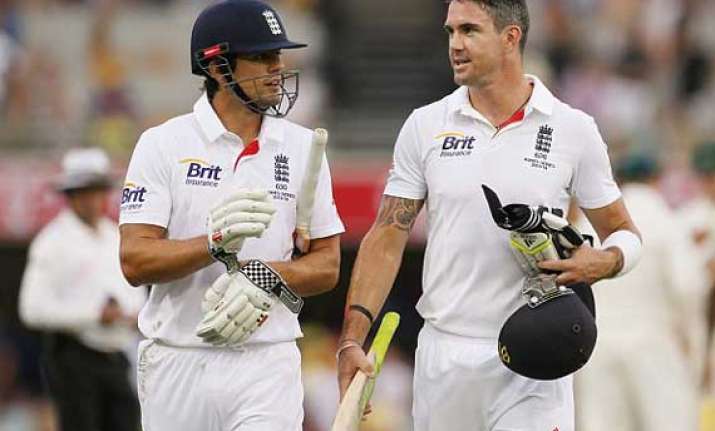 London: Trust deficit between captain Alastair Cook and Kevin Pietersen was the main reason for Pietersen  being shown the door.
According to England cricket board,  Pietersen  was rown out of the England team because he could not be trusted by his team-mates and bosses.
The board's statement also confirmed that captain Alastair Cook felt unable to rebuild the team after the Ashes whitewash with someone he believes is divisive in the dressing room.
The release, co-sanctioned by the players' union , the Professional Cricketers' Association, was a belated attempt to put across the ECB's view after they suffered Ashes-style thumpings in last week's public relations war.
Its most telling passage refers to the rebuilding process, saying: 'To do that we must invest in our captain Alastair Cook and we must support him in creating a culture in which we can be confident he will have the full support of all players, with everyone pulling in the same direction and able to trust each other. It is for those reasons that we have decided to move on without Kevin Pietersen.'
Two of the eight paragraphs imply the ECB is responding to the outpourings of Piers Morgan, Pietersen's friend, who has led the charge on social media, including leaking comments made by wicketkeeper Matt Prior in a team meeting at Melbourne. The statement suggests Pietersen was the source.
'Allegations have been made, some from people outside cricket, which as well as attacking the rationale of the ECB's  decision-making have questioned, without justification, the integrity of the England team director (Andy Flower) and some of England's players.
While going further than national selector James Whitaker's tortured TV interview last week, it is hardly the full explanation England fans want in relation to such a drastic action involving a star player.
It may not assuage public anger, reflected yesterday in a poll run during a Sky debate on the subject, which showed 88 per cent of viewers siding with Pietersen. Many will also question whether Cook, whose captaincy was so hapless over the winter, has earned the right to any 'investment' in his leadership.
Morgan hit back on Twitter last night. 'Is this @ECB-cricket statement the most absurd ever made by an English sporting body? Serious question,' he said.
'Just spoke to @KP24 — nobody has EVER raised the issue of 'trust' with him between rehabilitation & sacking. Not ECB, Cook, anyone.'