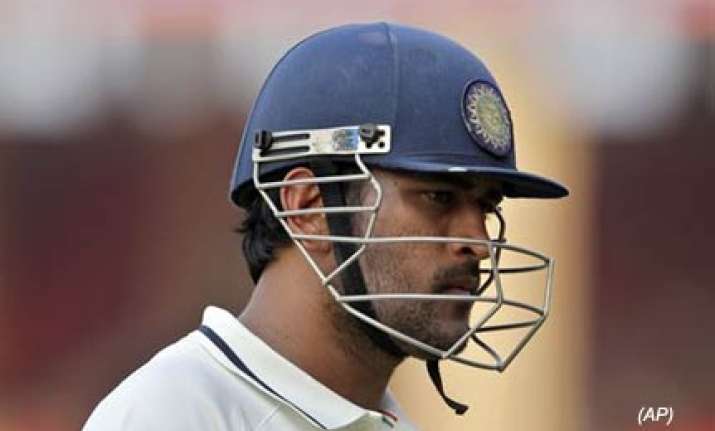 Hyderabad, Nov 16: Mahendra Singh Dhoni came down heavily on the kind of wickets prepared for the series against New Zealand, after the second Test at the Rajiv Gandhi International Stadium ended in a draw here today.
"If these are the kind of wickets we play on, then, maybe, we will need 10 days to force a result," Dhoni said when asked what India should do to force a result.
"There was not much for the bowlers. That is why, I think, they did what they could to the best of their abilities," the India skipper added.
On a track that never behaved like a fifth-day wicket, it was always going to be difficult for the Indian bowlers to dismiss the six New Zealand batsmen in quick time, but what made their task a Herculean one was Zaheer Khan's absence from the field.
The seamer bowled just three overs before going off the field due to injury.
"Whatever may be the track, Zaheer has always given us wickets. Without him it was a little tough. And the wicket made it tougher," Dhoni said.
Asked about the seriousness of Zaheer's injury Dhoni said, "It is a groin problem as far as I know. Now, how serious it is… it is more of a preventive measure. We didn't want to strain or push him as that might aggravate the injury and we might lose him for a longer period."
Questioned on the option of playing with five bowlers taking into account Harbhajan Singh's ability to use the willow to good effect, Dhoni said, "Playing with five bowlers is a tough call.
"We are always happy playing four bowlers. Also, putting extra responsibility on Bhajji to score runs won't be fair as it would increase the pressure on him. But it is an option which we can consider according to the situation."
On the match as a whole the India skipper said, "Both teams played well and the wicket supported the batsmen. We thought that the first hour(on the fifth day) would be crucial. Zaheer bowled a couple of overs before the new ball was taken."
Indian captains have, in the past, got pitches, mostly turners, that suited their teams but Dhoni, in that sense, has been an exception.
Citing the pitch here, Dhoni said, "It's a tough one. Hyderabad wicket was always known to be a batsmen-friendly one (it has produced many high-scoring ODIs and T20 matches in the past). It's tough to change the nature of wicket overnight." PTI