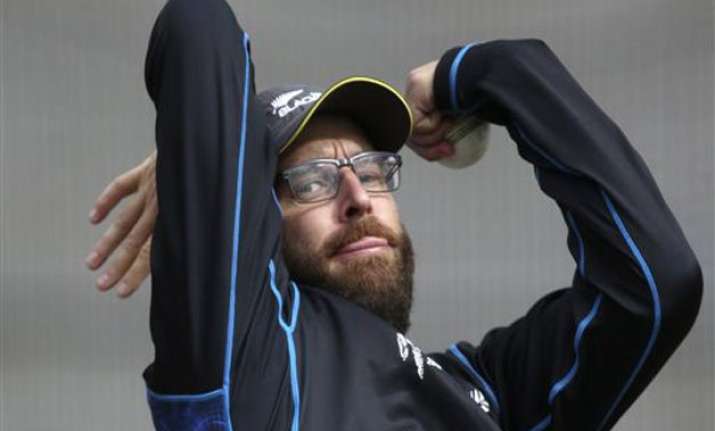 New Delhi: A day after ending up as runners-up in the ICC World Cup 2015, New Zealand veteran Daniel Vettori has officially announced his retirement from international cricket.
According to the New Zealand Herald, Vettori arrived at Auckland airport  with the Black Caps to a crowd of around 500 cheering supporters and told the reporters that the final of the Cricket World Cup was his last game representing New Zealand.
The news was confirmed by New Zealand's and ICC's official account on Twitter.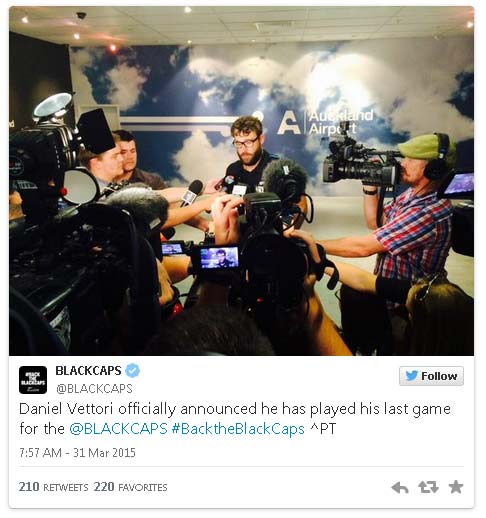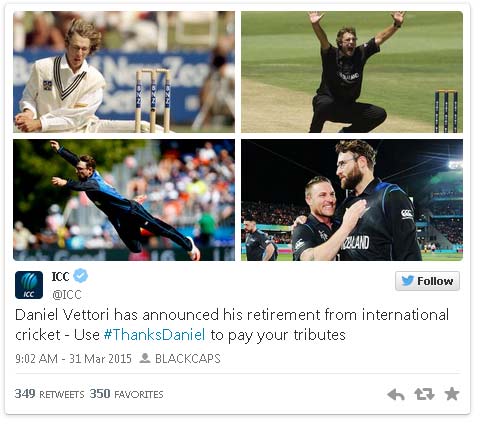 New Zealand was probably the most consistent team in the tournament winning all 8 games ahead of the final. Even though New Zealand lost to Aussies in the final but that didn't stop the Kiwi supporters from turning out in big numbers to welcome their World Cup heroes.
With a seven-wicket loss to Australia in the World Cup final, New Zealand allrounder Daniel Vettori called quits to an international career which occupied half of his lifetime.
In ending after 18 years a career that began when he was 18, Vettori gave symmetry to a body of work which contained 113 tests and 295 one-day internationals — both New Zealand records.
In his final match he scored nine runs and took 0-25 from five overs on Sunday which did little to nourish his record of 2,244 runs and 305 wickets in ODIs. But his 13 wickets and his remarkable economy rate throughout the tournament was instrumental in New Zealand qualifying for the World Cup final for the first time.
Also read: ADIEU:  7 cricketers who played their last ODIs in World Cup 2015
In 2011, Vettori stepped down as captain following the World Cup in India and left Test cricket altogether in July the following year in the Caribbean, but returned two years later at the request of captain McCullum for a one-off match against Pakistan in the UAE last November.
He currently coaches the Royal Challengers Bangalore in the Indian Premier League and has been linked with taking over the Brisbane Heat in Australia's Big Bash League.