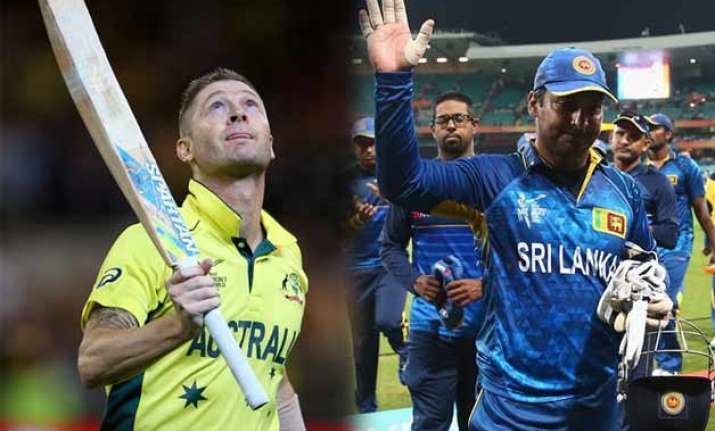 New Delhi: Apart from Australia having won their  5th World Cup title, there were many other highlights which made World Cup 2015 memorable.  
We saw moments of joy and also lost heart when tears welled up. It might be just a game for some but it was no less than an emotional saga for those who breathed along. Especially, for some who bid adieu to a game which is eulogized  globally.
Yes, while the tournament was a launch pad for many youngsters who played the game for the first time, it was also the final destination for many cricket legends.
From Sri Lanka's Kumar Sangakkara to Zimbabwe's Brendan Taylor, seven cricketing greats had their last outing with their teammates in ODI cricket.
For some it turned out to be a dream farewell while for others it ended in disappointment.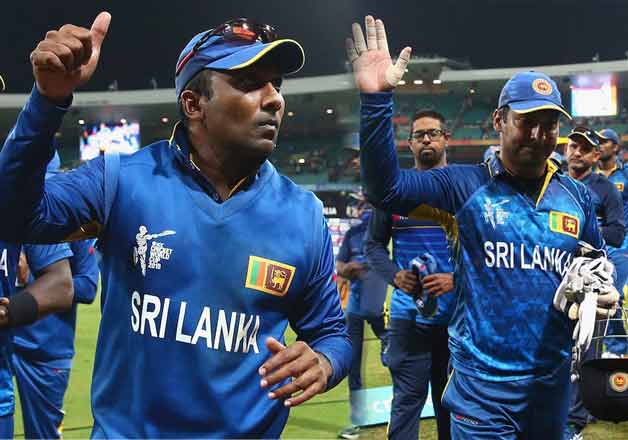 Kumar Sangakkara and Mahela Jayawardene (Sri Lanka)
Sri Lankan veterans Kumar Sangakkara and Mahela Jayawardene, bowed out of ODI cricket after their team's World Cup quarterfinal loss to South Africa.
The duo announced that the World Cup would be their final ODI assignment but much to the dismay of the Lankan fans, it ended on a disappointing note with Sri Lanka having lost by nine wickets to the Proteas.
For most of this century, the partnership of Kumar Sangakkara and Mahela Jayawardene has been the foundation upon which the Sri Lankan team has been built.
They have batted 293 times together in international cricket for a total of 13,368 runs, with 36 century stands and 62 of fifty or more.
Sangakkara played 404 ODIs and scored 14,234 runs at an average of 41.98. He created a world record of four consecutive centuries in World Cup history and has been retiring in the form of his life. With 541 runs in 7 matches of this edition of the World Cup, he is the second highest run-scorer of the tournament so far.
Jayawardene, on the other hand, played 448 ODIs and scored 12,650 runs at an average of 33.37.
Apart from Sangakkara and Jayawardene, Dilshan also played his last World Cup and it is sure that without this batting trio, Sri Lankan cricket team will never be the same.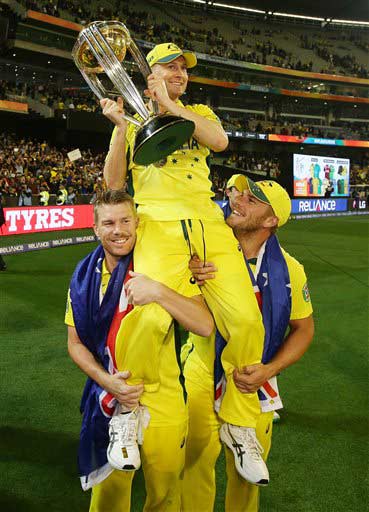 Michael Clarke (Australia)
A responsible match-winning knock of 74 runs off 72 balls in the World Cup final on Sunday, guiding his team to a record-stretching fifth title triumph in cricket's showpiece event, marked Australian skipper Michael Clarke's farewell from One-Day Internationals.
Clarke, on Saturday, announced that he has decided to bow out of ODIs after Sunday's final at the Melbourne Cricket Ground (MCG), which was his 245th match.
What could be a better moment to cherish than lifting the World Cup trophy as a captain before ones retirement?
Identified as the man to replace Ricky Ponting as skipper, he grabbed the opportunity like a fish to water after being appointed the team's skipper in both Tests and ODIs, despite not being a unanimously accepted appointment.
He scored eight Test centuries, including three double-hundreds and a triple-hundred, and two "Allan Border" medals, the most prestigious individual prize in Australian cricket.
In total he was awarded the medal (2005, 2009, 2012 and 2013) and the "Australian Test Player of the Year" (2009, 2012, 2013, 2014) four times each.
His stupendous batting form coincided with Australia's rise in Tests and the summer of 2013-14 saw him lead his side back to the summit of Test rankings.
Clarke became the second captain -- after Pakistani Imran Khan in 1992 -- to bid goodbye to the 50-over format after pocketing the biggest prize in cricket, that too at home.