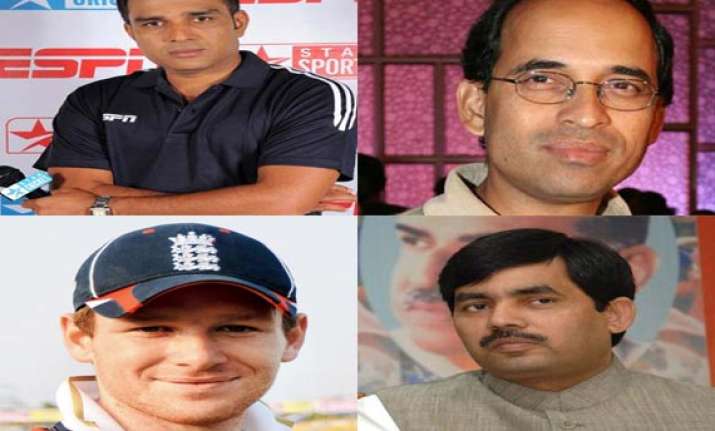 New Delhi/Mumbai: Cricketers, commentators, politicians, celebrities across India and the cricket-playing world today took to Twitter after Sachin Tendulkar announced his intention to retire after his 200th Test.
Sanjay Manjrekar: "Privileged to have seen a child prodigy go on to become a true legend of the game from very close quarters. All the best Sachin."
Harsha Bhogle: " grown up, responsible people getting all mushy."
Parthiv Patel: "  Words can not define his greatness..greatest batsman ever and even better humanbeing.u will be missed paji"
Lalit Modi: " What Sachin has done for india, cricket and sports in my view no one has done for any other sport. He will live fondly in our hearts forever" "
"On the other hand happy 4 him that he wants to move on. He will always be an icon that we will enjoy and hearts throb when ever we sight him"
"Recieved the news on Sachin's retirement with mixed feelings. A truly remarkable man -none like him exists,he is not only revered, worshiped But he is someone I and billions look upto. Feel sad he will not be lighting up the field In the style we are so accustomed to"
BJP leader Shahnawaz Hussain: "An amazing career comes to an end. One of the youngest to enter team & oldest to retire. Will miss his explosive batting."
Eoin Morgan: "Sad to hear the greatest ever batsman is calling it a day. One man who inspired a nation"
Kevin Pietersen: Sachin #10dulkar - Undisputed Champion of Cricket! #SachinTheGreat
Tom Moody: Time waits for know one as Tendulkar prepares to say goodbye, been a privilege to play and coach against the little master one of the greats!
Damien Fleming: Sachin Tendukar to retire after his 200th test match with West Indies in Mumbai. Best batsman I bowled to at his peak, no weakness.
Michael Vaughan: A great player but struggled against part time Off spin Sachin. #BornToPlayCricket
Shishir Hattangadi: And Sachin you were never discussed in a selection committee since 15. So why give them the option after 23 years.
Lisa Sthalekar: The great man Sachin to finally hang up his boots. Will be a sad day to watch his final test in Mumbai. I'll be glued to the TV!
Vivek Agnihotri: WARNING: Any film that's releasing on #Sachin's 200th test should release it at their own risk. #PhirNaKehna
Gaurav Kapur: Sachin. Legend. Salute.
Milap Zaveri: The GOD of Cricket will retire after his 200th test! We will miss you Sachin. End of the greatest era ever!
Poonam Pandey: Sachin was batting for India even before I was born. Salute to a great legend.
Dean Jones: I wonder what #SachinTendulkar will do now? #media #coaching #politics. I reckon he will be great at anything he does