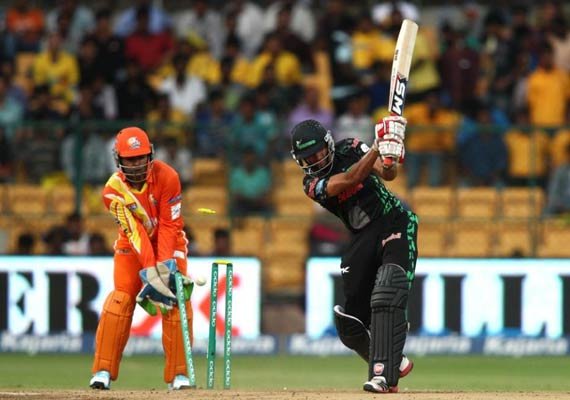 Bangalore: Scoreboard after Lahore Lions defeated Dolphins by 16 runs in the 14th match of 2014 CLT20 played at M.Chinnaswamy Stadium, Bengaluru on Saturday.
Chasing 165 for victory, a winless Dolphins, who are now out of the tournament, managed 148 for nine in their stipulated overs as Robbie Frylinck's unbeaten 63 run effort went in vain.
Frynlick's blitz took the Dolphins from 93 for 9 to bat out their full quota of overs. Hafeez (2-18) as the off-spinner though, did his bit with the new ball and ended with figures of 2-18.
Left-arm orthodox Mustafa Iqbal (2-21) and leg-spinner Nasim (2-19) also picked up two wickets each as off-spinner Adnan Rasool (1-13) and left-arm pacer Wahab Riaz (1-31) bagged a wicket apiece.
Lahore Lions innings
| | | |
| --- | --- | --- |
|  Ahmed Shehzad |  c Maharaj b Frylinck |  6 |
|  Nasir Jamshed |  c Maharaj b Frylinck |  10 |
|  Mohammad Hafeez |  b Delport |  8 |
|  Agha Salman |  b Abbott |  1 |
|  Saad Nasim |  lbw b Frylinck |  43 |
|  Umar Akmal |  not out |  73* |
|  Asif Raza |  not out |  19* |
|  Extras |  (w 4) |  4 |
|  Overs                                 |  innings break |  20                 |
|  Total                            |  for 5 wickets |  164        |
|  Fall of wickets |  1-12 (Shehzad, 2.5 ov), 2-22 (Jamshed, 4.4 ov), 3-23 (Salman, 5.1 ov), 4-34 (Hafeez, 7.2 ov) , 5-126 (Nasim, 16.1 ov) |   |
Did not bat: Wahab Riaz, Mustafa Iqbal, Adnan Rasool, Aizaz Cheema
Bowling
| | | | | |
| --- | --- | --- | --- | --- |
|  Bowler |  Overs |  Maidens |  Runs |  Wickets |
|  Prenelan Subrayen |  4 |  0 |  39 |  0 |
|  Kyle Abbott |  4 |  0 |  34 |  1 |
|  Robbie Frylinck |  4 |  0 |  22 |  3 |
|  Keshav Maharaj |  4 |  0 |  40 |  0 |
|  Cameron Delport |  2 |  0 |  10 |  1 |
|  Andile Phehlukwayo |  2 |  0 |  19 |  0 |
Dolhpins innings
| | | |
| --- | --- | --- |
|  Morne van Wyk |  c Iqbal b Nasim |  36 |
|  Cameron Delport |  b Hafeez |  0 |
|  Cody Chetty |  c Raza b Iqbal |  2                |
|  Keshav Maharaj |  b Iqbal |  0     |
|  Jonathan Vandiar |  c Iqbal b Rasool |  29 |
|  Khaya Zondo |  c Riaz b Nasim |  8 |
|  Vaughn van Jaarsveld |  c Shehzad b Hafeez |  3 |
|  Robbie Frylinck |  not out |  63* |
|  Andile Phehlukwayo |  b Riaz |  1 |
|  Kyle Abbott |  run out (Shehzad) |  2 |
|  Prenelan Subrayen |  not out |  1* |
|  Extras |  (lb 1, b 1, w 1) |  3 |
|  Overs                                     |  match over |  20 |
|  Total                                    |  for 9 wickets |  148 |
|  Fall of wickets |  1-5 (Delport, 0.5 ov), 2-25 (Chetty, 2.6 ov), 3-31 (Maharaj, 4.3 ov), 4-56 (van Wyk, 8.4 ov), 5-74 (Vandiar, 11.5 ov), 6-77 (van Jaarsveld, 12.3 ov), 7-79 (Zondo, 13.1 ov), 8-89 (Phehlukwayo, 14.2 ov), 9-93 (Abbott, 15.4 ov) |   |
Bowling
| | | | | |
| --- | --- | --- | --- | --- |
|  Bowler |  Overs |  Maidens |  Runs |  Wickets |
|  Mohammad Hafeez |  4           |  0 |  18         |  2 |
|  Aizaz Cheema |  3 |  0 |  44 |  0 |
|  Mustafa Iqbal |  3 |  0 |  21 |  2 |
|  Saad Nasim |  3 |  0 |  19 |  2 |
|  Adnan Rasool |  3 |  0 |  13 |  1 |
|  Wahab Riaz |  4 |  0 |  31 |  1 |
Result: Lahore Lions won by 16 runs
Man of the Match: Umar Akmal
Toss: Lahore Lions chose to bat