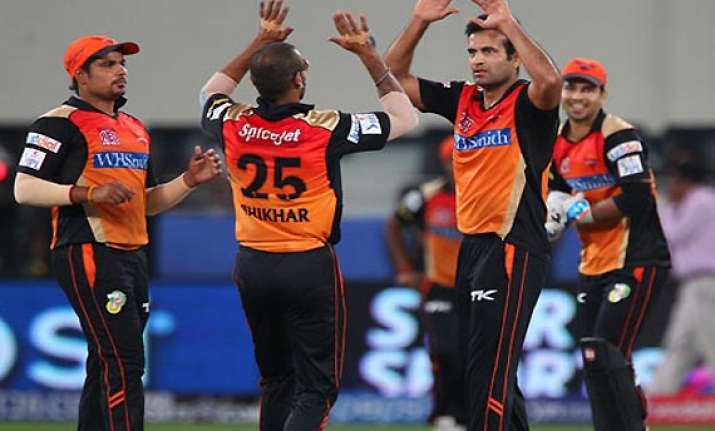 Dubai: Sunrisers Hyderabad seamer Irfan Pathan says words of advice from team mentor V.V.S. Laxman fired him up against defending champions Mumbai Indians in the Indian Premier League (IPL) here.
Irfan picked up two for 10 from his two overs here Wednesday at the Dubai International Cricket Stadium and also picked up the important wicket of Kieron Pollard (78) as Sunrisers Hyderabad won by 15 runs.
"I had a good chat with Laxman bhai before the game. He said, 'No matter what you do outside the park, you need that fire and aggression between the 22 yards; that's what counts'. That struck me. His words have always helped me out and they did today again," Irfan was quoted as saying by IPLT20.com.
"I am a bowler and I know what I am capable of doing. To be a bowler, you have to have that fire. If you don't have it, you might as well just go and bat. I understand that you must earn the trust of your captain and show that you are improving continuously," said Irfan, who had played only two of Sunrisers Hyderabad's five matches in this year's IPL.
Irfan said the performance against Mumbai Indians will stand in good stead.
"I didn't bowl much in the previous games and I thought I might not bowl even today. But then, Pollard got going and that gave me an opportunity to bowl. This performance is going to take me a long way in the tournament. Coming back from injury is never easy, but when you start giving performances like this, the process of regaining your rhythm gets faster," he said.
Irfan said skipper
Shikhar Dhawan
and Darren Sammy wanted to tell him things and help form plans, but he tried to keep his head clear.
"Then Steyn came to me and said, 'Whatever you do, just make sure you focus all your energy in that'. Also, after Steyn bowled the 18th over, Shikhar told me I will be bowling the final over. That gave me the time to get prepared mentally. I decided to go with a clear plan of bowling the best yorkers I could and leave the rest to the batsman. Fortunately, most of the balls pitched nearly there and thereabout," he said.
Irfan struck in the last over to get rid of Pollard to make the match safe for Sunrisers Hyderabad.
"They needed 20 runs from the last over, but guys like Pollard need just three balls to get 18 runs. Getting him out the first ball made the remaining five balls much easier. However, they could win it with a couple of sixes and fours and so I knew it wasn't finished. But yes, with Pollard's wicket, I thought the job was half done," he said.
Asked what he has picked up from Steyn, Irfan said: "The energy that he puts in everything he does is amazing. In the training and especially in the matches, the amount of effort that he puts, he gives it all. That's something to learn from him for any bowler, young or old."
Irfan also said that his batting was pretty good and the bowling will get only better as the tournament progresses.
"Honestly, my batting is pretty good right now and I am hitting the ball well in the nets. My bowling will keep getting better and better. Batting is easier when coming back from injury, but bowling is tough. So, in the next five-six matches, you'll see that my bowling rhythm will keep getting better," he said.