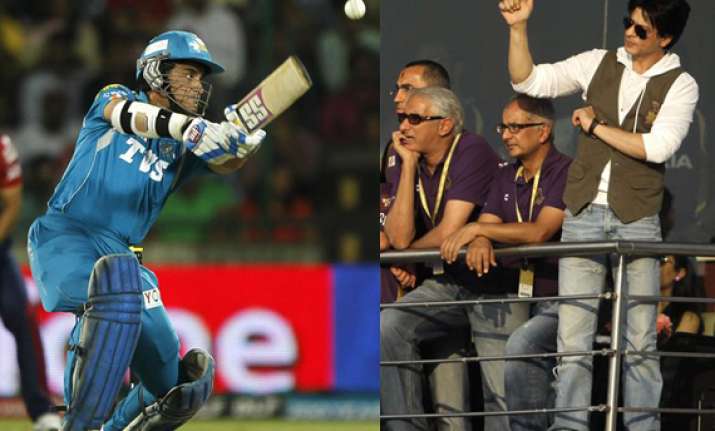 Kolkata, Apr 27: With Sourav Ganguly-led Pune Warriors poised to take on Kolkata Knight Riders on May 5, the new, upcoming tinsel celebrities are divided about their loyalties.
"I am loyal to Dada but KKR represents our city. Since it reflects our sentiments," upcoming star Mumtaj Sorcar, whose performance in recently released superhit Bhuter Bhabisyat was widely appreciated, told PTI on the sidelines of ACC Mirchi Para Cricket tournament here this evening. 
"I am very much into sports, I work out regularly and am an athlete. So I believe in sportsmanship. May the better team win on that day," Sorcar, daughter of famed magician P C Sorcar (junior) explained.
"I am not much into cricket, I am not a cricket enthusiast and I don't follow the game like others. But since cricket is a passion, a religion in these parts of the world, yes I will be updated on the scores and fortunes of the teams," Mumtaj, part of the star cast of the upcoming film Kayekti Meyer Galpo, reasoned.
Actor Ridhima, widely appreciated for her role in Dubai film festival feted Laptop, said "I am a huge fan of Sourav Ganguly and yes I want Dada's team to emerge as the winners." Asked if that would be tantamount to not supporting the cause of KKR, which represents the city, Ridhima said "no my support would be for other KKR matches. For the KKR-RCB match on April 28.
But when one of the opponent team involves Dada, whom we all look upto, it has to be.
"I will be rooting for the RCB," Ridhima, who had earlier turned up in Kaushik Ganguly's Rang Milanti, said affirming that yes it could be a case of split loyalties.  Another upcoming star Priyanka said on the sets of a Bengali film that her support would be with KKR though she would also be keenly watching Dada's performance as "he is the icon of sorts."
Former Indian cricket selector and Bengal's Ranji Trophy winning skipper Sambaran Banerjee, who was also present at the youth-centric event, "it could be anybody's game since it is T20 and you cannot guess."