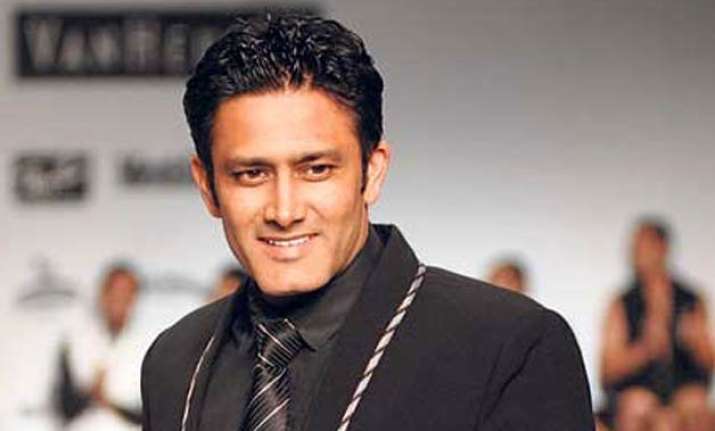 New Delhi: Anil Radhakrishna Kumble also known as 'Jumbo' was born on 17 October, 1970 in Bangalore.
Kumble made his ODI debut against Sri Lanka in 1990. He was handed India's Test captaincy in 2007.
Kumble has featured in 132 Test matches and has picked up 619 wickets at an average of 29.65 with an economy rate of 2.69 and a strike rate of 65.90.
As the legendary spinner celebrates his 45th birthday today, we take a look at his career and bring you some amazing facts:-
1. Anil Kumble is the second bowler to hold the record of dismissing all 10 batsmen in an innings after Jim Laker. This feat was achieved in 1999 while playing against Pakistan in Delhi.
 
2. The achievement of taking 10 wickets in an innings was commemorated by naming a traffic circle in Bangalore after him.
 
3. He was named Jumbo by his teammates not just because he was a tough bowler to face but also because his feet are quite big.
4. Kumble held the record of taking his first 50 wickets in only 10 matches, which was later broken by Ravichandran Ashwin who performed the feat in 9 matches.
 
5. Jumbo took his first 10-wicket-haul in a match against Sri Lanka in 1994. He is the only player to have taken all 10 wickets in an innings and also scored a century in Tests.
 
6. He was the leading wicket taker in the 1996 World Cup with a haul of 15 wickets at an average of 18.73.
 
7. Kumble as a batsman proved that he was a match winner for India by adding 52 runs for the ninth wicket and helping the team chase the target of 216 runs in the 'Titan Cup' against Australia, along with Javagal Srinath in October 1996.
 
8. The 45-year-old is the 3rd highest wicket taker in the history of Test cricket after Shane Watson and Muttiah Muralitharan. He is the 2nd Indian bowler to capture 400 Test wickets after Kapil Dev.
9. Jumbo scored his maiden Test century with an innings of 110 against England in 2007. He took 118 Tests to achieve the feat which is a record.
10. Kumble became the first Indian bowler and the third in the world to reach the mark of 600 Test wickets. He also holds the record of taking most number of ODI wickets at a particular venue by an Indian with 56 wickets at Sharjah Cricket Stadium.