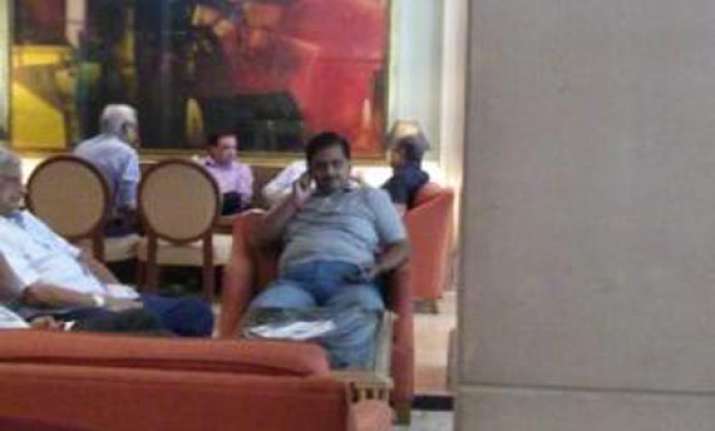 Chennai, Jun 2 : A major farce was enacted at the emergent meeting of the BCCI working committee here today, when the Board president N. Srinivasan, whose son-in-law  is in custody for IPL betting, announced that he will not resign, but step aside till the probe into the betting controversy was over.
Till that time, Cricket Assocition of Bengal chief Jagmohan Dalmiya will take care of day-to-day affairs of BCCI. He will take over as the interim chief, a provision that does not exist with the BCCI.
BCCI Secretary Sanjay Jagdale and Treasurer Ajay Shirke have  been asked to withdraw their resignation, but Jagdale has ruled out withdrawing his resignation.
Below is the press release issued  by BCCI.
"Mr. N. Srinivasan announced that he will not discharge his duties as the President of the Board till such time that the probe is completed. Till such time, Mr. Jagmohan Dalmiya will conduct the day to day affairs of the Board.
"The Committee expressed full confidence in Mr. Sanjay Jagdale and Mr. Ajay Shirke and requested them to withdraw their resignations in the larger interest of the Board.
Anurag Thakur
Hony. Jt. Secretary
BCCI"
Dalmiya, a former BCCI and International Cricket Council (ICC) chief, is currently the president of the Cricket Association of Bengal (CAB).
BCCI also requested Sanjay Jagdale and Ajay Shirke, who Friday resigned as the secretary and treasurer on moral grounds, to reconsider their stand.
"The (working) committee expressed full confidence in Jagdale and Shirke and requested them to withdraw their resignations in the larger interest of the board," added the statement.
The BCCI constitution, however, does not permit an "interim president".
Sunday's meeting followed mounting pressure on Srinivasan to vacate his post in view of his son-in-law alleged wrongdoings as chief executive of Chennai Super Kings, owned by Srinvasan's India Cements company.
This is what happened at today's BCCI working committee meeting:
As the meeting began, Srinivasan spoke about pending issues of  ICC and then spoke about the spot-fixing and betting probes. He himself proposed that Secretary Sanjay Jagdale's and Treasurer Ajay Shirke's resignations should not be accepted and they should be part of the meeting.
Arun Jaitley, video conferencing from Delhi, said, this was the most challenging moment in the history of BCCI, and there was a sense of unease among members. Jaitley said, the arrest of three IPL players and Gurunath Meiyappan has raised issues about the credibility of cricket.
Jaitley and other working committee members proposed that the probe muct be fair, and both the office-beares Jagdala and Shrike should retirn, Srinivasan should step aside and there should be a credible face to the BCCI.
I. S. Bindra, a known Srinivasan-baiter, questioned who appointed the BCCI probe panel consisting of the two judges and secretary Jagdale.He queried whether the ICC had warned BCCI about Gurunath Meiyappan's activities. Bindra also said, Srinivsan should step aside and he wanted to know what alternative arragements would be made.
Srinivasan told the meeting: "I have not made any mistake.If all of you want, I agree to step aside."
For the interim arrangement, Srinivasan proposed the name of Arun Jaitley to look after the day-to-day affairs of BCCI as interim president, but Jaitley refused citing his busy engagements.  Bindra raised objections as to how the BCCI would work with an interim president.
Jaitley suggested two names : Shashank Manohar and Jagmohan Dalmiya for interim president, and also advised Srinivsan should step aside and not discharge any function as BCCI chief, and that a third person be appointed to the probe panel.
The working committee then requested Shirke and Jagdale to stay on in their respective posts, and asked Jagmohan Dalmiya to look after the day-to-day affairs of BCCI, till the probe was over.
At today's meeting, nobody demanded Srinivasan's resignation. The members only said he should step aside till the probe was over.