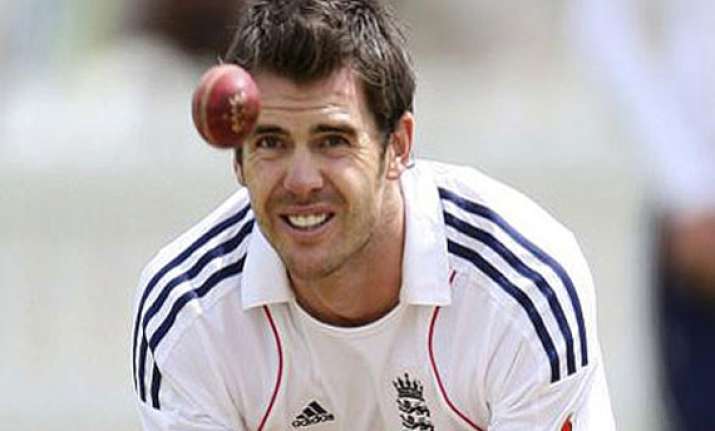 Kolkata, Dec 5: England seamer James Anderson today revealed that he started practising the art of reverse swing after watching Zaheer Khan's stupendous success during India's tour of England back in 2007.
"I remember a few years back, in the last tour in 2007, Zaheer did get a lot of reverse swing. That's when I started practising it. There is a shiny side, and if the batsman knows which side it is, it makes it a lot easier for them. It proved to be a good skill," Anderson, who got three wickets including
Virat Kohli
and Sachin Tendulkar told the mediapersons.
Asked about the reverse swing, he said:"We had hints of it in the last two matches. I saw the pitch and said let's go ahead. Reverse swing is crucial for seam bowlers because it keeps you in the game. I felt pretty good whole day. I think I bowled reasonably well with the new ball first thing. And enjoyed it as much as I could."
Anderson is one of those bowlers in world cricket who has got a brilliant success-rate against Sachin Tendulkar having dismissed him around eight times in longer version.
"It's always good to get Sachin's wicket. Once I retire, it will be nice to tell others that Sachin's was a big wicket. When I got him out, it looked like he was set. He was bit scratchy to start with but was happy to get him out when I did."
Asked about the Jonathon Trott low catch that dismissed Gambhir, he said:"Really difficult to field in the slips and hold onto these low catches. Luckily, he caught onto it in the end."
The seamer seemed happy with the Eden Gardens' 22-yard strip.
"This pitch is very abrasive. Reverse swing is a tricky art to practise. But we were able to swing the ball. There is a bit of dew because of the early start and that helps."