Follow us on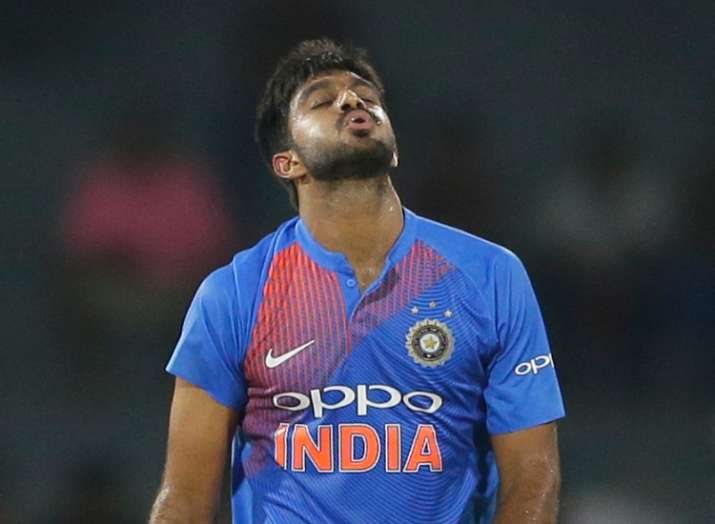 While India celebrated the victory on winning the Nidahas Trophy 2018 finals and lifting the trophy, all-rounder Vijay Shankar had his heart in his mouth and wondered how would matters have enrolled if Dinesh Karthik had not hit the match-winning six in the last ball. Shankar who was present had wasted the 18th over in which he could only make one run off it. Shankar was lambasted for wasting an over at a crucial time and imagined the possibility of what could have happened if he was the one to claim the all-glory after the match. 
While Dinesh Karthik was praised for his performance and being the match-winner for Team India, Shankar felt that he could have been the one to end the game and claim the fame that Karthik is achieving at the moment. The all-rounder found it 'difficult' to forget.
"It was an off-day for me but I am finding it difficult to forget. I know I need to move on. I had a good tournament until that final day," the soft-spoken Shankar said.
The Chennai player was practical when asked about being pilloried on social media and said that it would have been his name that would be trending if he won the match all by himself.
"I need to accept that these are things that can happen when you play for India. The same social media would have gone berserk had I won the match all by myself.
"It happened the opposite and I have to accept all the brickbats. That's also a part of growing up," Shankar replied calmly.
There are times when getting out for a duck in a close encounter allows someone to go under the radar but Shankar doesn't want any safe passage while trying to chart his own destiny.
"Had I got out for a second or a third ball duck, no one would have bothered about my performance. But then would I have liked that to happen? Certainly not. I would rather accept this situation.
"You just can't think of safe options always. You have to accept challenges head on," Shankar said.
But he does accept that it was a missed opportunity to become a hero in a tricky chase.
"When everyone was rejoicing after the final, I was feeling very disheartened at how things panned out. It was an opportunity given to me to become a hero. I should have finished the match," he said.
Shankar said that Rohit and coach Ravi Shastri calmed him down after a disheartening match.
"Everyone in the team, including my captain (Rohit Sharma) and coach (Ravi Shastri), told me that it can even happen with the best and I shouldn't feel bad," he said.
Asked about the mistake that he made, Shankar pointed to his attempts to go for big hits rather than rotating the strike. Mustafizur had Shankar on the four balls he missed by bowling slow and nearly wide-off deliveries, causing Shankar to panic at the moment.
"If you take a look at my batting in the Syed Mushtaq Ali or Vijay Hazare Trophy, I don't play so many dot balls. I rotate the strike but Mustafizur (Rahman) really bowled well during that over," he said.
While everyone spoke about the dot balls, hardly anyone noticed his boundary bisecting the point and short third man, which made it easy for Karthik to launch a final assault.
"DK just told me one thing -- hold your shape (in cricketing parlance maintaining the balance in one's stance) and hit a boundary. That ball from Soumya, I was trying to just put bat on ball," he said.
In the Indian team, opportunities are few but Shankar is not worried about the fact that primarily he is being seen as Hardik Pandya's cover.
"The selection thing is not my concern. The positive part is that IPL is starting in two weeks' time and my focus is now to do well for Delhi Daredevils," said Shankar, who would like to pick chief coach Ricky Ponting's brains.
(With PTI Inputs)