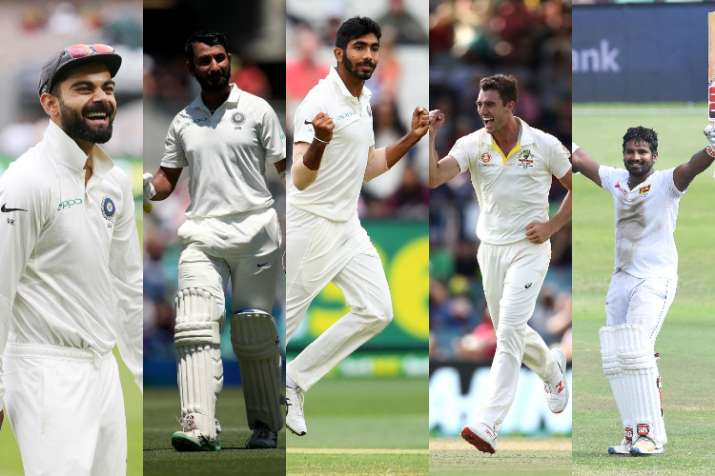 5 days, innumerable leaves outside the off-stump, maiden overs, Lunch and Tea breaks, Draws and more - these are all essential ingredients of Test cricket. When you compare the increasing focus on cash-rich T20 leagues around the world with the attritional demands of the longest version of the game, one is often left to resign to the fact that Test cricket is fighting desperately for survival. That is unless you look close enough.
Kusal Perera's monumental effort in Durban yesterday once again proved that nothing beats the hard grind and thrill of a see-saw Test match. Perera's 153* that brought Sri Lanka a rare one-wicket victory over the much-fancied South Africans, was a testimony to this fact. During the record-breaking last-wicket, every single taken by the left-hander was cheered, every dot ball played by the No. 11 Vishwa Fernando invited huge applause. And this was just at Kingsmead. Elsewhere in the world, thousands of cricket fanatics were glued to their screens, watching two batsmen re-write history against the most potent attack in the world on their home soil. Simply put, there is no other format that fulfils the gratifications which are offered by the oldest and longest version of the game.
In the razzmatazz of the IPL, BBL, PSL etc. it is imperative to think about the current state of Test cricket and what the future has in store for it. Here I list out five reasons why Test cricket still rules the world:
No cheap thrills
There is no doubt that even though it is played over five days, there is no dearth of high-grade entertainment for the viewers in a Test match. Perera's rearguard yesterday, Mark Wood's searing spell against West Indies a few days ago, Jasprit Bumrah's slower yorker to get rid of Shaun Marsh after his cunning in-swinger to Keaton Jennings and the mouth-watering battle between Virat Kohli and James Anderson last year are just a few instances in the past few months which have forced the spectators to chew up all their fingernails and pinch themselves to see if what they were witnessing was real.
None other than the losing captain Faf du Plessis yesterday reaffirmed his belief in the above when he said: "It should show people, whether it's three or four or five days, that it is still the No.1 format if you see games of cricket like this. It's incredible the number of times the game goes to the opposition and then comes to you and goes back. It's always that to and fro. It's great to be part of an amazing Test match."
West Indies are back with a bang
Few joys in the game are better than when West Indians do well on a cricket field. After going through a decline for a period of over two decades, the Calypso Kings seem to be back again as they showed in their 2-1 drubbing of England at home recently. Even though we should tread with caution as there have been many false dawns in Windies cricket since the early '90s, one hopes that the players they have now can stick to enjoying the game as they did over the past month against the higher ranked opponents. 
In earning their first series victory over England in a decade, the players showed that Test cricket's health is in good hands if the No.8 ranked side in the world can still turn the tables on a top-three team. If this is not a good sign for Test cricket, I don't know what else could be! 
Bowlers win hearts and games
There is one cardinal rule in Tests: to win you have to take 20 wickets. While the white-ball game is getting increasingly loaded in favour of the batsmen with the introduction of drop-in pitches, shorter boundaries, heavier bats, the spillover effect of this in Tests has been that batsmen and teams which don't value defence are being increasingly found out. This has produced some exhilarating passages of play, for e.g., England being dismissed for 77 by the West Indies after getting bowled out for 58 against Trent Boult and Co. earlier, Australian batsmen failing to register a century in the Tests against India, New Zealand beating Pakistan 2-1 in UAE among others. 
It becomes clear that while bowlers are getting a hiding in the one-day formats trying to prevent totals close to 500 from being posted, in Test cricket they have used their tricks to fool over-confident batsmen leading to a more even battle and thus entertaining cricket.
A kingdom without its King
Even though India is still ranked No.1 in the world and they recently beat Australia in their own den, there still remains a question mark over their ranking overseas performance as they lost two away series to South Africa and England before their comfortable victory Down Under. On the other hand, Australia are still reeling from the after-effects of the Sandpaper-gate while their arch-rivals England continue to appear flawed after the Windies debacle. South Africa's run of seven straight home series wins was ended yesterday. New Zealand look settled as ever but they are yet to win a Test series in India.
All in all, presently there is no team in the world which can consider itself invincible like the Australian side of the early 2000s or the Windies from the '80s. This means that we are in for more surprises when the World Test Championship (WTC) begins later this year. But more on that later.
Do you even remember T20s?
If you are an ardent cricket fan, you must remember Brendon McCullum's 158* from the very first match of the inaugural edition of the IPL. But do you know that Baz has hit six more hundreds in T20s? I'm quite sure you might not be able to recall many of Chris Gayle's 21 tons in T20s either. But what about VVS Laxman's 281? Or, Virat Kohli's six hundreds in Australia across 3 tours? It goes without saying that Test performances are bound to be part of the game's folklore for a much longer time as compared to T20 feats, no matter how great the latter are. It's not that the shorter formats don't provide everlasting memories, the problem is that it is difficult to notice and recall them later given the breakneck speed of T20s in general.
Now about that Test Championship that is set to start from July this year. It is indeed a welcome step as far as rewarding the best Test team is concerned given the numerous problems with the ICC rankings. It would be an honour for a team that has for a period of two years fought hard to accumulate points to reach the final and then go on to win the Test mace rather than gifting the prize to the top-ranked team every year. The Championship is set to instill a greater level of competition among teams fighting for it and will certainly erode the long held criticism regarding matches lacking contexts. To thrive, the WTC will also need the teams and their captains to hold Test cricket in the highest regard like Kohli, Du Plessis and Jason Holder already do. With people such as them vying for the greatest prize in the sport, there is no doubt that Test cricket is in safe hands and will continue to be so in the coming future.