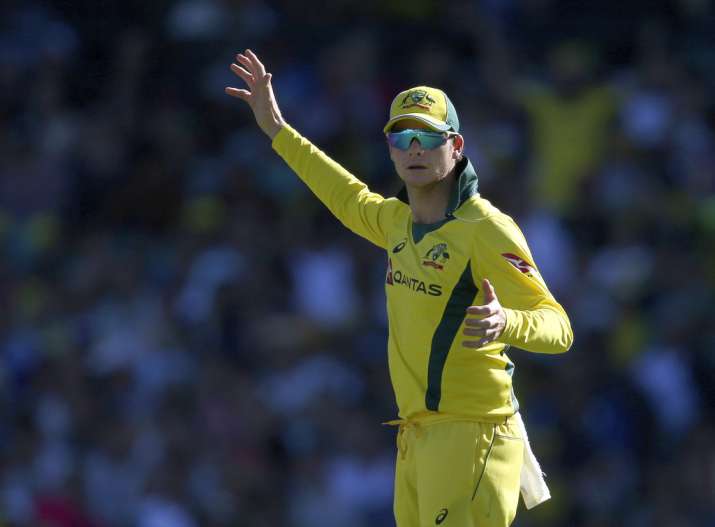 Australia captain Steve Smith has rejected suggestions of tampering with the ball after video footage saw the skipper use saliva from the corner of his mouth during the 3rd ODI where Australia lost to England by 16 runs. The Englishmen have clinched the five-match ODI series winning 3-0.
Smith's actions raised a few eyebrows but the Australian skipper laughed off the reaction after viewing the replay of the footage shown to him, stating that it was his standard technique to help shine the ball with no assistance from any foreign subject. 
"It was all spit. People said something about lip balm. If you look at my lips they are pretty dry.
I certainly didn't have any of that on," he told reporters after the 3rd One Day International at Sydney.
Smith also said that its a technique he uses to add a shine to the ball during matches and had nothing to do with the tampering of the ball.
"It is just the way I get the spit into the side of my mouth and get some spit onto the ball. There was nothing in it."
During the Ashes series, allegation were blamed on England spearhead James Anderson after footage revealed him working the ball with his thumbnail during the fourth Test at Melbourne. 
Australia won the Ashes Test series 4-0 but the favour has been returned by the Englishmen as they have clinched the five-match ODI series 3-0, with two more matches in hand. The Eoin Morgan led side have woken up with a vengeance after the humiliating defeat in the Test series. 
Cricket Australia have also announced the Test and T20I squad for the South Africa series where the Kangaroos will play four Tests, five ODIs and a one-off T20I. Smith has been rested for the lone T20I match and vice-captain David Warner will take charge.
(With Agency Inputs)