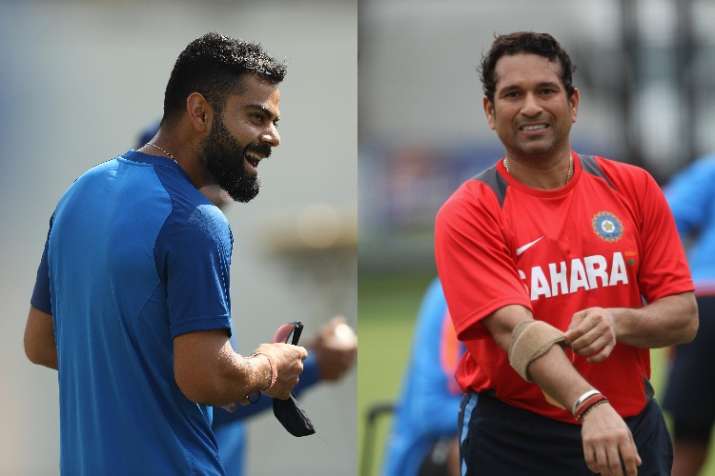 Virat Kohli might be a little far off in terms of matching Sachin Tendulkar in terms of centuries in ODIs but on Saturday, he matched the 'Little Master' in another milestone.
Kohli after hitting his 40th ODI century and 65th overall matched Tendulkar's record of most centuries in winning causes in ODIs. India's nail-biting 8-run win on Tuesday was the 33rd time Kohli hit a century in a winning cause -- same as Tendulkar, who achieved the feat in 231 innings while Kohli got to the figure in his 133rd on Tuesday.
This was also the 32nd time Kohli was adjudged the Man-of-the-Match in ODIs and he is now second in the list behind Tendulkar, who has 62 MoM awards to his name in the 50-over format. Kohli is followed by Sourav Ganguly (31), Yuvraj Singh (27) and Virender Sehwag (23) in the top five.
That is not all for the Indian captain in this match. During the course of the match, Kohli also hit his 1000th four -- a feat achieved by only four Indians -- Tendulkar, Ganguly and Sehwag. Only 12 people overall have achieved this feat.
Not only that, the 30-year-old, also became the fastest batsman to breach the 9000-run mark in international cricket as a captain. He reached the milestone in his 159th innings. Kohli overtook former Australia captain Ricky Ponting in the process, who took 204 innings to reach the landmark.
He was also the fastest to reach the 4000, 5000, 6000, 7000, and 8000 ODI international runs as captain before this.
Incidentally, along with Kohli, Team India also achieved a feat in the Nagpur ODI.
The win over Australia was also India's 500th in ODIs. India's first victory came against East Africa when India beat them by 10 wickets in 1975. The Men In Blues 100th, 200th, 300th and 400th win came against South Africa (1993), Kenya (2000), West Indies (2007) and Sri Lanka (2012) respectively. Australia (558) are the only other team to have achieved this landmark so far.
While it was a good day at the office for India, it was not the case for Australia and Marcus Stoinis, who despite scoring a 50, couldn't take his team over the line -- and for the seventh time.
Till now, all of Stoinis' 50-plus scores have gone in vain, out of which two came against India and three against England. His highest score of 146 not out against New Zealand in 2017, also came in a losing cause.