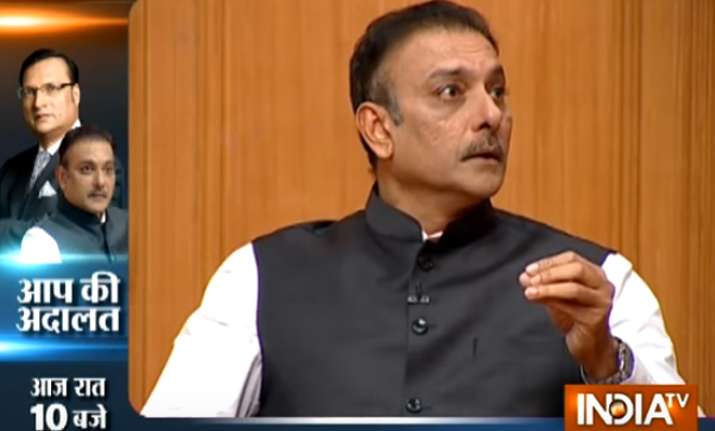 Former India team director and noted commentator Ravi Shastri has said that BCCI should implement 80 to 85 per cent of Justice Lodha Committee's recommendations that are related to administration, governance, finance and election process. 
Replying to questions from Rajat Sharma in India TV show Aap Ki Adalat, to be telecast tonight, the former team director said: "80 to 85 per cent of Lodha Committee recommendations should be implemented, but problems can arise over remaining 15 pc recommendations due to practicalities".
"Reforms in cricket are needed and 80 to 85 pc recommendations of Lodha Committee should be implemented. In some cases, we should give 'danda' (be stern), it is needed."
However, Shastri said, appointing only three instead of five national selectors from the five zones would be a wrong decision.
"If you want fair selections, in a big country like India, which has more players than the players combined in other cricket-playing countries, at least five national selectors representing five zones are needed, alongwith 10 talent scouts, two for each zone."
Similarly, Shastri questioned the Lodha committee recommendation for a 3-year 'cooling off' period for administrators with a fixed tenure of three years. 
"If you want to appoint cricketers, then you need continuity. Appoint them for a minimum 5-6 years, then a three-year cooling off period, and they can be reappointed for another six years. If an administrator is doing good work, why should he be removed after three years? Where is the guarantee that his successor would carry on the good work of his predecessor?"
"Even now there can be a dialogue (between BCCI and Lodha committee). Unfortunately, nobody has talked to me, otherwise I would have put my views across to the esteemed Supreme Court".
"I have grown up with several politicians. In our times Wankhede ji, then (N.K.P.) Salve ji, Madhavrao Scindia ji, and then Sharad Pawar and (Arun) Jaitley ji. All these politicians were excellent administrators. Sharad Pawar and Srinivasan are above 70 years of age. Can you say they are not good administrators? They are excellent administrators. Sometimes experience is needed. There is no substitute for experience. In USA, Supreme Court judges work till the age of 80 or 90 years.
"While 90 per cent of administrators may not know much about cricket, similarly I can say, nearly 90 per cent of cricketers do not know much about administration. I can give it in writing."
Shastri said: "If within six months, Lodhi Committee recommendations are implemented in full and Indian cricket is run smoothly, then the committee and the apex court should be congratulated, but if, by chance, there are problems with state associations or in BCCI, and it affects the performance of Team India, who will bear the responsibility? If they get bouquets, they should also be prepared to face the consequences too."
"If you think BCCI was that bad, how come we won three World Cups and we gave cricketers like Virat Kohli, Sachin Tendulkar, Kapil Dev and Sunil Gavaskar to the world?"
The former India team director had fulsome praise for Test captain Virat Kohli. "I am truly enamoured ('fidaa') of Virat Kohli. India should be proud of him. Even Dhoni has said, time will come when Virat will have to lead India across all three formats of the game. Kohli has sheer consistency and is a great role model for youngsters."
"At the age of 27, Virat Kohli has made 26 or 27 centuries in one-day, he has made 35 to 40 international hundreds. He has ten more years of cricket, and if he continues to play, without injury, then anything can happen. But we should not put pressure on him because Sachin Tendulkar has a marvellous record (100 centuries). You get men like Sachin once in a lifetime. Now that Kohli has 40 international hundreds, and he has ten years more to play, nobody knows what can happen."
On ODI captain M S Dhoni, Ravi Shastri said: "I would like him to enjoy cricket as a player, and Kohli, as captain, has a lot to learn from Dhoni. The transition in ODI team from Dhoni to Kohli will be excellent. As you have seen, Sachin played under Dhoni, even Rahul Dravid played under Dhoni, Dravid was earlier captain for Dhoni, so Dhoni learnt a lot during this period. Now, Dhoni has a lot of cricket left in him, his fitness is also good. He was facing pressure as captain for the last 10-12 years, now the time has come for another player to take over his responsibility in the next 12 to 18 months."
Comparing Virat Kohli with Dhoni, Shastri said: "Dhoni is cool, but Virat Kohli is young, totally different from M S Dhoni, Kohli is instinctive, a very expressive lad, if he has disappointment or happiness you can notice it on the field in two minutes. If he plays a bad shot, his body language will show he is disappointed with himself. But he has a matured a lot now."
"On the other hand, Dhoni knows Kohli is a deadly player and how to extract the maximum out of him. They are, in a sense, both 'alpha males' in a single dressing room. Yet they have tremendous respect for each other."
On his reported media spat with Sourav Ganguly over the selection of national coach, in which Shastri lost out to Anil Kumble, the former India team director said: "It was planned that I would appear before the selectors via videoconferencing from Thailand where I had gone on holiday, there were Sachin Tendulkar, on videoconferencing from London, VVS Laxman and Sanjay Jagdale. I was disappointed that while Sachin could sit on videoconferencing for 6-7 hours from England, VVS was there, but Sourav was not there. I felt sad and disappointed. They were all reputed cricketers, they knew whom to select. I was disappointed because as team director I had toiled for 18 months, made India No. 1 in Test and T20, and No. 2 in ODI, at least some respect could have been accorded (to me)."
"I have no quarrel (with Sourav), he is 'dada', Sourav has been my junior, when I played for West Zone, he played for East Zone, It was I who recommended his name for Tata team because of his batting and cricket ability. He is still there in Tata team. If you want to know why he didn't come to the interview, you should ask him to get an answer."
Ravi Shastri in Rajat Sharma's show Aap Ki Adalat will be telecast tonight at 10 pm on India TV. The repeat telecast will take place tomorrow, Sunday, at 10 am and 10 pm.