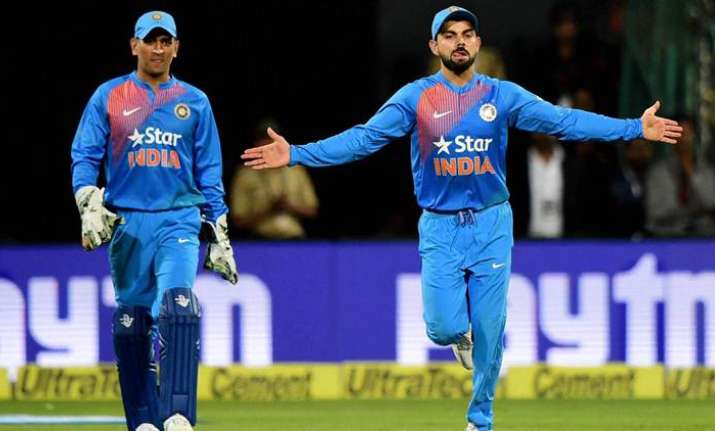 Mahendra Singh Dhoni stepped down as the Indian cricket team's captain on January 5, 2017, and it was Virat Kohli who was chosen as the rightful heir to the throne. However, according to the BCCI's (Board of Control for Cricket of India) official site, Dhoni still had the tag of 'captain' under his name. 
The former skipper has been under the limelight due to his sub-standard performances in the recently concluded ODI series which India lost 2-1 and many questions were raised regarding his future in with the Indian team. 
But with the site still placing Dhoni as captain of the Indian team, the matter did not go unnoticed and spread like wildfire across social media platforms. The goof-up by the BCCI has left Twitter in splits and became the butt of all jokes all around. Take a look. 
Well BCCI 😂😂😂 now dont tell me MS Dhoni forced them to do so or his fans are doing it 🙊 pic.twitter.com/XticFc4isp

— MS Dhoni Fanclub🏏 (@msdiansworld) July 19, 2018
He left Captaincy 2 years ago & still BCCI thinks he is the Captain of Team India

This is #BCCI's official App 👇

DHONI - Born Leader pic.twitter.com/rcudcG7FHd

— Msd's Pradip (2nd MSD) (@PradipMsd7) July 19, 2018
He left Captaincy 2 years ago & still BCCI thinks he is the Captain of Team India
.
This is #BCCI's official App 👇

All r Temporary captain but..
Captain Cool is Permanent captain of Team 🇮🇳#MSDhoni pic.twitter.com/wArwHs0V8z

— Rinki Singh Dhoni (@RinkiMsd7) July 19, 2018
It feels like BCCI wants its previous captain(@msdhoni) to take charge again or they might have forgotten to update their website. However, as fan of MSD we appreciate BCCI for remembering MSD as a captain(Masterofstrategy)#MSDhoni #ViratKohli #BCCI #Indiancricketteam #Captain pic.twitter.com/UbcNm4F8Zf

— Chandra Mouli Tummala (@mouli127) July 19, 2018
The BCCI eventually rectified the error and gave Kohli the captain tag on the site. 
Earlier, Team India head coach Ravi Shastri squashed all rumours about Dhoni's retirement plans and cleared the air when many fans questioned whether the 3rd ODI against England was his last match for India. 
Many fans conjured theories that the Headingley ODI might be Dhoni's last match as he took the match ball from umpires Bruce Oxenford and Michael Gough after the Men in Blue lost the series decider to England.  
"That's rubbish. MS is not going anywhere."
"MS wanted to show the ball to Bharat Arun. He wanted to show him the wear and tear the ball had endured, to get a general idea of what the conditions were like," Shastri was quoted as saying by TOI.
India isn't slated to play any white ball cricket in the coming days as the Virat Kohli led team will face England in a five-match Test series, commencing from August 1.