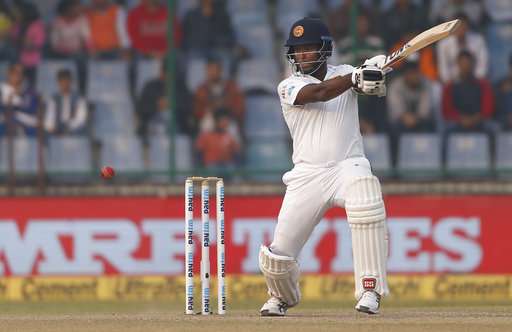 An eventful day comes to an end at Feroz Shah Kotla, Delhi! India have dominated the proceedings once again and are sitting pretty on top. The day began with Virat Kohli and Rohit Sharma playing positive cricket. The ploy to attack Lakmal and Gamage paid off and the runs kept on coming thick and fast. The Indian skipper was at his mercurial best and scored his 6th double ton in Test cricket. It was also consecutive double hundreds for him and he pummelled the opposition into submission. The duo stitched a 135-run stand and deflated the morale of the visitors.
After the lunch break, the afternoon session moved at a snail's pace. Mainly due to the issues with pollution. The Sri Lankan players wore masks to combat the hazy weather and kept on complaining. That led to several halts in play and only 16 overs were bowled in the entire session. Gamage struggled and so did Lakmal. They went off the field. Samarawickrama was out due to a head concussion and at one stage, the Lankans became short of substitutes. The Sri Lankan fielding coach and physio put in their white attire and were ready to move in. Virat Kohli signaled for a declaration and he was pumped to have a go at the tourists. The Indian pacers struck in quick succession to have the Sri Lankan's reeling with two down before Tea. ​Perera who was opening the batting in absence of Samarawickrama (who was resting today due to a head concussion) got a life early on. Even Mathews was dropped by Kohli in second slip and was looking completely at sea. However, he battled on and grew in confidence, making a half-century.
What to expect on Day 3? It is often called the moving day in cricket. Mathews and Chandimal have looked set but one always starts new on a fresh day. The first hour will be crucial. Can Sri Lanka battle hard? On will they be rolled over by the Indians? Join us at 0930 local (0400 GMT) as Day 3 pans out! Meanwhile, in what could be a day of fightbacks, do check out action across the world as West Indies battle against New Zealand, England in the Ashes and then of course, this third Test. Adios! Take Care!(SCORECARD)
HIGHLIGHTS, INDIA VS SRI LANKA, 3RD TEST, DAY 2 AT DELHI
17.10 IST: Shami says that his aim was only to bowl in the right areas, with pace. Adds that the left-handed batsmen from Sri Lanka have had trouble facing deliveries from around the wicket on a good length. Opines that he loves to bowl with both, the new and old balls, but loves when the cherry starts to reverse. Maintains that focus is important. Hopes that India can strike early in the first hour tomorrow and the ball will move.​
16.57 IST: Schoolboy error from Ashwin! Fullish on middle, Chandimal clips it towards mid-wicket. Ashwin puts in a lazy dive to his right and allows the ball to go through. A couple taken. The light meter is out again. A grim look on the faces of the umpires and they decided to CALL IT A DAY! SL 131/3 in 44.3 overs, trail IND (536/7) by 405 runs
16.53 IST: Another maiden from Jadeja! Chandimal uses his feet and seeing that, Jadeja fires it in. The skipper does well to keep it out. SL 127/3 in 43 overs
16.47 IST: MAIDEN! Chandimal camps back to the flatter delivery and stonewalls it.  SL 125/3 in 41 overs
16.42 IST: 50 partnership between Mathews and Chandimal. Mathews is nimble on his feet and strokes it to long off for a run. SL 125/3 in 39 overs
16.38 IST: Slow through the air from Jadeja, Chandimal eases it to sweeper cover for a single. SL 124/3 in 37 overs
16.35 IST: The light meter comes out again. It has turned quite dark but the umpires tell the players to carry on. Still 14 overs are left as a lot of time was lost due to the halts in play because to pollution issues. Meanwhile, Jadeja returns for a bowl.
16.34 IST: MAIDEN! Strides forward to the tossed up delivery and Mathews smothers the turn with ease. SL 123/3 in 36 overs
16.32 IST: Out comes the light meter. Nigel Llong takes a reading and decides that it is safe to continue.
16.29 IST: FOUR! Well played! Shami loses his radar a bit this time and slips it towards the pads. Chandimal clips it beautifully through in front of square leg and away she whistles to the fence. SL 123/3 in 34.2 overs
The fourth umpire comes out with the light meter. However, the on-field umpire feels that the light is good enough at the moment and doesn't take a reading. He keeps it in his pocket and has a drink. Meanwhile, Mohammed Shami returns for a burst.
16.20 IST: Flighted delivery from Ashwin, Chandimal knocks it down to long on for a single. 3 runs from the over. SL 117/3 in 32 overs
16.14 IST: FOUR! You get value for your shots on this ground. Drifting away from Chandimal. He rocks back and places it behind point to find the ropes. SL 114/3 in 30 overs
16.10 IST: FOUR! Well played! Tossed up on middle, Chandimal skips down the track and drives it against the spin through mid on for a boundary. SL 107/3 in 29 overs
16.07 IST: SIX! 100 up for the visitors. That brings up his 29th Test fifty! He was dropped by Kohli and survived a jittery initial phase but has grown in confidence. Mathews once again uses his feet and heaves it over deep mid-wicket for a biggie. SL 103/3 in 28 overs
16.06 SIX! What a shot! Mathews is doing to Ashwin what Kohli and Sharma did to Gamage and Lakmal. Slow through the air around off, Mathews skips down the track and tonks it over long on for a maximum. That came right off the screws. SL 97/3 in 27.2 overs
Time for Ravichandran Ashwin. It will be interesting to see how much turn he extracts from this track. A slip, a short leg and a leg gully in place.
16.01 IST: FOUR! Back-to-back boundaries! This is the third time in the innings that Sharma has conceded consecutive boundaries points out my colleague. Fullish delivery around off, Mathews strides forward and strokes it past mid off to find the fence.  SL 91/3 in 26 overs
15.59 IST: FOUR! Lovely hands from Mathews! Fullish delivery and straying on the pads, Mathews clips it nonchalantly through square leg. The substitute, Vijay Shankar, covers a lot of ground to his left but fails to stop it.   SL 87/3 in 25.4 overs
15.56 IST: A slight delay. The fourth umpire runs in and has a chat with Joel Wilson. There is an issue behind the sightscreen. The Sri Lankan batsmen are getting distracted. The flag that is being waved might be the factor. The umpires are also telling the spectators to quieten down.
15.52 IST: MAIDEN! Nippy delivery at 140 clicks in the zone of apprehension. Mathews keeps his bat inside the line this time and lets it go. A testing comeback over from Ishant. SL 81/3 in 24 overs
Ishant Sharma is back on.
15.47 IST: On the pads, Mathews works it past short leg for a run. Just a single from the over. SL 81/3 in 23 overs
15.40 IST: Almost another wicket! Shami bangs in a bouncer outside off, Mathews goes for the pull but fails to get on top of the bounce. His bottom hand also comes off and the ball lobs in the air towards wide mid on. The fielder backtracks but can only see it fall down on the ground. SL 78/3 in 21.1 overs
15.35 IST: Defended off the front foot by the batsman presenting the full face of the bat. SL 77/3 in 19.4 overs
Time for drinks. Meanwhile, the skipper, Dinesh Chandimal strides out to bat. He played well in the last Test but he needs to do much more than that in this game. Sri Lanka are in deep trouble.
15.28 IST: OUT! Judicious use of the review from India! Jadeja strikes. He was causing problems for the veteran and he finally gets the better of him. Jadeja spots Perera use his feet once more and bowls the arm delivery. It skids on, beats the defence of Perera and pings him on the front pad. Up go the Indians in unison and Nigel Llong after thinking a bit shakes his head. Earlier as well, he had adjudged him not out as he was down the track and the three-meter rule saved the batsman. Kohli has a chat with Jadeja and Saha and challenges the decision. Has come down the track saved Perera again? Time for the replays. Hawk Eyes three reds and the batsman is a goner. Importantly, the three-meter rule didn't come into play this time. The Indians rejoice and are on top of their game. Oh ho! The on-air commentators mention that Perera was 2.99 meters down the track. So, it was a matter of 1 centimeter which proved to be Perera's undoing. These little things in cricket can make a lot of difference. The visitors are still behind by 461 runs!. SL 75/3 in 18.4 overs
15.24 IST: FOUR! SL 75/2 in 17.4 overs
15.21 IST: FOUR! Straight as an arrow! Fullish delivery in line of the stumps, Mathews stays well-balanced and drives it past the outstretched right hand of Shami and races to the fence. SL 71/2 in 17.2 overs
15.19 IST: FOUR! Mathews is not going to miss these opportunities as Shami's bounce is slammed for a four. SL 67/2 in 16.5 overs
Russel Arnold and Mathew Hayden make a good analysis. The reason why Perera is struggling is due to his lack of footwork. He plays away from the body with minimal foot movement and his head position is not correct. As a result, false strokes are induced. He has already been dropped twice in the slip region.
15.17 IST: FOUR! Nicely controlled! Shortish delivery around off, Perera glides it nicely behind point and gets the desired result. SL 61/2 in 15.1 overs
15.10 IST: FOUR! Runs continue to flow from Perera's bat. Tossed up delivery, Perera creams it through covers. Dhawan from the same region hares after it but once again fails to stop the boundary. SL 57/2 in 14.2 overs
15.09 IST: Another appeal for an LBW is denied! Jadeja watches Perera using his feet and hence shortens the length. SL 53/2 in 14.2 overs
15.04 IST: FOUR! Perera drifts down leg side on Jadeja's well-countered swing and sails away for a boundary. SL 53/2 in 13 overs
Time for spin. Ravindra Jadeja comes into the attack. More importantly, the man with the safe pair of hands, Ajinkya Rahane is stationed at first slip.
15.01 IST: FOUR! This is sublime! Timing and grace written all over that one. Fuller in length on off, Mathews creams it through mid off. Dhawan hares after it but only comes second best. SL 49/2 in 12 overs
14.59 IST: FOUR! That will come as a relief to Mathews! Sharma slips this one down the leg side, Mathews tucks it nicely through square leg for a boundary. SL 45/2 in 11.4 overs
14.55 IST: FOUR! Nicely done! Fuller in length outside off, Perera drives it on the up through cover-point and the ball races to the fence. SL 37/2 in 10.3 overs
14.52 IST: DROPPED! That as easy a chance you will get at this level. Good length delivery around off, holding its line. Mathews pokes at it yet again and this time, the ball catches the outside edge of the bat. It is flying towards Kohli at second slip who is a bit late to react. Moves to his left and bends low but fails to hold onto it. He is down on the ground and is really disappointed. No excuse for that one. Mathews is leading a charmed life. SL 33/2 in 10 overs
14.42 IST: FOUR! Delightful! Fractionally overpitched around off, Perera leans into it and strokes it sweetly through extra cover to find the fence. He is playing the drives really well. SL 32/2 in 8 overs
14.38 IST: DROPPED! That was an easy chance, in fact it is a misjudgement from Dhawan. On a driving length outside off, Perera goes for an expansive drive but ends up getting an outside edge. It is flying towards the slip cordon. Dhawan at second slip tries to grab it with hands to his left but spills it eventually. That was going straight into the hands of Pujara at first slip. Perhaps, the two of them were standing very close to each other and that might have resulted in Dhawan's decision to go for the catch. A chance goes down. SL 27/2 in 7 overs
14.35 IST: FOUR! Perera is playing with freedom! Perhaps the right mindset to play with. Fullish delivery outside off, Perera leans ahead and goes over cover-point to find the fence. SL 22/1 in 6.1 overs
14.33 IST: We are back for the final session. 44 overs are still left in the day but the light is already deteriorating. In all probability, only fewer overs fewer will be bowled. Three slips and a gully in place. Mohammed Shami keeps charging in. Here we go....
... DAY 2, SESSION 3 ...
14.23 IST: Earlier, the session saw regular breaks due to the polluted environmental conditions which affected the visitors greatly. Only 10 overs were possible in the Indian innings post the lunch break. That period saw India lose a couple of wickets, which involved that of the Indian skipper as well. After having had enough of these stoppages, Kohli called his batsmen back in the hut to signal declaration. Will this Tea break help Sri Lanka put up some resistance? One thing seems sure. It will help the Indian pace battery to charge themselves up and come out with more vigour and have another go at the visiting batsmen today. Join us at 1433 local time for the resumption.
14.19 IST: An action-filled session of Test cricket! India are well and truly bossing the game right now. Sri Lanka had to survive a tricky period of play before this interval but they failed to do so. The Indian seamers came out all guns blazing and were almost literally breathing fire. The first delivery of the Sri Lankan innings saw Karunaratne depart, courtesy a brilliant delivery from Shami. He was bowling in right areas and even had Dhananjaya in trouble before Ishant got rid of him.
14.15 IST: 
At Tea on Day 2 of the 3rd Test Sri Lanka are 18/2, trail India (536/7d) by 518 runs #INDvSL pic.twitter.com/oLHr5D2lHg

— BCCI (@BCCI) December 3, 2017
14.12 IST: FOUR! Edged but runs! Length ball outside off, Mathews gets it off the outer half. The ball goes through the gap between the third slip and gully for a boundary. That's TEA, DAY 2! SL 18/2 in 6 overs, trail IND (536/7) by 522 runs
The experienced campaigner in the side, ANGELO MATHEWS strides out to the middle next. There's no better time for him to get among the runs and show his importance for the side than this one.
14.06 IST: OUT! Another one bites the dust! Sri Lanka's inability to see off even a small period of play is appalling to say the least. Ishant Sharma delivers a nippy delivery around a good length outside off. It moves in after pitching. Dhananjaya de Silva has been hanging on the back foot ever since he came out to bat today. Does so yet again and pays the price. He looks to defend it from the crease but gets beaten on the inside and gets rapped on the back pad. The hosts appeal and umpire Wilson sends the batsman on his way by raising the dreaded finger. De Silva talks to his partner about the review before walking away without opting for it. Sri Lanka are falling a bit too quickly here. The visitors still trail by 522! SL 14/2 in 5.1 overs
14.04 IST: SL 14/1 in 5 overs
14.00 IST: MAIDEN! Perera looks to slash it away to the off side and only makes contact with thin air.  SL 10/1 in 4 overs
13.56 IST: MAIDEN! A huge appeal from the Indians! Shami hurls this on a length around middle, the ball is angled into the batsman. Dhananjaya looks to flick it but misses and the ball hits his pads and lobs to gully. There were two noises there as the Indians appeal their hearts out. The umpire, however, stays put. The hosts think about the review but decide against it. Replays show that it came off the thigh pad and there was no bat involved. Good that the home side did not review that. SL 10/1 in 3 overs
13.49 IST: FOUR! A bit more authoritative this time from Perera. Fuller outside off, Dilruwan leans into the stroke and drives it through covers. The new ball speeds away to the fence in no time. SL 10/1 in 2 overs
13.47 IST: FOUR! Not the right lines from Ishant. Strays on the pads with this length ball. Perera stays in the crease and flicks it through the backward square leg for a boundary. This is the first one of this innings. SL 6/1 in 1.3 overs
ISHANT SHARMA will bowl from the other end. DILRUWAN PERERA will be the one facing him as Samarawickrama isn't fit to bat as yet. Interesting choice of the opener from the visitors.
13.44 IST: MAIDEN! Finally sanity shown by the batter. This one is outside off, Dhananjaya shoulders arms to let this one go unharmed to the keeper. SL 0/1 in 1 over
DHANANJAYA DE SILVA walks in to bat in the second ball of their innings. Remember, this is his first game of the series and what a time to make your way out. This will test his character now. Three slips and a gully to welcome him.
13.39 IST: OUT! Dimuth Karunaratne goes out quicker than the time he took to walk out to the middle! What a start for India and Mohammed Shami! The entire Feroz Shah Kotla screams to join the Indians in celebrations of that wicket. Shami steams in from round the wicket and fires this on a length around off. The ball bounces a tad more as Dimuth gets squared up in his defence. The ball doesn't miss taking the edge of his bat before settling into the safe gloves of Saha. Shami has his arms raised as he runs in to celebrate the success. The slip cordon led by Kohli join him with fist pumps and shouts. India are up and running, the Lankan southpaw departs for a blob. SL 0/1 in 0.1 overs
13.37 IST: Dimuth Karunaratne and Dilruwan Perera are at the crease. Karunaratne is on strike. Mohammed Shami will open the attack for India.
13.30 IST: 
Innings break! India declare their innings on 536/7.

Updates - https://t.co/OKFOpkiBg9 #INDvSL pic.twitter.com/jRzygy50g4

— BCCI (@BCCI) December 3, 2017
13.28 IST: Well! This is the most absurd of declarations I have ever seen! Kohli has had enough of this halt in play and he DECLARES WITH INDIA 536/7! If facial expressions are anything to go by, this isn't one of the most pleasant declarations either. 'If the Sri Lankans aren't willing to bowl, let us have a go at them with the cherry' seemed to be his signal from the dressing room. Meanwhile, the Sri Lankan team physio and fielding coach had quickly changed to whites to take field as substitutes for them but it wasn't required eventually.
13.25 IST: Dinesh Chandimal isn't happy there. Not sure what's the reason. The on-air commentators observe that there are ONLY 10 PLAYERS ON THE GROUND! Yes, you read that right. Apparently, no one walked in as a replacement for Lakmal. Samarawickrama is out already, Gamage and Lakmal walked out a while back. Harsha Bhogle jokes on air that among the Lankans, only Russel Arnold looks fit and will have to take the field now.
13.23 IST: FOUR! Saha makes merry and collects run, not in the manner he would have liked though. Sandakan drops it short outside off, Saha goes back and looks to cut. Gets a bottom edge past slip and the ball runs away to the third man fence. IND 536/7 in 127.5 overs
13.17 IST: The Sri Lankan team manager is seen walking to the middle to have a talk with the umpires. Seeing this, even Ravi Shastri dashes out to the middle, before the situation is taken under control by the umpires by sending both of them off the field.
13.15 IST: Oh dear! Now even Suranga Lakmal is seen walking off the field.
13.10 IST: FOUR! Jadeja's intentions are out there on the advertisement hoarding! He will go for his shots. Sandakan bowls a half-tracker around off, Jadeja goes back and pulls it aerially over mid-wicket for a one-bounce boundary. IND 527/7 in 126 overs
RAVINDRA JADEJA walks out to the middle next. What's in his mind? Will he have some fun out there? Hard to guess anything from his body language.
13.08 IST: OUT! That's it for the Indian skipper then - departs for 243! India lose Kohli as well as the sole review that they had before this. Sandakan comes round the wicket and floats it around off. The ball spins in sharply. Kohli goes back to flick it but is surprised by the spin that beats him and strikes him on the back leg in front of the stumps. On appealing, Nigel Llong upholds it. Kohli wears a surprised look on his face as he widens his eyes post that decision. Has a chat with Saha who gives him a green signal to opt for DRS. Sandakan is just fine with his front foot and there is no bat on that either. Ball Tracker returns three reds to signal the end of the Kohli journey in this innings. He walks out to a standing ovation from the crowd. Raises his bat in acknowledgement of the same. It has been a brilliant knock by the skipper, one where he looked fluent from start to end. Perhaps he has a right to feel hard done by due to the holdups in play. But there's nothing taking away from the Lankans, who despite not being at their best, have seen the back of the Indian skipper. IND 523/7 in 125.3 overs
13.07 IST: Is that it for Kohli? At least the on-field umpire thinks so. The Indian skipper has been ruled out LBW. He has a chat with his partner and signals a 'T' for the review. Should be gone unless an inside edge saves him.
13.00 IST: Lahiru Gamage is off the field now and SURANGA LAKMAL will complete the over now.
12.59 IST: The artificial lights in the ground are seen taking their effect now. Meanwhile, Gamage again looks to be in some discomfort and is down on his knees. This makes the visiting physio rush out to the centre. Very unwise for play to continue in such conditions at the cost of the health of the players.
12.55 IST: The huge cheers on the ground accompanies the decision flashed on the big screen - NOT OUT! Sandakan comes round the wicket and floats it around off. Kohli charges down and belts it straight back. The power in that stroke is such that the ball deflects off the bowler's hand, hits the stumps at his end and rolls towards long on. The Lankans put in an appeal even as the batters take one.  IND 520/6 in 123.1 overs
12.53 IST: It's all happening now! Sandakan gets some hand on the ball as the ball hits the stumps at the non-striker's end owing to the powerful drive from Kohli. The Lankans appeal for a run out against Saha. The umpire refers it upstairs. Saha looks to be safe.
12.52 IST: WRIDDHIMAN SAHA walks out to bat at the fall of the sixth Indian wicket.
12.51 IST: OUT! What an anticlimax! As seen often in the game, a break affects the concentration of the batsman and in this case, Ashwin is the one paying the price for that. Gamage lands it on a length outside off, Ashwin plays it from the crease away from the body. He looks to pick up an easy run with a glide and that signs his fate. IND 519/6 in 122.4 overs
12.49 IST: Now the noise around the ground rises as the play is all set to get underway. Willingly or unwillingly, the Lankan players take their respective positions on the field. Gamage will run in with the ball.
12.47 IST: As the umpires are seen having an animated chat with Dinesh Chandimal, who seems furious because the players aren't taken off the field, a huge cheers engulfs the Kotla. This is because Virat Kohli is seen taking off his helmet and lying on his back.
12.41 IST: More than the runs on the board it is about the players' health. THE THIRD UMPIRE HAS CONFIRMED THAT THE SITUATION IS BEING MONITORED, informs Russel Arnold on air. Now even the match referee, David Boon, is involved in some discussions with a doctor and Anil Chaudhary, the third umpire. Post that the referee is seen communicating something over the microphone to the on-field umpires.
12.38 IST: Now even the Sri Lankan team physio is seen having a word with the umpires. Chandimal doesn't look pleased to be playing in such conditions. But the umpires show no signs of halting play. Now they are taking the Indian batters into the conversation as well. Kohli, being the local lad, is seen explaining something to Chandimal as well. As these images are flashing, the commentators on air talk about there being no express rule stating the plan of action in case of pollution as there is in case of rains or other weather conditions.
12.35 IST: Lahiru Gamage's gingerly movements denote that he seems sick. He's down on his hunches, even as the physio is seen rushing out quickly. This will raise the levels of the talks about playing amidst the polluted environment. The on-air commentators also inform us that such a scenario hasn't happened in the sport as yet - that of play getting abandoned or held up due to the polluted environment.
12.32 IST: Another chat. This time Nigel Llong, Dinesh Chandimal and Niroshan Dickwella are the men in focus. The air quality in the Indian capital isn't at a decent level and this has the players concerned, perhaps.
12.30 IST: Ashwin keeps it out off the front foot, 3 runs from the over. IND 518/5 in 122 overs
12.25 IST: Murali Kartik observes a reason for Sandakan being very inconsistent. He says that the chinaman's leading arm doesn't have a consistent pattern of rolling over. Hence the landing isn't always on target. This makes the bowler be erratic.
12.23 IST: FOUR! What a shot! Absolute authority displayed there. Gets Kohli to a new Test best score - 236. This one's on a length outside off, Virat walks down to convert it into a half colley. Drives it powerfully through the gap between mid off and covers for a boundary. The ball flashed away before anybody could move. Also brings up 1000 Test runs for Kohli in 2017, second Indian after Pujara to do so. IND 514/5 in 120.1 overs
12.21 IST: IND 510/5 in 120 overs
12.20 IST: The umpires have got together in the middle. They seem to point skywards as they have a chat. Must be something to do with the climate out there as it still is very hazy out there.
12.17 IST: FOUR! That's a shot of the man batting on over a double hundred runs under his belt. Gamage hurls this on a length angling into the batsman. IND 505/3 in 118.3 overs
12.15 IST: The players on the field have masks on their faces. Delhi in recent times has been notorious for having a high pollution level and hence the protection perhaps. Strangely though, some players aren't covering their mouths and noses and are seen having the mask hanging on their necks. LAHIRU GAMAGE, meanwhile, runs in to bowl this over. IND 500/5 in 118 overs
12.10 IST: Welcome back! We were delighted with some graceful and beautiful strokes before the break. The man behind it all, VIRAT KOHLI is still unbeaten on 225. He will resume his knock as RAVICHANDRAN ASHWIN joins him in the middle. LAKSHAN SANDAKAN will complete the over by bowling the last delivery. Here we go...
... DAY 2, SESSION 2 ...
11.38 IST: The visitors are struggling to say the least. Runs are leaking from both ends and they haven't been able to find an answer to stem the run-flow. It looks all gloomy for the tourists. They need to do something spectacular to get back into the contest. The Indian skipper has his maiden triple century in sight. Can the Sri Lankans stop him? Join us for the second session in a while.
Session Highlights - 27.5 overs, 129 runs, 1 wicket. A flawless session for India apart from Rohit Sharma's dismissal on the last delivery before lunch.  Sandakan has bowled well and he deserved his third wicket. Before that, it was a tremendous display of strokeplay from the duo of Kohli and Sharma. The former started where he left from yesterday and has gone on to score a back-to-back double ton.
11.35 IST: 
At Lunch on Day 2 of the 3rd Test India are 500/5.

Updates - https://t.co/OKFOpkiBg9 #INDvSL pic.twitter.com/cowgI9VB0q

— BCCI (@BCCI) December 3, 2017
11.32 IST: OUT! Rohit is gone on the last ball of the session. He will be disappointed he didn't get his chance to score a century. He looked very confident after the umpire raised his finger and immediately went for the review. On seeing the review it shows that the ball has a faint edge of the bat at it's enough for the TV umpire to give him out. IND 500/5 in 117.5 overs
11.31 IST: Rohit Sharma is ruled out caught behind. He decides to review it. Dickwella looks confident and the umpire was quick to raise his finger. Rohit goes straight away for the review.
11.30 IST: FOUR! How does he manage to do this on a repetition. wide again outside off, Sharma opens the face of his bat like he has done so often during the course of play. Big gap between the fielder at deep point and third man and it teased the fielder at deep point to chase it. A boundary results. 500/4 in 117.4 overs
11.28 IST: FOUR! Rohit opens the face of his bat and runs it down to third man. Wide outsidde off and Rohit won't miss out on lose deliveries like these. No protection there for the spinner and Rohit accepts the width on offer. IND 494/4 in 117.1 overs
11.27 IST: Slow through the air, eased to the mid-wicket fielder. 3 runs from the over. IND 490/4 in 117 overs
Another change in bowling. Sri Lanka's most economical bowler in this game, Dhananjaya de Silva comes into the attack.
11.21 IST: FOUR! Should have done better after getting to the ball and saving it at first attempt. Dilruwan the culprit. Tossed it up, Kohli uses his wrist and flicks it to mid-wicket. Dilruwan dives to save the boundary, he pulls the ball back but it goes to the boundary anyways. He will be disappointed as he is usually a good fielder. IND 485/4 in 115.2 overs
11.20 IST: FOUR! That could have been converted into a catch! Around the pads, Kohli tries to tickle it but gets only some bat to it. The ball flies towards Mathews at leg gully. He fails to react in time and the ball goes past has right side and through to the fence. Sri Lanka need to be alert on the field. You can't afford to let Kohli away.  IND 481/4 in 115 overs
11.19 IST: Some news comes in for Sadeera Samarawickrama. He was hit on the helmet yesterday and is he is still under medical supervision. He won't take the field today. He might return tomorrow if he recovers.
11.13 IST: FIFTY for Ro-hit! SIX! Clean as a whistle! Tossed up delivery on off, Sharma gets his dancing shoes on and tonks it down the ground for a maximum. Hits the sightscreen, that was straight as an arrow. IND 471/4 in 113 overs
11.08 IST: Slice from Sharma. The ball moves quickly on to the fielder at backward point and he does well to keep it to one. This ball is wide outside off, and Sharma lashes onto it in a flash.  IND 462/4 in 112 overs
11.00 IST: Full length delivery around off from Lakmal, Sharma puts his head down and defends it calmly. Just a single from the over. IND 458/4 in 110 overs
10.56 IST: Another delay. The Sri Lankan players gather around and are discussing something as Kohli has a drink.
10.55 IST: 
Back to back double 💯 for King Kohli #INDvSL pic.twitter.com/NDMmtzbs4W

— BCCI (@BCCI) December 3, 2017
10.52 IST: FOUR! Poor delivery and duly punished! A fraction short and spinning down the leg side, Kohli goes deep in the crease and nudges it through fine leg to find the fence. IND 457/4 in 109 overs
10.49 IST: DOUBLE HUNDRED! There it is! That's his 6th double hundred and he gets all of them in the last seventeen months. Virat Kohli you beauty! You cannot call this a purple patch. This is defiant class here from the Indian skipper. Picks up two runs here by pulling the ball to mid-wicket region. He removes his helmet in celebration and looks to the dressing room in awe. Feroz Shah Kotla is on their feet and cheering the homeboy get on his double ton. Sri Lankan skipper and Angelo Matthews come to appreciate him by shaking his hands.  IND 451/4 in 108 overs  
SURANGA LAKMAL gets the ball for another spell. Will he get the much-needed break-through?
10.42 IST: Not Out! Indeed, there is an inside edge. The crowd roars in delight! Slow through the air around off, Kohli strides forward to block it but gets wrapped on the pads. Sri Lanka appeal in unison but umpire Joel Wilson shakes his head.  IND 444/4 in 106.3 overs
10.41 IST: Oh ho! Just when Virat Kohli is on the verge of another double ton, a LBW review has been taken against him. Seems close to the naked eye. Is there an inside edge?
Time for Drinks! India have continued to score at a good click and are looking ominous at the moment. Virat Kohli is nearing his double century, which will be his back-to-back in Tests. He has entertained the crowd thoroughly and Sharma has provided him good support. The second new ball is being hit all around the park. Sri Lanka look clueless at the moment. Something spectacular, perhaps a brilliant piece of bowling and fielding might create an opening for them. However, have to say that the hosts are in complete control at the moment.
10.29 IST: On the pads from Perera, Rohit nudges it around the corner for a run. 6 runs from the over. IND 442/4 in 105 overs
10.22 IST: Nice looking shot from Rohit. Outside off, short off a length, Rohit cuts it to backward point for a couple of runs. Tidy work from the fielder there.  4 runs from the over. IND 434/4 in 103 overs
10.19 IST: In the last 6 overs, 32 runs have been scored off the second new ball. India are on the attack and they haven't let Lakmal and Gamage find any sort of rhythm. That has prompted a change and the veteran is back to roll his arm over. Sri Lanka need to find some inspiration from somewhere otherwise the Indian juggernaut will continue to roll on.
DILRUWAN PERERA comes in for another spell.
10.15 IST: FOUR! The new ball is vanishing to all parts of the Feroz Shah Kotla. Gamage tests the pitch and bangs in another short delivery outside off. It sits up nicely for Sharma who swivels and pulls it with command over mid-wicket to find the fence again. IND 430/4 in 101.3 overs
The physio comes running out. Seems like Kohli is having a slight issue with his back. The magic spray comes out. Just might be a little stiffness. The Indian skipper is in the midst of a big innings.
10.13 IST: FOUR! How elegant was that! wonderful on the eye and a boundary from the moment it left the bat. IND 421/4 in 101 overs
10.09 IST: FOUR! Not in control this time. Yet gets the desired result. This happens when you are in form and on your 180's. Outside off this time from Lakmal, Kohli opens the face of the bat at the last moment, there were two slips and a gully and it goes in between all of them. The boundary also gets them their 50 run stand and its come in quick time. IND 416/4 in 100.2 overs 
10.03 IST: FOUR! Gracefully done from Kohli. Didn't seem at first that it would run all the way to the fence, but the timing on that was perfect. Length ball, around off, Kohli opens the face of the bat and it goes from the outer half of the bat. The fielder at fine leg ran to his right but couldn't save the certain boundary. IND 411/4 in 99 overs
09.55 IST: Good fielding! Half-volley outside off, Kohli leans into it and nails the drive but the short cover fielder dives to his right to intercept. IND 405/4 in 97.1 overs
Lahiru Gamage comes into the attack. Two slips and a gully in place.
09.51 IST: FOUR! 400 up for India. That's not how to start with the new ball. Not what the captain would like from him. Fuller length ball onto the pads on Kohli and he flicks it classically to mid-wicket region for a boundary. The fielder at mid on chases the ball only to get it back from the fence.  IND 402/4 in 96.1 overs
The second new ball has been taken. They have done so after 96 overs. SURANGA LAKMAL will have the first bite at it. Let's see what he can get of the new cherry.
09.45 IST: FOUR! DEFT! Amazing shot from Rohit Sharma. So elegant to watch. This ball is just around off and Sharma opens the face of the bat again and plays it towards the third-man region and it goes all the way for a boundary. Fielder at slip chases it but cannot keep pace with the ball. Rohit is looking good. IND 392/4 in 95 overs
09.41 IST: SIX! First maximum of the game. What a hit! Floated around off, Sharma clears his front leg and lifts it over long off for a biggie. The cameraman failed to spot it he rolled his camera towards long on. That shot would give Sharma a lot of confidence. Might be a good ploy to the attack the youngster to upset his rhythm. IND 386/4 in 94 overs
09.36 IST: Easy run this for Virat. He goes back and uses his wrists to turn it away off his pads for a run to retain strike. 4 runs from the over. IND 376/4 in 92 overs
LAKSHAN SANDAKAN to begin from the other end. A slip and a bat-pad fielder in place for him too.
09.32 IST: Just a single from Perera's first over, a good one from the spinner. IND 372/4 in 91 overs
09.28 IST: The Sri Lankan players make their way in middle with the umpires. The Indian pair of ROHIT SHARMA and VIRAT KOHLI are ready to give Sri Lanka another hard day's work. DILURWAN PERERA will start the first over of the day. A slip and a short leg to start with. Here we go!
09.25 IST: Very hazy in Delhi at the moment, the clarity isn't great, informs Sanjay Manjrekar
09.15 IST: PITCH REPORT - Russel Arnold says that the sun has come out early today in Delhi and the pitch has not changed much after yesterday. The grass, as he thought, is a bit superficial and not much has changed. Sunil Gavaskar adds that the pitch is still very good for batting. After inspecting the pitch further, he states that the cracks are yet to open up and the footmarks are visible but not at a length that should trouble the batsmen. Further mentions that the pitch should remain the same during the course of play. He adds that the batsmen should capitalize on the wicket and score as much as possible. Arnold says that Gavaskar and he have looked up and down, but the Sri Lankans have to look inside for the resilience.
09.10 IST: Russel Arnold has a chat with Dilruwan Perera, the quickest Sri Lankan to pick up 100 Test wickets. He is delighted with the feat and says he knew Muralitharan was the quickest to the mark and was aware of beating the former spinner in this regard. States that he plays just a few games outside Sri Lanka and hence he aims to do well in the chances he gets. Says that the track is flat at the moment and he will look to pitch the ball in right areas to restrict India to a decent total.
08.56 IST: Murali Kartik catches up with Murali Vijay on the sidelines, who says that his mindset is really good and he's hitting the ball really well. About his celebration post the century mark, he says that they are practicing a jig for the away series and are teaching Pujara the same, as they want the no.3 batter to dance in the future. He isn't even thinking about the wrist injury (that had hampered him in the last 6 months) and is happy with the way he is hitting the ball. He admits it is difficult to play just one format and that too Tests. There is no room for error, he reckons, and as a professional these are the challenges that he looks forward to. About changing gears, he states it is about habit. Asserts that he doesn't want to give the opponent a chance to dismiss him. Adds that in the initial part of his career he did so and paid the price for it and hence avoids doing so now.
08.45 IST: 
Hello and welcome to Day 2 of the 3rd Test with India on 371/4. How many runs do you reckon the hosts will add to their overnight tally? #INDvSL pic.twitter.com/L9t7DeYU1g

— BCCI (@BCCI) December 3, 2017
08.35 IST: 
150 runs off 178 balls for @imVkohli #INDvSL pic.twitter.com/DhNn9NcQ8y

— BCCI (@BCCI) December 2, 2017
Brief Preview:
Captain Virat Kohli and opener Murali Vijay made a mockery of sub-par Sri Lankan attack with effortless centuries as India cruised to 371 for four on the first day of the third and final Test in Delhi.  Skipper Kohli (156 batting), who is on a record-breaking spree, smashed his 20th hundred in the company of Vijay (155) as they added 283 runs for the third wicket.  Sri Lankan bowlers were not even capable of bowling to the set field as Vijay hit 13 boundaries while Kohli's innings had 16 boundaries.
The skipper made it look like a knocking session against a bowling attack, which at times looked inferior to a middle-rung first-class side playing Ranji Trophy. Kohli also became the first international captain to score a hat-trick of hundreds in a three-Test series. If Kohli intimidated the Sri Lankans with his range of strokes, the sublime Vijay punished them with innumerable cuts throughout the day. Watching the Lankans bowl without any sense of purpose, a former India player turned commentator made a classic comment. Lahiru Gamage at best could be the third pacer of a mid-level Ranji Trophy side! (Read Full Day 1 Report)