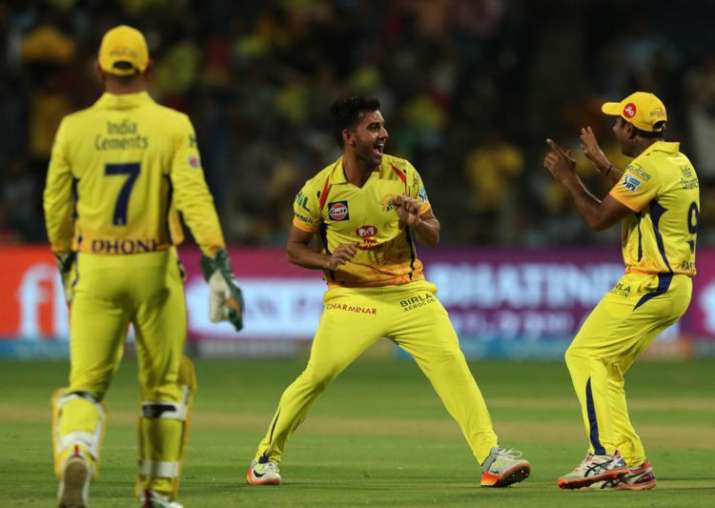 Impressed with Deepak Chahar's consistent progress, Chennai Super Kings coach Stephen Fleming on Tuesday said what makes the pacer special is his ability to swing the ball at a good pace. "He has been developing over the last two years. He had a very good domestic season. His skill set was something we were very impressed with since the first day. He is actually a handy batsman as well. We think he is a fine cricketer," Fleming told reporters on the eve of match against Royal Challengers Bangalore.
"The fact that he swings the ball is important. Lots of trends in the game, obviously wrist spinners and swinging the ball are very effective at the moment. And he does that and he does it at good pace too. At the moment he's around 140 kph, 143 tops. He's gone really well. He has got to find and maintain consistency and that will come with experience," he said.
Chahar shot to limelight at the age of 18 when he bagged 8 for 10 on Ranji Trophy debut to skittle out Hyderabad for 21. He ended up the season with 30 wickets, which compelled Rajasthan Royals to sign him.
However, a spate of injuries and illness saw him fade away.
Chahar also was the top wicket-taker in 20-over Syed Mushtaq Ali Trophy with 19 wickets in Rajasthan's maiden run to the final.
Replying to a query, Fleming said the contest between Virat Kohli and Mahendra Singh Dhoni as captains makes a great game.
On Wednesday's game, Fleming said they are enjoying a good run but RCB is a tough side to beat, with great batting and good bowling line-up.
"We know we have to play very well to put any pressure in the top order and they have also got good bowlers. Umesh Yadav has been excellent with the new ball. Chahal - So, there is lot of good contest at hands," he said.
On having both Harbhajan Singh and Karn Sharma in a team, Fleming said the team decided the combination looking at the potential of the rival teams.
"It is all about getting the balance right. Karan took Tahir's place because he suffered an injury. Harbhajan Singh is good at bowling to left-handers. So, we picked him up at Chennai where the ball turns and bounces. We pick team looking at the potential of rival team. They could all play, maybe some day," he said.
Replying to a query, Fleming said it is great to watch old players like Chris Gayle, Shane Watson and Dwayne Bravo, doing well, but it is also exciting to watch some young players coming through.
"From what I have seen over the years is that experienced and professional players dominate big part of IPL. Chris Gayle has made a comeback and is playing really well. Obviously, Shane Watson, Dwayne Bravo - these guys play a lot of cricket, but it is exciting watching young players," he said.
Old players can provide consistency, provided they remain motivated, fit and committed, which can help their teas to make headway in the tournament, he said.
"I am not here to develop young players, but try and win competition for the franchise," he said.
RCB's AB de Villiers played down the bowling concerns of his side.
"At the end of the day what it comes down to is the kind of wickets. I guess we made a much better bowling performance in the last game than what we had started out with. Our bowlers have committed a few small mistakes of bowling a couple of no balls and wides, but would like to rectify them in next game," he said.
On playing three games at home, de Villiers said the team would try to win them all.
"They say that if you make your home ground your fortress in the season you normally tend to win. We know it is important to do well at home. We have already had a bad last year, but we had a couple of good wins as well," he said.
"So, over the next few games that we will play here, we will keep doing that. It is important for us to make sure that if we get to maintain that at home, sometimes you surprise yourself in the run," he added.
On RCB's trophy drought, de Villiers said, "I was not here for the first three years. I don't know what they were doing then. For the last three seasons we've been trying our best. Even in this season we've got a few new faces. So hopefully we have got that special one to win this season.