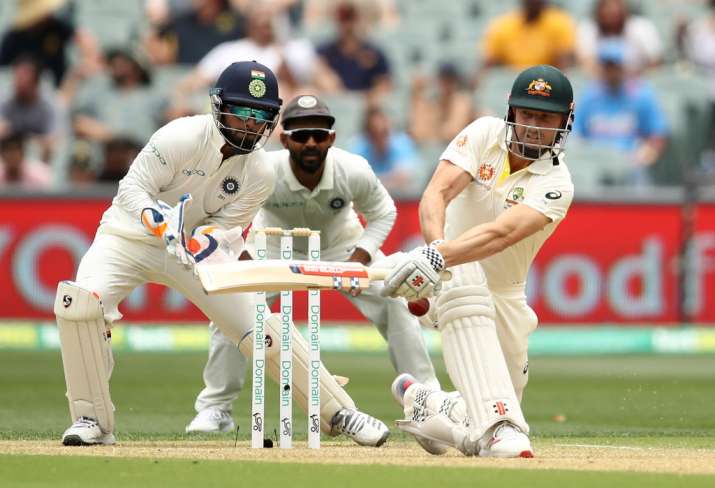 India vs Australia, 1st Test Match, Day 4: End of a fascinating day of Test cricket! India have gained a strong upper hand on this game and will be eyeing a series lead now. It all started for them in the morning when the pair of Pujara and Rahane batted with a lot of purpose to swell the lead. Post that, Rishabh Pant showed some attacking intent in the afternoon but then Nathan Lyon got into the act to finish with a 6-wicket haul. India with the help of Ashwin and Shami have claimed four wickets. Veteran Shaun Marsh manages to resist the attack for now, but Australia require 219 runs and India need 6 wickets. Here are the highlights of Day 4 of the 1st Test. (Click Here for Live Coverage in Hindi) (IND vs AUS 1st Test Scorecard)
Highlights, India vs Australia, 1st Test, Day 4 from Adelaide
* Time to sign off. 219 runs and 6 wickets - That's where this Test match stands. India are the firm favourites, no doubt and it will require some courage and miracle from Australia to come out unscathed. It promises to be an exciting finish. Do join us at 5.00 AM IST for Day 5 updates. Ciao!
* But Shaun Marsh has shown a lot of application and maturity so far in his innings as he constructed a partnership with Travis Head to see off the day's play. The pair largely looked at ease and the home side will be hopeful of their chances on Day 5.
* Set a daunting target of 323, Australia got off to a steady start but then lost Aaron Finch at the stroke of Tea. A couple of rash shots resulted in the demise of Marcus Harris and Usman Khawaja from the crease which left Australia tottering on 60/3. Peter Handscomb didn't last long either after showing good promise and it appeared that India will run away with the show today itself.
Stumps on Day 4 of the 1st Test.

Australia 104/4 chasing 323. #TeamIndia need 6 more wickets to win the game.

Scorecard - https://t.co/bkvbHd9pQy #AUSvIND pic.twitter.com/irMb1oCLaK

— BCCI (@BCCI) December 9, 2018
13.04 IST: Last ball of the day and Travis pushes the ball to the fielder at mid on to end the days of play. That's Stumps on Day 4.
13.00 IST: Last over of the day coming up. A silly mid on in place...
12.43 IST: FOUR! Overpitched by Bumrah and he beautifully uses his wrists to hit it through the square leg region for a beautiful boundary. Marsh is looking dangerous now and India will want to break this partnership sooner rather than later.
12.37 IST: Murali Vijay has been introduced into the attack. 7 overs left in the day's play. Unlikely they can get all bowled with around 20 minutes left for Stumps.
12.28 IST: FOUR! EXQUISITE! Width given there by Shami and Head goes onto his back foot and hits the square cut perfectly. Travis is continuing his form from the first innings.
* Good news for India! Jasprit Bumrah is back on the field.
12.22 IST: Back of a length this time, on middle and off. Blocked away by Marsh off his back foot.
12.17 IST: Shaun gets on his front foot and pushes the ball towards extra cover for a single. Bumrah does a brilliant work diving to his left and saving runs for his side but he also injures himself in the process. India would pray that it's not anything long term.
* Travis Head arrives. He played a handy knock in the first innings. His team needs another one from his bat.
12.13 IST: OUT! Gone. Number 4 goes down. Australia in tatters. Shami returns in the attack and strikes. Good bowling change by Kohli. A short delivery hurrying onto the batsman, Handscomb tries to pull but fails to middle his shot properly. It comes out off the higher portion of his bat and goes straight into the hands of Pujara at mid-wicket. The Indians are celebrating. They are right on top and are slowly running through the Aussie batting line-up.  Shami removes Handscomb for 14. AUS 84/4 in 36.5 overs
12.09 IST: Ohh! That turned sharply after pitching on middle and beats the stumps and the outside edge of Marsh's bat.
12.01 IST: FOUR! BEAUTY! Too full by Ashwin. He tosses it up to Marsh outside off and Marsh hits his trademark drive through covers for a boundary. Timed and placed it to perfection by Marsh. AUS 84/3 in 34 overs
12.00 IST: Whoa! This one shoots off the surface from a length around off, Marsh is taken by surprise as he tries to defend. Takes a blow on his gloves as it pops out towards point. Not carrying.
11.58 IST: Angles in a full ball on off, Handscomb tries playing straight but it takes an inside edge and goes through square leg for a couple of runs.
11.52 IST: Middle and off stump line by Sharma this time. He bowls it full and Handscomb flicks it towards the mid-wicket region for a single.
11.44 IST: A bit shorter this time, Peter tries to block it but the ball jags back in and hits him on his abdomen.
11.39 IST: FOUR! Short of a length and Handscomb pulls it away to square leg for a boundary. Confident looking shot by Handscomb there. Should direct the bouncers better. AUS 68/3 in 26.4 overs
11.27 IST: Waugh could deduce what could happen.
Mark Waugh's commentary leading up to that dismissal...

Live coverage HERE: https://t.co/TMtG4y3RQz #AUSvIND pic.twitter.com/ZSAszFXeUM

— cricket.com.au (@cricketcomau) December 9, 2018
11.26 IST: Skidding back in from around off, Marsh is forward in defense but it takes the inside edge and rolls to mid-wicket. Peter comes running down in search of a run but is sent back.
11.23 IST: Good length delivery on off, Handscomb plays it well off his front foot. Bumrah trying to catch Peter in the crease for an lbw.
11.18 IST: Fires in a quicker one in line of the stumps, Shaun immediately gets back and defends it to the off side.
* Peter Handscomb will replace Usman Khawaja in the middle.
11.16 IST: OUT! Talk about throwing your wicket away! Poor, very poor by Khawaja. He is the experienced batsman and that's a needless shot. Superb delivery by Ashwin. Bowls it slow and lands it in line of the stumps. Usman is down the track for a big shot but it turns away just a bit to take a top edge. Rohit runs in from sweeper cover, seems to have misjudged the skier a bit but then completes the catch by diving forward. Equation - Australia need 263 runs, India need 7 wickets. Australia 60/3 in 23.3 overs
11.10 IST: What a beauty. The ball pitches on off in the good length area. The ball moves in after hitting the pitch and misses the southpaw's edge of the bat by just a few inches
11.08 IST: A bit shorter outside off by Bumrah, Usman tries to pull but the ball isn't short enough to pull. The ball misses the bat and goes to Pant behind the stumps.
11.02 IST: FOUR! Well played! Marsh picks the length early which is on the shorter side. He rocks back and cuts it behind backward point for a boundary.
10.55 IST: On a good length and outside off, Khawaja shoulders arms to end a successful over for Shami.
* Shaun Marsh arrives.
10.48 IST: OUT! Second one bites the dust! Harris runs out of patience. A real tempter by Shami, bowls it on a length outside off and Marcus remains inside the crease in his attempt to cut it through the line. The length is not quite there and it takes a thick outside edge on its way to Pant's gloves, his 8th catch in the match. Australia in trouble. Shami removes Harris for 26. Australia 44/2  in 16.2 overs
10.44 IST: Superb shot! Shami overpitches slightly on middle, Khawaja is forward with a straight bat and caresses it down the ground. The mid off fielder chases it down and they take three runs.
10.42 IST: Ouch! Extra bounce for Shami. He darts it on a shortish length around middle, Khawaja fails to get it away and is hit on the body.
10.40 IST: Oohhh...nearly chops it back on. Shami delivers it on a length around off and gets it to skid back in with the angle. Khawaja tries to defend from the crease but gets an inside edge onto the pads. It almost rolls behind to the stumps.
10.37 IST: FOUR! Consecutive boundaries to Harris. Ashwin overdoes his line and bowls it full on middle, Marcus leans forward and across before flicking it through mid-wicket. AUS 40/1 in 13.4 overs
10.37 IST: FOUR! Fine shot! Flighted delivery landing full outside off, Harris gets on the front foot and crunches his drive through covers for a boundary. Reminds us of David Warner. AUS 36/1 in 13.3 overs
10.3 IST: DROPPED BY PUJARA! Brilliant effort though. Shami plays on the patience of the batsman and dishes out yet another length delivery outside off. Harris gets lured into the drive and gets a big fat outside edge behind. Pujara at first slip dives full length but only get his left hand to it. Parries it behind to third man and they cross. The replays show that there was no second slip in place as KL Rahul was standing at third slip.
10.27 IST: We're back. The players are back on the field. Usman Khawaja has joined Marcus Harris. India are continuing with Mohammed Shami from this end. Here we go...
Day 4, Session 3
10.25 IST:
Another big moment just before tea as Finch opts NOT to review! #CloseMatters#AUSvIND | @GilletteAU pic.twitter.com/2sudnA0KAf

— cricket.com.au (@cricketcomau) December 9, 2018
10.17 IST: The hosts are under pressure on this testing surface and need partnerships in this big chase. Do join us in a short while for the last session where we are supposed to get 38 overs bowled.
10.09 IST: OUT! Ashwin draws first blood. A lovely delivery, drifting into the batsman outside off and breaking back in after hitting the deck.  Finch gets forward to defend it with his bat and pad together. The ball spins back in, goes closely past his gloves and lobs in the air. Pant runs forward to catch and they appeal. The finger goes up and Kohli is pumped up. Finch walks up to his partner but decides not to take the DRS. The replays later on are not very conclusive. Anyway, Tea has been taken on Day 4. AUS 28/1 in 12 overs
10.03 IST: No hat-trick for Shami. He bowls it on length, in the middle stump channel. Blocked away by Finch.
09.57 IST: FOUR! Classy cover drive by Finch. Overpitched this time by Sharma, Finch gets on his front foot and brilliantly drives it through covers for a four. Superb shot by Finch there. AUS 23/0 in 8.4 overs
09.50 IST: Length delivery on middle, moves with the angle. Finch tries to flick it but it hits his pads and they take a single. Make that two as Rohit Sharma has a shy on the stumps at the non strikers end. No one is there to stop that immediately and they take the second.
09.48 IST: FOUR! Short of a length delivery by Marcus, Harris cuts it away beautifully through the off side for a boundary. The shot was oozing out class.
09.34 IST: The Australian openers have so far looked untroubled barring the LBW shout against Finch in the very first over.
09.22 IST: Jasprit Bumrah has the ball from the other end.
09.19 IST: REVIEW AND NOT OUT! Aaron Finch has been adjudged lbw. He looks plumb in front. But still, he wants to get it reviewed. What an error by Ishant there. He oversteps the line and there's no need to see further. Finch survives.
09.15 IST:Finch and Marcus Harris come out to bat in their chase of 323. Ishant Sharma has the ball for India
That's a wrap to the Indian innings. Nathan Lyon picks up 6. Rahane 70, Pujara 71. Australia require 323 to win #AUSvIND pic.twitter.com/5FKsdEm3Vb

— BCCI (@BCCI) December 9, 2018
09.12 IST: A much-better batting performance by the touring team in their second essay. Their openers set the tone and then the middle order capitalized. Pujara's partnerships with Kohli and Rahane put India in a commanding position. Now, they have a firm control of this game and with the pitch assisting spin and bounce, all the hopes will be pinned on the responsible shoulders of Ravichandran Ashwin.
09.08 IST: OUT! Ishant is bounced out! Starc bangs in a lethal short delivery on middle, Sharma stands back and tries to fend at it. He takes his eyes off the ball too and ends up lobbing it in the air off the splice of his bat. A simple catch for Finch at short leg. India are all out for 307!
08.59 IST: No hat-trick. Loopy ball on off, Bumrah defends it by prodding forward.
08.44 IST: OUT! Two in two for Lyon, he's on a hat-trick now. A tossed up delivery, landing around off and turns back in. Shami shimmies down the track and tries to heave it in the stand at mid-wicket. But on the point of contact, the ball turns in and takes the inner half of the bat. It goes aerially to deep mid-wicket where Harris takes another skier easily. IND 303/9 in 103.3 overs
08.43: OUT! Soft dismissal for Rahane! Lyon is all smiles, this is his 13th fifer in Tests. Flighted delivery, landing full around off, Rahane goes down on on knee and tries to reverse sweep against the spin. He fails to control his shot and hits it in the air. Mitchell Starc moves across to his left from point and takes the catch safely. India lead by 318 and have two wickets left.. IND 303/8 in 103.2 overs
08.44 IST: OUT! Ashwin holes out! Finally they pick a wicket off the short ball. Ashwin tries to pull it away for a maximum but doesn't connect well and finds Marcus Harris in the deep backward square leg region. Starc hasn't looked good but gets his second wicket. Starc removes Ashwin for 5. India 303/7 in 102.2 overs
08.38 IST: Swing and a miss. Length delivery outside off, a bit of movement away from the batsman. Rahane swings hits bat at it and he's lucky that the ball goes past the outside edge.
08.33 IST: Stumping chance? Tough. Floated off spinner on middle, Ashwin rushes down the track for a big shot but misses the ball completely. It spins back big, beats the leg stump and further turns away. Paine fails to collect as a result and they take three byes. IND 293/6 in 99.1 overs
08.26 IST: In the air... SAFE! Would have been an unfortunate dismissal for Ash. Flighted off spinner landing around off and spinning back in. Ashwin stays back to hit across the line and it hits short leg before ballooning in the air. Paine runs across to his left, Harris sprints forward from backward square leg - both dive but the ball falls right in between. They cross for a run and the lead is now 300 runs.
08.23 IST: OUT! Live by the sword, die by the sword. Pant is out of here. Lyon tosses it up generously outside off and gets it to spin away. Pant tries to dismiss it over covers with an inside-out shot but ends up handing a simple catch to Finch at sweeper cover. The cameo is over. Lyon has the last laugh. He gets his revenge in the form of his fourth wicket. India's lead three short of 300.
08.18 IST: FOUR! Beautiful! Overpitched by Starc, Rahane looks in amazing touch today and he exquisitely drives it through covers for four. IND 282/5 in 96.5 overs
08.14 IST: SIX! Launches a rocket! 18 from the over, what a start to the session. India's lead is now 7 short of 300. IND 278/5 in 96 overs
08.13 IST: FOUR! Pant is going bang, bang, bang... Advances down the track to a full ball and powers it over mid on. Once again the connection ain't proper but it still has enough to take the ball over past the fence. IND 272/5 in 95.5 overs
08.13 IST: FOUR! Back-to-back boundaries for Rishabh. However, this time he didn't get the connection right. Jumps out of the crease and swings his bat across the line. It takes the inside half of the bat but still speeds away through mid-wicket for a boundary. IND 268/5 in 95.4 overs
08.12 IST: FOUR! Two balls spent defending and that's all. How refreshing is this player! Wears his skates to a full ball around leg and heaves it against the spin over mid-wicket for a boundary. IND 264/5 in 95.2 overs
08.11 IST: Welcome back for the afternoon session. The men concerned are back on the field. Rishabh Pant will be on strike. Nathan Lyon to begin proceedings... 
Day 4, Session 2
That's lunch! Rahane still there on 57 with India now 5-260 and leading by 275.

Lyon has 3-92 for the Aussies: https://t.co/lTUqyqRMzW #AUSvIND pic.twitter.com/oF1OWVmCXQ

— cricket.com.au (@cricketcomau) December 9, 2018
* Top session for India. They have further strengthened their position in this Test match. The pair of Cheteshwar Pujara and Ajinkya Rahane dominated the most parts of the morning half as they put together an 87-run stand. The Australian bowling was flat to say the least, however, Nathan Lyon bowled his heart out and eventually snapped a couple of wickets. The Indian lead is now 25 short of 300 and they will be eager to bat at least one more session to maximize it. In Rahane and Pant, the tourists have a perfect match in the middle and we can expect some fireworks post Lunch. Do join us in a short while for all the action.
07.32 IST: Outside off and Rahane shoulders arms to it. That's Lunch on Day 4.
07.20 IST: FOUR! Connects and connects well this time! Loopy full ball landing around off, Pant takes a big stride forward and muscles it over mid on for a boundary.  IND 256/5 in 93.1 overs
07.15 IST: OUT! Terrific catch by Peter Handscomb at silly point! Lyon strikes again and is all smiles. All the hard work is paying off now for the Aussie off spinner. A bit similar to Pujara's wicket. The ball brushing the pads first and then taking the gloves. India 248/5 in 91.2 overs
07.12 IST: FOUR and FIFTY! Ajinkya Rahane scores his 16th Test half-century. India 246/4 in 90.4 overs
07.07 IST: FOUR! Takes a good calculative risk and sends it across the fence. Loopy and around off, Rahane skips down the track and flicks it with the turn over mid-wicket for a boundary. IND 242/4 in 90 overs
07.04 IST: Edgy! Rahane comes down the track again and tries to defend. It takes the inside edge and flies wide of short leg.
* Rohit Sharma arrives with India leading by 249 runs. The stage is set for him.
A look at how Pujara's terrific innings came to an end.
Reward for Nathan Lyon and Pujara's terrific knock comes to an end.

Live coverage here: https://t.co/lTUqyqRMzW #AUSvIND pic.twitter.com/f9OjOGEQfU

— cricket.com.au (@cricketcomau) December 9, 2018
06.59 IST: OUT! First success for Australia this morning! Lyon gets a breakthrough finally. He has been the most impressive bowler for the Aussies and is rewarded for his perseverance. A tossed up delivery landing outside off, Pujara strides forward to wear it on his pads but it bounces extra, raps him on the front thigh pad and then takes some part of his gloves before lobbing to Finch at short. They appeal and the finger goes up. The 87-run stand is broken, devil's number benefiting Australia for a change. Lyon removes Pujara for 71. India 250 & 234/3 in 88 overs
06.42 IST: Leg bye! On middle and leg, Rahane tries to flick it but misses and the ball hits his pad and goes towards the fine leg region for a single.
06.36 IST: Catch it is the shout... SAFE! A flighted ball on middle, Rahane steps down the track and flicks it aerially over square leg. Harris in the deep runs forward but the ball drops in front of him. They pick up a single.
06.30 IST: FOUR! Starc bowling over the wicket to the right-hander bowls down the leg, The bowl is swinging away, Pujara leaves it and diving Tim Paine cannot even get a hand to it. The ball races away to the fence.
06.26 IST: FOUR! Shot of the session. Starc bowls it full on off, he gets a hint of inswing but Rahane hits is straight down the ground for a single. When Rahane is on song there are very few players as beautiful to watch. IND 219/3 in 80.3 overs
* Starc comes in with the new ball
06.19 IST: In the air...safe! Turn and bounce from around off, Rahane tries to paddle it away but gets a top edge. It balloons in the air but drops safely before the short backward square leg fielder gets there.
* Magnificent morning for India. They haven't lost any wicket on Day 4 and have managed to swell their lead to 224 runs. Pujara and Rahane are going strong at the moment while Australia's bowling has looked quite flat with the exception of Nathan Lyon. Will the script change in the next 75 minutes?
06.13 IST: FOUR! Bad delivery by Cummins there. With the form Pujara is in, he will hit these deliveries for a boundary even in his sleep. It was bowled short and down the leg, Che flicks it towards the fine leg region for a boundary.
06.04 IST: Dropped? Nopes. Flighted off spinner around off, Rahane leans forward to defend but it takes the inside edge, brushes his pads and flies wide of Finch at short leg.
05.56 IST: FOUR! Shot! That found the sweet spot of his bat. Cummins delivers it on a length outside off, Rahane plays a punchy-drive through covers for a cracking boundary. IND 197/3 in 74.1 overs
50 partnership for Pujara-Rahane. #TeamIndia's lead swells to 212 😎👍 #AUSvIND pic.twitter.com/D7MqeiOOrH

— BCCI (@BCCI) December 9, 2018
05.53 IST: FOUR! Nice shot! Lyon pulls his length back and bowls it around off, Rahane goes deep inside the crease and pulls it with authority through mid-wicket for a boundary.
05.50 IST: Not out! Nothing there. Lyon serves a flighted off spinner around off, Rahane dances down the track and then tries to defend with his bat close to the front pad. It pops out off his pads, the short leg fielder catches it, they appeal and the finger goes up. Rahane quickly takes the DRS and the replays detect no wood. Also, the third umpire checks for the lbw but it's too high.
* Ajinkya Rahane is given out, caught at short leg. He takes the DRS.
05.41 IST: Catch it is the shout, nothing doing. Pujara shimmies down the track and defends it with his bat and pad together. Slight inside edge there but not carrying to any of the close-in fielders. IND 183/3 in 71.3 overs
* Slight altercation there. Aaron Finch and Cheteshwar Pujara involved in war of words. Umpire Dharmasena intervenes.
05.36 IST: Whoa! Extra spin and bounce, Pujara decides late to offer no shot and takes a blow on his body. This is turning out to be a tough pitch with every passing minute.
05.30 IST: FOUR! Easily put away! A friendly long hop by Lyon, it's around off and this time Pujara picks it early. He immediately goes inside the crease and pulls it powerfully over mid-wicket. IND 176/3 in 69.4 overs
05.27 IST: Nearly walks into the trap. Rahane dances down the track to play the flick shot and does so in the air. Luckily for him, it falls just short of short mid-wicket. There are three catching fielders on the leg side.
05.24 IST: FOUR! Beautifully punches off the back foot through backward point for a boundary. A very loose delivery by Starc there, offers Rahane width and Ajinkya has no problem punishing it.
05.20 IST: Fifty up for Pujara, his 20th in Tests! Lyon bowls it slightly short around off and it turns back in from there. Che goes deep inside the crease and cuts it behind backward point for three runs. Good hands of Pujara! Yet another valuable knock by him. Taking the lead to 180. 
05.13 IST:  EDGY FOUR! Hazlewood serves it on a length around off and gets it to straighten a bit. Pujara plays inside the line from the crease and gets an outside edge. It speeds past the diving gully fielder for a boundary. The outfield certainly has quickened up today.
05.12 IST: FOUR! First runs of the day and it's a boundary. Pujara gets on his front foot and drives the ball through covers for a boundary. Overpitched by Starc this time outside off. The ball makes a sweet sound as soon as it hit Pujara's blade. No one's stopping that.
04.57 IST: Pitch report - The pitch will hold up well with a good covering of grass, feels Mark Waugh. He adds that it's going to be tough to judge the spin and bounce from the footmarks which are mainly outside the right-handers' off stump. Mark further says that there is not much rough outside left-handers' off stump, so Ashwin will have to try and mix up his line and length.
04.50 IST: The sun shone on India on a damp Day 3 as they managed to drive home the advantage. After gaining a 15-run advantage, their batsmen applied themselves better than the first innings to put the touring team in a commanding position. Given the nature of the pitch, Australia would be feeling the heat already but their first aim this morning will be to limit the damage. An important session in the context of this Test match is minutes away from unfolding itself. Hello and welcome everyone. Stay tuned for more updates.
Match Day 3 brief report: The sun took a break but India shone to stay ahead of Australia in the opening Test after sporadic rain intrusions, KL Rahul's enterprise and Cheteshwar Pujara's obduracy culminated in a 166-run lead here Saturday. Virat Kohli was dismissed late in the final session as India reached 151 for three at stumps on day three at the Adelaide Oval. The Indian skipper lunged forward to defend off Nathan Lyon (1/48) but was caught at short leg for an uncharacteristic knock of 34 (104 balls). At the close of play, Cheteshwar Pujara was unbeaten on 40 runs, while Ajinkya Rahane was batting on 1 not out. India led by 166 runs. (Read full Day 3 report here)