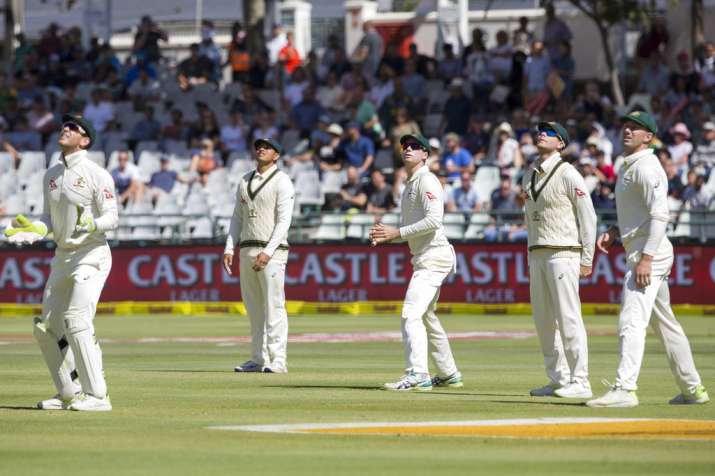 Australian cricket's investigation into the cheating plot that plunged its team into a reputational crisis and threatens the future of its captain and best player has begun after two senior officials arrived in South Africa to start work on uncovering the extent of the rot on Monday. Cricket Australia's head of integrity Iain Roy and high-performance manager Pat Howard are in Cape Town and Roy "will immediately conduct his inquiries around the specifics of the ball-tampering incident" the Australian cricket body said.
"We know Australians want answers and we will keep you updated on our findings and next steps, as a matter of urgency," CA chief executive James Sutherland said.
Sutherland was also travelling to South Africa and said he expected to provide some answers on the ball tampering scandal to an outraged Australian public by Tuesday evening South African time, Wednesday morning back home in Australia.
Team captain Steve Smith was banned for the last match of the series in Johannesburg by the International Cricket Council and stepped down temporarily from his role as captain of Australia. That came after he confessed he was one of at least two, maybe more, senior Australia players to plot to cheat in the third Test against South Africa on Saturday by tampering with the ball with a piece of yellow adhesive tape and some dirt.
Cameron Bancroft, the player tasked with doing the on-field tampering, was caught in the act on the field by television cameras in a highly embarrassing moment for a team seen as a giant in world cricket.
Bancroft's attempt to hide the evidence by shoving the small piece of yellow tape down the front of his trousers and then trying to deceive the umpires by claiming innocence only exacerbated the fallout.
Australian cricket boss Sutherland's decision to head to South Africa himself underlined the severity of the scandal. He said he expected to receive a report from Roy and Howard in Johannesburg on Tuesday after the team heads there from Cape Town for the final Test.
Smith and vice-captain David Warner, also implicated in planning the cheating, are in danger of being fired from their positions and expelled from the team. Bancroft could also be punished, while Australian media is asking tough questions of coach Darren Lehmann and if he also knew about the plot.
Cricket Australia chairman David Peever asked for a little patience, with cricket-mad Australians, including Prime Minister Malcolm Turnbull, demanding answers and action with the reputation of their favourite sporting team in tatters.
"We understand that everyone wants answers, but we must follow our due diligence before any further decisions are made," Peever said.
(With AP Inputs)