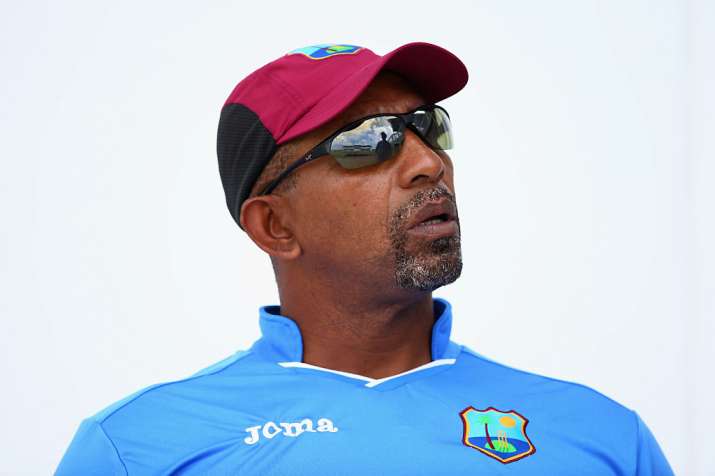 Working on the rigorous requirements of five-day cricket will the biggest challenge for his team over the next six weeks, feels Afghanistan coach Phil Simmons ahead of the country's inaugural Test in Bengaluru from June 14. After joining Afghanistan in January, Simmons has achieved goal number one by guiding the fast-rising side to its second World Cup qualification.
Now as the Asghar Stanikzai-led team gets down to prepare at their 'base' in Greater Noida and 'second home ground' at Dehradun for the historic match against India, Simmons has a tough ask of ensuring a competitive performance against the top-ranked Test team.
"These boys have played four-day cricket with the associate nations and have done well. But Test matches are going to be a different ball game. The boys will realise this very soon and playing India makes it all the more challenging," Simmons told PTI.
Afghanistan won the four-day ICC Inter-Continental for the second time in December. So it is not like they have no idea about the longer format of the game. Test matches are all about patience, both in batting and bowling, and let me tell you it is a big adjustment. And that is what we need work on majorly over the next six weeks, said Simmons.
The one off-Test at the Chinnaswamy Stadium will be Simmons' first multi-day assignment with Afghanistan and he is looking forward to it.
The nice thing I think is that we get to play in one of the better grounds, in Bangalore. It is one of the better wickets to bat on in India, said the former West Indies all-rounder who played 26 Tests and 143 ODIs.
Also a former West Indies and Ireland coach, Simmons said he will be banking more on his bowlers to trouble India.
The bowling is surely stronger than our batting. But let me tell you even for spinners like Rashid Khan, Mujeed Zadran and Zahir Khan, it will be tough to take wickets. The two (Rashid and Mujeeb) are currently playing the IPL, so I am pretty sure they will come back to us as better bowlers.
Mujeeb has not yet played longer format for Afghanistan but I have been following his IPL campaign. He looks a much-improved bowler. Rashid, on the other hand, is a thorough professional, I know he will keep evolving and keep improving, reckoned the 55-year-old from Trinidad.
On the batting front, he has high hopes from skipper Stanikzai, Mohammad Shahzad, Mohammad Nadi and Rahmat Shah who all have scored First-Class hundreds.
We have to learn to bat for long periods. As you mentioned, it will be all about patience. Just getting used to the pressure of a Test match, said Simmons who sees Afghanistan become a solid Test team over the next few years.
The opposition captain, Virat Kohli, might be playing country cricket in England during the Bengaluru Test. Simmons said Kohli's absence will not matter much.
You are playing India, you are not playing Virat. If he was injured, we would still be playing against a formidable India. The only thing is that my players won't be able to play against the number one batsman in Test cricket. So it takes away that from us but as a Test match, it doesn't take away anything.
Afghanistan beat the West Indies to win the ICC World Cup Qualifier in Zimbabwe last month. Simmons, who was sacked five months after coaching the West Indies to the 2016 World T20 title, got emotional while talking about the travails of the team he played for.
It is very sad. It is hurtful (that West Indies had to qualify). But you could see it coming since the time was I coaching them. There were not a lot of things done correctly. We were struggling and did not play enough games before the cut-off period for automatic qualification.
Simmons was removed as coach following a fallout with the West Indies Cricket Board (WICB). In fact, top players too have had longstanding differences with WICB.
I don't know if top players prefer playing T20 leagues over playing for the West Indies. I think it is a case of board's refusal to select them most times. I don't know what happened after I left. I am only talking about the time I was coach. I don't know what lies ahead, he said.
Simmons concluded by saying that he is not at all surprised with Chris Gayle's performance in the ongoing IPL. I coached him (Gayle) in the CPL and I tell you he is still switched on, still hungry. I am not surprised how he started this IPL. It is not his time to go yet.
(With PTI Inputs)