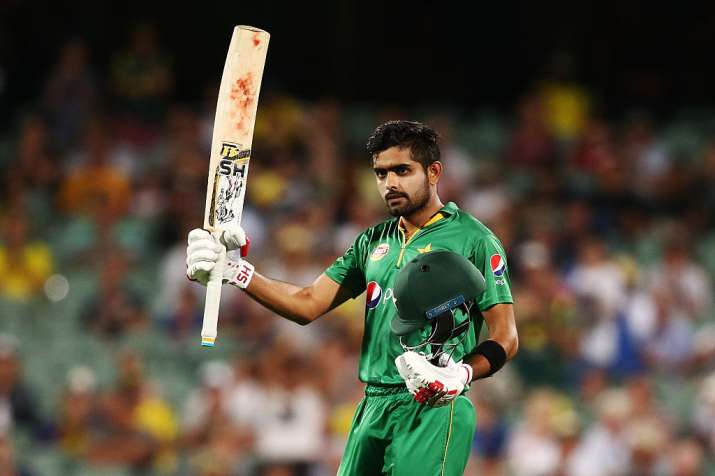 Pakistan middle-order batsman Babar Azam has played down his comparison with Indian skipper Virat Kohli, saying he should not be likened to such a 'big player'. Describing Kohli as 'the No.1 batsman in the world', the 23-year-old said that he too wants to perform like the Indian skipper and dreams to take Pakistan cricket to new heights.
"He compared me with a very big player. I think it shouldn't be done. But that is the coach's thinking. Maybe the stats at the start of our careers are similar, but he is the No.1 batsman in the world. I want to perform at a high level for Pakistan too," ESPNcricinfo quoted Azam, as saying.
Last year, Pakistan head coach Mickey Arthur had compared Azam with Kohli, saying the 22-year-old is an exceptional player and could perform as good as the Indian swashbuckling batsman.
Meanwhile, the Pakistan batsman further revealed that he used to draw inspiration from South African star batsman AB de Villiers in the early days before, adding that nowadays he also looks at Kohli, Hashim Amla and others.
"I loved watching AB de Villiers in the early days. I used to follow him closely. I copied him a lot too. In the nets, I used to at least try some of the shots he played in the matches. Those hadn't been played back then. I still don't try those shots. I play normally. Nowadays I follow Virat Kohli, Hashim Amla, and of course, de Villiers," he said.
When quizzed what advice he would give to the aspiring cricketers, Azam said that he would ask them to never compromise on their game and spend more time on the ground.
"I would say never compromise on your cricket. The more time you give to the ground, the more it will give back to you. Keep an eye on your fitness and give your 100 percent in matches. Stay focussed," Azam said.
Azam was called up to represent the green shirts during an ODI series against Zimbabwe, thus making an international debut on the home ground amidst Pakistan's isolation as an international cricketing venue in May 2015.
In January this year, Azam became the joint-fastest player in history to score 1,000 career runs in one-day internationals when he struck a 100-ball 84 against Australia in the third ODI at the WACA, Perth.
He reached the landmark in just 21 innings to join West Indies great Viv Richards, England's Kevin Pietersen and Jonathan Trott as well as South Africa's Quinton de Kock. Azam has appeared in a total of 36 ODIs for Pakistan scoring 1,758 runs and 11 Tests smashing 475 runs. He has also played 14 T20Is amassing 468 runs for the country.
Kohli, on the other hand, has performed exceedingly well across all formats of the game in the recent years.
The Indian skipper ranked No.1 in T20Is and ODI cricket has also moved up to the second spot in the latest Test batsmen rankings behind Australia's Steve Smith after his double century against Sri Lanka in the Delhi Test earlier this month. 
(With Agency Inputs)