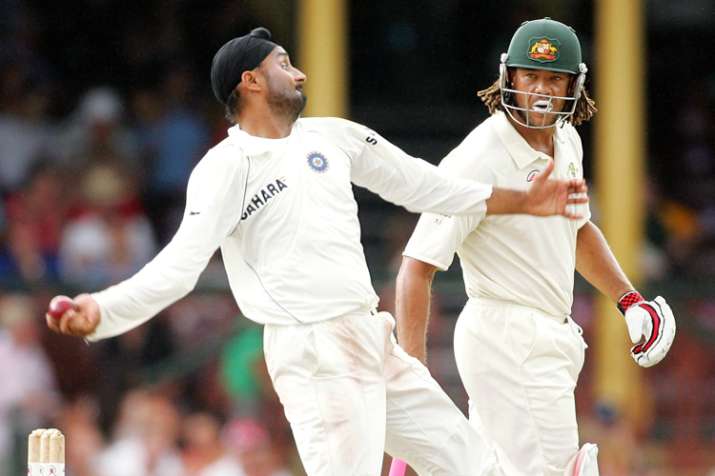 Former Australian all-rounder Andrew Symonds has claimed that Indian spinner Harbhajan Singh had "broken down in tears" while apologising to him during IPL 2011 - when the duo played together for the same team - for his unsavoury comments during the Sydney Test of 2008. 
While talking to his former team-mates Adam Gilchrist and Brett Lee for a Fox Cricket documentary, Symonds said, "We go to a very wealthy man's place for a barbecue, drinks and dinner one night and the whole team's there and he had guests there, and Harbhajan said 'mate, can I speak to you for a minute out in the garden out the front'. 
"He goes, 'look, I've got to say sorry to you for what I did to you in Sydney. I apologise, I hope I didn't cause you, your family, your friends too much harm and I really apologise for what I said, I shouldn't have said it'.
"And he actually broke down crying, and I could just see that was a huge weight off his shoulders, he had to get rid of it. We shook hands and I gave him a hug and said: 'Mate, it's all good. It's dealt with'," added the 43-year old.
However, the Indian off-spinner through a tweet from his official account denied that any such conversation ever occurred, saying: "WHEN DID THAT HAPPEN ??? BROKE DOWN ???? WHAT FOR ??? Harbhajan broke down when apologising for 'monkeygate' - Symonds".
WHEN DID THAT HAPPEN ??? BROKE DOWN ???? WHAT FOR ??? Harbhajan broke down when apologising for 'monkeygate' - Symondshttps://t.co/eQFeETVChy

— Harbhajan Turbanator (@harbhajan_singh) December 16, 2018
Symonds accused Harbhajan Singh of calling him a 'monkey' in the Sydney Test, a claim that the Indian spinner denied. The infamous incident led to Harbhajan being banned for three games but it was overturned after the Indian team threatened to pull out of the tour.
Symonds happened to play his last game for Australia in May 2009 and a month later his Cricket Australia contract was withdrawn after he was sent home from the World T20 for "breaking a number of team rules related to alcohol and other issues".
On the incident, Symonds remained firm on his claim that Harbhajan had abused him on multiple occasions.
"I'd spoken to Harbhajan the series before in India, he'd called me a monkey before in India. I went into their dressing room and said, 'Can I speak to Harbhajan for a minute outside please?' So he came outside and I said, 'Look, the name-calling's got to stop or else it's going to get out of hand," he claimed.
(With PTI inputs)