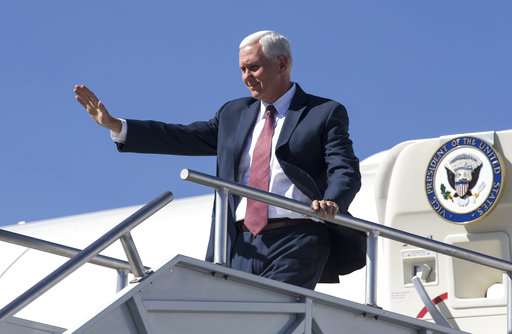 US Vice President Mike Pence has said that the United States needs to send its astronauts to not only to Moon but to Mars and beyond.
Pence also added that the Trump administration will direct NASA to land humans on the Moon and establish presence on the lunar surface before sending astronauts to the Red Planet and beyond.
That the Trump administration is seriously mulling over these projects became clear after Pence wrote an op-ed article in Wall Street Journal (WSJ) in this regard. The administration's intention were once again highlighted in a speech that Pence during the inaugural meeting of the National Space Council.
National Space Council  is a newly resurrected executive group aimed at guiding the US space agenda. 
Talking to media persons in Virginia, the US Vice President said, "We will return NASA astronauts to the Moon -- not only to leave behind footprints and flags, but to build the foundation, we need to send Americans to Mars and beyond."  
In a statement, acting NASA Administrator Robert Lightfoot said that the Vice President has termed space as a national priority.
Lightfoot further said that Pence has called for renewed US leadership in space - with a recommendation to the president that NASA help lead and shape the way forward .
"Specifically, NASA has been directed to develop a plan for an innovative and sustainable program of exploration with commercial and international partners to enable human expansion across the solar system, returning humans to the Moon for long-term exploration and utilization, followed by human missions to Mars and other destinations," Lightfoot added.
Meanwhile, an international panel of judges from the Google Lunar XPRIZE have said that the moon mission plan of TeamIndus has made "substantial progress" and was in the "right direction".
TeamIndus is the only Indian team competing for the $30 million prize that requires privately funded teams to land their spacecraft on the surface of the moon, travel 500 metres and broadcast high definition video, images and data back to Earth. 
TeamIndus is one of the five finalists that were shortlisted from 30 competing teams.