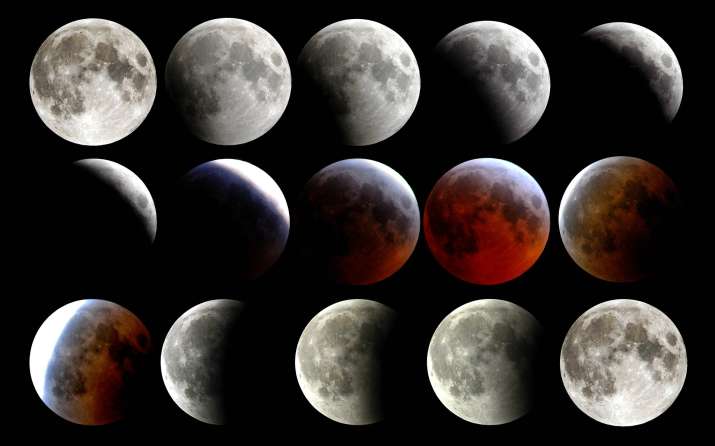 Lunar Eclipse on July 5 marked the last eclipse of the current cycle that saw a lunar eclipse on June 5 as well as the historic Solar Eclipse on June 21. The Eclipse today was a 'buck moon' eclipse and was visible from several major cities across the world. The Eclipse on July 5 was partial because only part of the moon dipped into the penumbra.
Highlights
10:13 AM: 
It was a pretty awesome way to end this Independence Day by seeing a partial lunar eclipse. Maybe the penumbra wasn't as spectacular as fireworks, but it's still cool! #science #LunarEclipse @NASA pic.twitter.com/F9OVw0MHwx

— Mr. Wells (@MrWellsScience) July 5, 2020
09:54 AM: US is all set for the Lunar Eclipse 
Fireworks played out. We've moved on to the #LunarEclipse pic.twitter.com/PwNwhavbFq

— Eric Silva Brenneman (@silvaculture) July 5, 2020
09:39 AM: First images of lunar eclipse
Here we go! Tonight's Buck Moon Lunar Eclipse is just getting started. The first full Moon of summer in the Northern Hemisphere and a partial penumbral eclipse, visible from most of North America and here in Cary, NC
#LunarEclipse pic.twitter.com/xrsrBxvCRG

— Bob Karp (@BobKarpDR) July 5, 2020
09:10 AM: The Lunar Eclipse on the US Independence Day was preceded by a rare Jupiter-Saturn anomaly that takes place only once every 20 years. When people looked up at the sky from the Western Hemisphere, along with the full moon, they saw two prominent members of our solar system -- Jupiter and Saturn. Read Full Story Here
09:08 AM: 
Night setting on the Samsung is great! Definitely picked up some cool stuff. Saturn and Jupiter are on the left of the moon and the light reflection looks like the moons trajectory! #4thofJuly2020 #LunarEclipse pic.twitter.com/9jFSa318A6

— Jim Goodspeed (@JimGoodspeed) July 5, 2020
08:44 AM: This NASA map shows where the partial lunar eclipse of July 4-5, 2020 will be visible.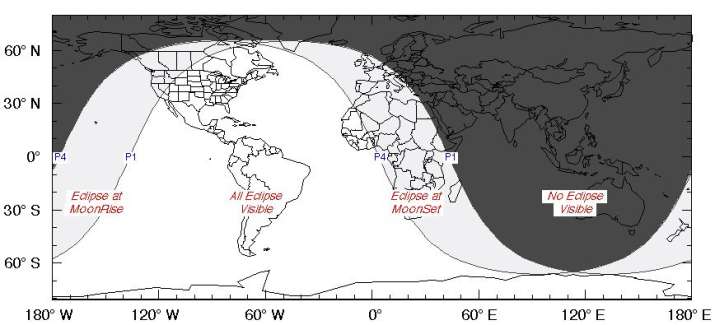 8:43 AM: NASA on Lunar Eclipse
A full Moon lights up the night this Independence Day.

Called the Buck, Hay, or Thunder⛈️ Moon, this full Moon is also a penumbral lunar eclipse! In the Americas, you might see a slight darkening as 30% of the Moon passes through the outer part of Earth's shadow. ☀️🌎🌕 pic.twitter.com/KfP09t0CQS

— NASA Moon (@NASAMoon) July 4, 2020
8:40 AM: 
Settling in for the lunar eclipse... pic.twitter.com/kykabJk0i4

— Lauren Wynn (@TorchSinger65) July 5, 2020
8:37 AM: Lunar Eclipse has officially begun
8:07 AM: Where to watch Lunar eclipse 2020 online livestream
You can view live streaming of the lunar eclipse on several live streams on YouTube. One of them is this
7:55 AM: Will this lunar eclipse be visible in India?
Unfortunately not, but you can catch the glimpse of the moon via photos and videos coming in from the Western Hemisphere where the lunar eclipse will be seen from several countries. 
07:25 AM: Major US cities to have best view of the eclipse
Washington DC
Miami
Houston 
Los Angeles 
San Francisco 
Atlanta
07:21 AM: Lunar eclipse to start at 8:37 AM IST and end at 11:22 AM IST. The eclipse will reach its peak at 9:59 AM IST.