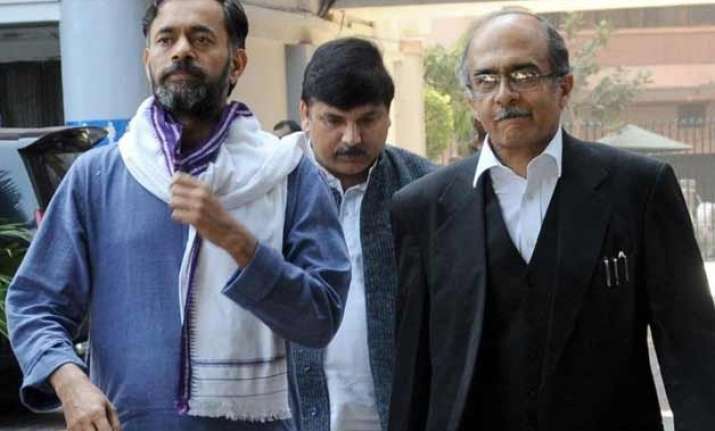 New Delhi: The Aam Aadmi Party (AAP) internal crisis has further escalated with its top leaders Yogendra Yadav and Prashant Bhushan offering to resign from the highest decision making body, political affairs committee (PAC).
Yesterday, party's Delhi unit secretary Dilip Pandey had written a letter to national secretary Pankaj Gupta accusing three founding members -- Yogendra Yadav, Prashant Bhushan and Shanti Bhushan -- of anti-party activities.
According to a report published in  Economic Times, the party had constituted a 3-member panel on  Friday comprising Pankaj Gupta, Anand Kumar and Gopal Rai to mediate between the three leaders.
ALSO READ: Prashant Bhushan questions decisions taken by Kejriwal
The panel met Yadav Saturday night and Bhushan on Sunday morning. The two leaders have reportedly conveyed to the panel their offer to quit the PAC.
A final decision on their offer will now be taken by Delhi Chief Minister Arvind Kejriwal.
"The ball is now in Arvind's court as he has the final authority to decide who will be part of the body," a top AAP leader told ET.
According to the ET report, Prashant Bhushan, on February 26, wrote a letter to the national executive of the party slamming Arvind Kejriwal for overturning collective decisions of the party.
ALSO READ: AAP's rift wide in open; veteran leader writes open letter to Kejriwal, others
One-man-centric campaigns during Delhi elections made AAP look like any other political party, he said while referring to Kejriwal.
"I am not interested in holding any post in the party. I just want to ensure that the party should not compromise on its founding principles. There are certainly some problems with internal democracy and transparency which need to be corrected. I do not wish to say any more," Bhushan told ET.
He also accused the party of seeking Congress' support, after Lok Sabha poll debacle, to form government in Delhi.
It is also believed that Yadav, who also offered to leave the top decision-making body, sought a fresh assignment from the national executive.
In his letter, Bhushan said that the party has not come under the ambit of Right of Information though it had slammed other parties for not doing so.
"Far from bringing the party under RTI, we have not even put our accounts on a website. We have put out our donations but not expenses," he said.
Bhushan said according to his information, minutes of decisions of top committees were not maintained.
"The lack of recording decisions of NE/PAC (national executive/political affairs committee) has led to situations where decisions taken by the NE (about not seeking Congress support for forming government in Delhi after we resigned last year) were repeatedly flouted," he said.
Bhushan said as part of party's philosophy of decentralisation, it is for state units to decide if they wanted to contest elections but Kejriwal announced after taking oath as Delhi chief minister earlier this month that the party should not contest polls in other states for next five years.
"All this with one-person centric campaign which was run during the election in Delhi is making the party look more and more like other conventional parties," he contended.
"Running a person-centric campaign may be effective but does that justify sacrificing our principles," the letter said.
Bhushan also said there was need of empowered committee to decide how the funds are spent.
Referring to the hard work and sacrifice of party volunteers, Bhushan said: "We owe it to them and to us to ensure that we do not drift and become just another one-man centric party which is prepared to use any kind of means to attain power."
Meanwhile, the party's internal Lokpal, Admiral L. Ramdas (retd) has warned of "two camps" and "abject breakdown in trust between topmost leadership" and sought clear signals that all senior party members were united.
In a letter, for the members of the national executive and political affairs committee ahead of party's meeting Feb 26, Ramdas said the party's stunning victory in Delhi polls had raised hopes of restoration of positive energy and that many mutual suspicions would be put to rest.
"Alas, this was not to be, and most recently while in Delhi during the results and swearing in, I also spent many hours in many difficult conversations where many of the old ghosts were constantly raising their heads," said the former navy chief.
Noting he had taken upon himself the role of an "elder statesman" to "nurture AAP and its potential as the only political entity in the country today which can change the way politics is practiced", he said his role was to unambiguously point out mistakes.
He noted "compromises have been evident in many areas -and from all sectors - with no single person exempt from some element of responsibility for the present impasse".
Referring to criticism within party regarding decision-making and democracy, he said it should be analysed by an independent group by an internal audit.
"During the past six to eight months, there has been an abject breakdown in communications and mutual trust amongst the topmost leadership of the party. This has in my view led to the growth of two camps within the party and loose talk about conspiracies," Ramdas said.
"This is unacceptable and shows that we are no different from any of the parties whom we criticise so vocally," he said, urging the party leadership to stop listening to rumours and discourage colleagues continually bringing negative feedback.
In the letter, he also said there was a "crisis situation" ahead of the Delhi elections over party leader Prashant Bhushan's unhappiness with candidate selection and decision-making processes and his threat to resign over the issue.
"To contain this, a special meeting was called in Delhi on January 3-4, where a decision was taken to refer the issue to the AAP Lokpal, assisted by a specially selected team," he said.
In an apparent reference to Arvind Kejriwal, Ramdas asked whether "chief minister of a state and national convenor if she/he be the same person be in a position to discharge both the duties efficiently?" and whether co-convenors were needed.
He also said he has been "aghast at the way in which decisions taken in our meetings were leaked within minutes".
"Every email and letter I have sent out seems to become common knowledge and often has found its way to the media!..We need to discuss whether some form of inner party discipline is required within our own core committees?" he asked.
"The press and media and our opponents are waiting like vultures to rip AAP apart at the slightest hint of rifts and dissension within," he warned.