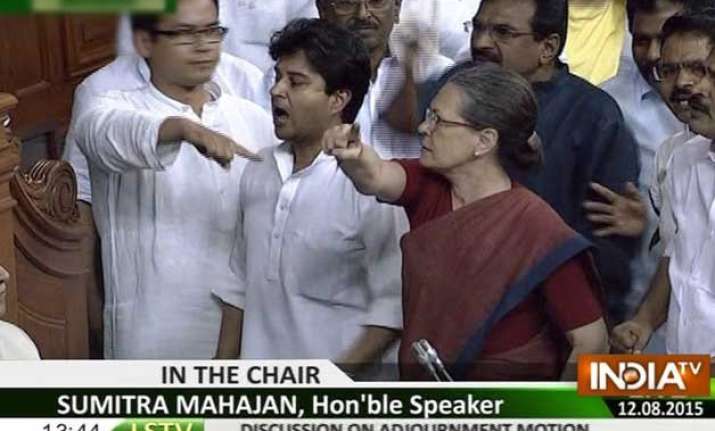 New Delhi: A remark against her by a BJP member on Wednesday angered Sonia Gandhi who rushed into the well of the Lok Sabha along with her party colleagues, protesting vigorously and forcing abrupt adjournment of the House for about an hour.
When the House re-assembled, parliamentary affairs minister M Venkaiah Naidu said no allegation should be made by anybody against any member, particularly an important leader, may it be the Congress president, the Prime Minister or the BJP president.
He said the remark against Gandhi had, in any case, not gone on record.
Earlier, all hell broke loose when a BJP member made certain remark against Gandhi in the context of black money when Leader of Congress Mallikarjun Kharge was speaking on the Lalit Modi controversy.
Kharge reiterated Rahul Gandhi's charge  that Foreign Minister Sushma Swaraj had clearly backed Lalit Modi to win economic favours.
Angry over Kharge's remarks, BJP MP from Aligarh Satish Gautam counter-attacked and asked how much money Lalit Modi had paid to Sonia Gandhi's sister.
"Rahul ki mausi ko kitna paisa mila tha Lalit Modi se (How much money did Rahul's aunt receive from Lalit Modi?)," Gautam asked.
Incensed by the remark, the Congress president was heard saying, "kya bola (what did he say)?" While protesting, she addressed Speaker Sumitra Mahajan and said, "What is this?"
In an unusual move, she rushed into the well and was followed by her party colleagues.
The Speaker said she was not aware what was said in the din and if there was anything unparliamentary, she would expunge it from the proceedings.
Kharge insisted that nothing short of an apology was acceptable.