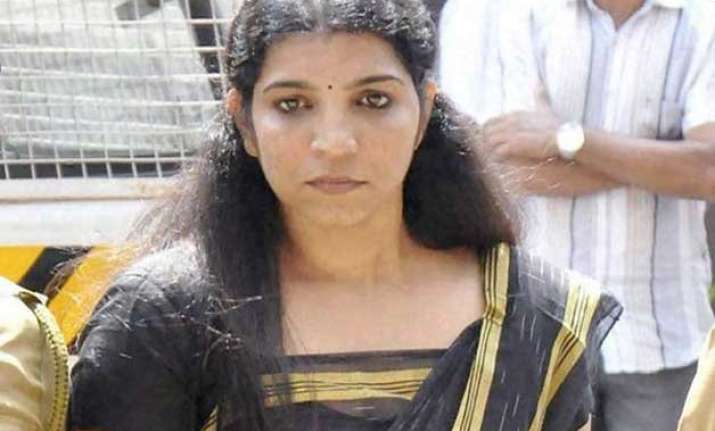 Kochi:  In what may sound further trouble for Kerala Chief Minister Oommen Chandy, solar scam accused Saritha S Nair on Friday claimed CM's son Chandy Oommen as the one who was closely involved in it.
She said,CM had urged her to create a company involving his family members including son Chandy Oommen to do renewable energy business.
Saritha, who deposed before Justice Sivarajan Commission probing the solar panel scam, said she had a discussion with the chief minister regarding formation of the company to carry out renewable energy business.
"I was told to create a cooperative institution - Kerala Renewable Energy Cooperative Society Ltd- involving Chandy Oommen and some other family members. I was told to incorporate details about renewable energy resources in its bylaws," she told the commission.
Saritha, whose startling revelations about the scam before the commission have rocked Kerala, alleged that there was a suggestion that the solar panels required for the company could be imported from abroad.
She alleged that Chandy Oommen was a partner of an American firm called Starflames Inc and it was suggested that the US-based company could be used for importing solar panel required for the institution to be formed in Kerala.
Saritha rejected allegations that she had "illicit relations" with Chandy Oommen but admitted that she had business relations with the chief minister's son.
"There are allegations about illicit relations with Chandy Oommen. Unfortunately, I am not the heroine of such stories....it was another accused in the solar case. I am not revealing the name as I don't have evidences to establish it and also it is a matter affecting their privacy," she said.
Saritha claimed that she has heard that then home minister Thiruvanchoor Radhakrishnan was in possession of video clippings which shows Chandy Oommen and her co-accused in the solar case visiting Dubai together.
"I doubt Radhakrishnan had leaked information about the video clippings to media fearing a cabinet reshuffle," she said.