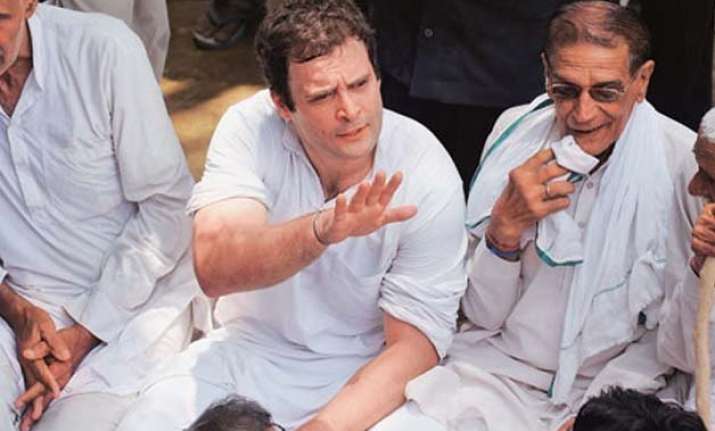 New Delhi: Congress vice-president Rahul Gandhi seems to back in action. He will today meet delegations of farmers from different states and hear their views on the changes being brought in the UPA's Land Act by the Narendra Modi government.
Rahul, accompanied by some senior Congress leaders including Jairam Ramesh and Digvijay Singh, will meet members of various farmer organisations from states like Uttar Pradesh, Haryana, Rajasthan, Punjab and Madhya Pradesh.
The delegation will include farmers from Bhatta Parsaul village from where Rahul had launched a 'padyatra' in 2011 against forcible land acquisition of farmers, a protest that had culminated in passage of Right to Fair Compensation and Transparency in Land Acquisition, Rehabilitation and Resettlement Act, 2013.
Today's meeting comes a day ahead of the Congress' 'kisan-khet mazdoor' rally to galvanise protests against NDA's Land Acquisition Bill.
A party leader said that Congress vice-president will address the rally of farmers tomorrow along with party president Sonia Gandhi.
Congress is hoping to rally people from various parts of the country with the 'Chalo Dilli Chale' slogan. A 17-coach 'Kisan Express' train carrying farmers will leave from Jaipur and arrive at Delhi after six stops on the rally day.
The party's Rajasthan unit has asked the National Highway Authority of India (NHAI) to exempt all vehicles carrying Congressmen towards New Delhi from paying toll taxes on April 19.
AICC general secretary Digvijay Singh, who is convenor of the committee to chalk out plans for organising the rally, on Friday huddled with AICC secretaries to assess the preparations for the rally. State leaders have been directed to ensure that the rally has full attendance.
Sources in the party maintain that a clarity will soon emerge on decisions, which were pending for some time like holding a meeting of the Congress Working Committee (CWC) and AICC meeting, where a number of key decisions are to be taken.
"It is the era of youths. Time for our retirement has come. It is nature's law. Old leaves ripen and then fall. New leaves then grow. Youth is the flavour of the season. The leadership of youths will come and will lead the country," Digvijay said.
The Congress vice-president will also be visiting his Parliamentary constituency Amethi after tomorrow's rally.