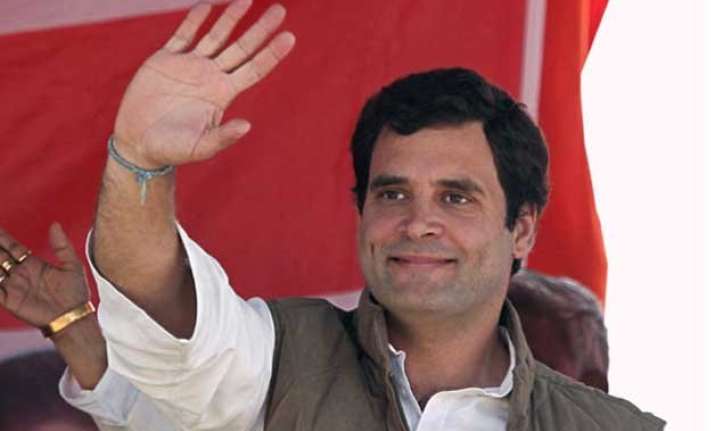 New Delhi: Congress Vice President Rahul Gandhi returned to India today after 59 days of vacation. He took a sabbatical on February 16 just before the commencement of Budget session of the parliament.
It is belived that Rahul Gandhi spent these 59 days in 6 different countries.
India TV has got access to Rahul Gandhi's Thai Airways tickets of February 16 (Delhi-Bangkok) and April 16 (Bangkok-Delhi).
The 44-year-old leader arrived here at 11.15 AM on a Thai Airways plane from Bangkok, ending days of intense speculation over his return and amidst celebrations by party workers who burst crackers outside his residence.
Wearing a dark shirt and seated in the back seat of his vehicle, he arrived escorted by his security personnel and drove straight into the house without interacting with the waiting mediapersons.
The return of Rahul comes ahead of the party's planned farmers' rally here on the contentious Land Bill issue which he is likely to address.
The plane, which was scheduled to land at 10.35 AM, was delayed by 40 minutes, sources said. Shortly later, Rahul drove to his 12, Tughlaq Lane residence where his mother and Congress President Sonia Gandhi and sister Priyanka were waiting.
Rahul had left quietly before the Budget session began on February 23 but it is still not known where he had spent the days.
The party had then said that he "requested Congress President Sonia Gandhi for some time to reflect on recent events and future course of the party". 
Ever since the announcement of his temporary break from political life, there has been speculation that he was unhappy with not getting a free hand to run the party, a contention which the party has officially denied.
Rahul's leave had come amid talk of an AICC session, where he was expected to be elevated as Congress President.  During his absence, several party leaders including former chief ministers Amarinder Singh and Sheila Dikshit came out in the open pitching for Sonia Gandhi to continue as president and raised questions over his leadership.
It is worth recalling  that Congress leaders had said that Rahul would attend the April 19 rally that is organised in support of farmers against Land Bill. Before that he will meet a delegation of farmers on April 17.
His absence, during some of the important developments in the country has drawn criticism from different political corners and garnered widespread media attention
In last two months, Rahul has missed the crucial budget session, the united opposition against the land acquisition bill, and he was also not present to show solidarity when former prime minister from his party Manmohan Singh was summoned by the court.
Rahul's return will kickstart a new turmoil in the Congress as it is being said that he will now take over the party's command from his mother and Congress president Sonia Gandhi. Senior leaders of the party seem to be divided over the leadership of the party. Some leaders have expressed their reservation over Rahul's ability to lead and expressed faith in Sonia's leadership.
Yesterday, former chief minister of Delhi Sheila Dikshit questioned the leadership qualities of party vice president Rahul Gandhi causing major embarrassment to the party. However, she later clarified that her statements were misconstrued.
Ms Dikshit's son, Congress leader Sandeep, had also suggested recently that the party will not benefit from Sonia Gandhi making way for her son for the party president's post.
Recently senior congress leader Amarinder Singh had also said that Sonia Gandhi should "retain" Congress Presidentship and a generation change cannot be done "with a knife".
Gandhi, often termed as a reluctant politician, took leave of absence after a series of electoral defeats the party faced under his leadership, which included a colossal defeat in last year's national election and the Delhi election in February.