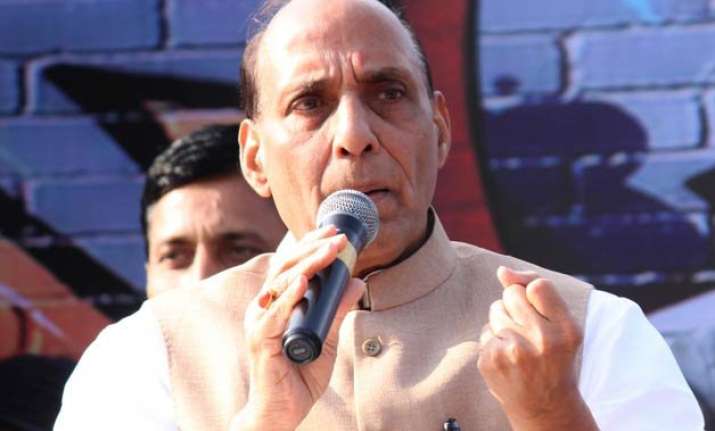 New Delhi: Union Home Minister Rajnath Singh today said that Pakistan should stop interfering in India's internal matters and rather worry about their own selves.
"Pakistan should worry about themselves and should not interfere in the internal matters of India. We won't tolerate any nation's interference between India's internal matters," Singh said.
Singh's remark came in the wake of Pakistan's inference that any creation of 'dedicated' townships in Kashmir Valley for displaced Kashmiri Pandits would change the demography of the state and be in violation of UN resolutions.
"Any effort to establish dedicated townships or special zones to change the demographic makeup of the territory will be in violation of UN resolutions," Pakistan's Foreign Office spokeswoman Tasnim Aslam had said.
Union Finance Minister Arun Jaitley had earlier slammed Pakistan for its remarks on Jammu and Kashmir saying, "Kashmiri Pandits, Muslims and Sikhs are all an integral part of the demography of Jammu and Kashmir. It is natural that while we imagine their resettlement, every political party would want to see that whoever was uprooted and went out, should be brought back."
Furthermore, on contentious conversion programmes by several Hindu-radical outfits, Singh said, "Want to ask those who believe RSS & other organizations indulge in 'Dharma Parivartan', are they ready for anti-conversion bill? If they are ready, we are completely ready to introduce anti-conversion bill in Parliament."
He quickly added that the Narendra Modi government is committed to maintain communal harmony in the nation. "We believe people from all religions have been born out of 'Mother India', strengthening of this brotherhood is the 'Dharma' of the government. We are completely committed to maintain communal harmony in our nation, we don't need 'dictation' from any of the other nations on this," the Home Minister said.