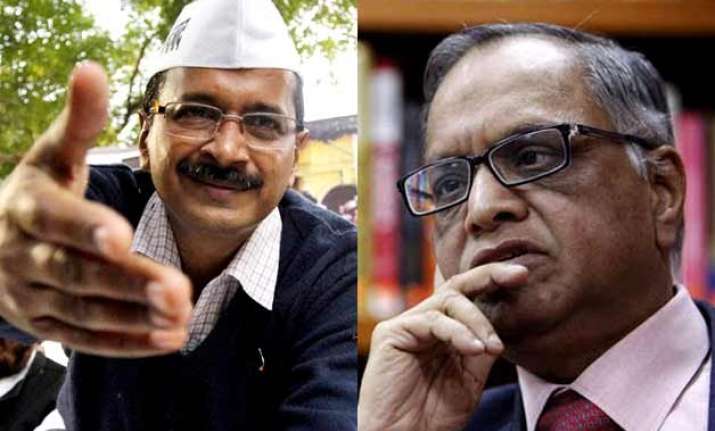 New Delhi: Infosys founder NR Narayana Murthy is believed to be coming closer to Aam Aadmi Party supremo Arvind Kejriwal.
Arvind Kejriwal, Delhi Chief Minister, is reportedly keen to bring Murthy within AAP fold.
Kejriwal led AAP has always encouraged top professionals to join the party. Another ex- Infosys director, V Balakrishnan, had joined AAP and contested from Bengaluru last year.
The speculations gained strength after Murthy met AAP leaders Kejriwal and Manish Sisodia at the Delhi CM's office on Tuesday.
While AAP's in-house IT guru Adarsh Shastri insisted that Murthy had only paid a courtesy call to the party's all-powerful duo, an official statement from the Delhi government said the three "discussed several issues of social relevance".  
As quoted by ET, Murthy says, "I went to meet Arvind to introduce Akshaya Patra to him and his colleagues". Akshaya Patra is an NGO working to implement the Supreme Court-mandated midday meal scheme in government schools.
Asked for his opinion about AAP and his possible engagement with the party-run Delhi government through Akshaya Patra or any other way, Murthy said, "There was nothing more or nothing less to our meeting."
Murthy did not go into details about the nature of the discussions he had with the AAP leaders about Akshaya Patra.