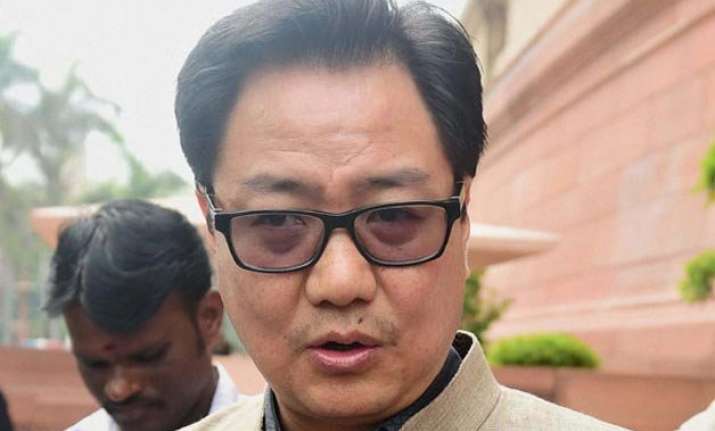 Dimapur (Nagaland): Union Minister of State for Home, Kiren Rijiju has said the recent peace accord signed with the NSCN (I-M), was "just a framework" and the final solution or accord is yet to be arrived at.
Speaking to reporters in Imphal on Wednesday after an aerial survey of flood-affected areas of Manipur, Rijiju said, Centre will not enter into any agreement that will hurt the sentiments of Nagaland as well its three neighbouring states, Assam, Manipur and Arunachal Pradesh.
"When the final solution or accord is arrived at, it will be taking into account sentiments all the parties. Centre will not by-pass the sentiments of neighbouring states, Assam, Manipur and Arunachal Pradesh.
"At the same time, you know that Naga issue is a long impending one and the sentiment of will be understood in a holistic manner. So, it will be not in the interest of one group or party. It will be in the interest of the whole region," he said.
Meanwhile, V. S. Atem, NSCN(I-M) emissary told the Nagaland Post that both sides "have agreed to share sovereign power with each other".
Asked whether integration (of Naga-dominated areas) issue was also agreed upon, Atem claimed that "everything was on board", adding, "yes, integration will be in the agreement".
He also termed the Naga Accord as a "framework agreement" and described it as a "preamble agreement within it. All details are being worked out".
Once the details are worked out, they will be revealed to the Nagas, Atem said.
Atem said Government of India has also understood the positions of the Nagas and vice versa and through mutual recognition, both the parties agreed to arrive at an "honourable solution" to provide a new relationship and peaceful coexistence between the two entities.
R.N.Ravi, Centre's interlocutor who signed the Naga Accord with T. Muivah in Delhi, told Nagaland Post that the August 3 agreement was basically "a framework agreement, an agreement where it has basically acknowledged the unique history of Nagas and a relationship of equals".
He said, the accord was signed in view of the request made by NSCN chairman Isak Chishi Swu, who wanted an agreement signed in his lifetime, and leave the work on "nitty gritties" later.
Rvi said, the issues of sovereignty and integration were also deliberated between both sides and some formula has been worked out.