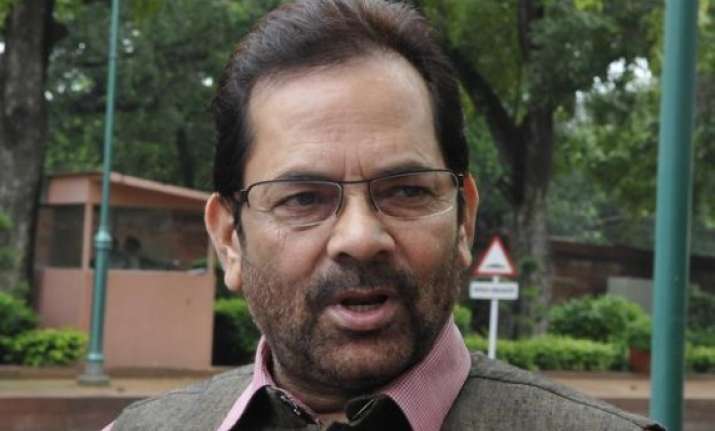 Hathin-Pudana-Nooh (Haryana): BJP Vice-President Mukhtar Abbas Naqvi today launched a blistering attack on Congress and praised Prime Minister Narendra Modi, saying that he had eliminated "power brokers" from the "corridors of power" in Delhi.
"The biggest challenge that has taken place since the Modi government came to power, has been the elimination of power brokers from the corridors of power in Delhi.
"With Modi's maxim 'Na Khayenge, Na Khane Denge', these power brokers have shut shops and are looking for save havens in states ruled by their favourite Congress party," he said.
Addressing election rallies in Hathin, Pudana and Nooh, Naqvi alleged that these "power brokers" always sought "sanctuary" in Congress-ruled states and added that it was now necessary that "the remaining sanctuaries" also be dismantled.
"Such people involved in corruption, scamps and looting public money should not be given any safe haven within the country," he said.
Noting that all parties in Maharashtra and Haryana were attacking BJP and Modi, he said it seemed "as if BJP had been in power in these states from the last few terms".
"It is very strange that the very people, who should be accountable for their actions to the electorate are seeking explanations from us," he said.
Naqvi said BJP will form governments in Haryana and Maharashtra with a full majority.
"In both the states, people have now decided to give full mandate to our party rather than going for a makeshift government. BJP government is committed for good governance and development," he said.
Referring to repeated ceasefire violations by Pakistan along the international border in Jammu and Kashmir, he said in the past few years the morale of Pakistan's military, ISI and their sponsored terror organisations has increased tremendously.
"These evil forces have got a befitting reply and it is a lesson for them to understand that the peace in the subcontinent cannot be maintained unilaterally," he said.