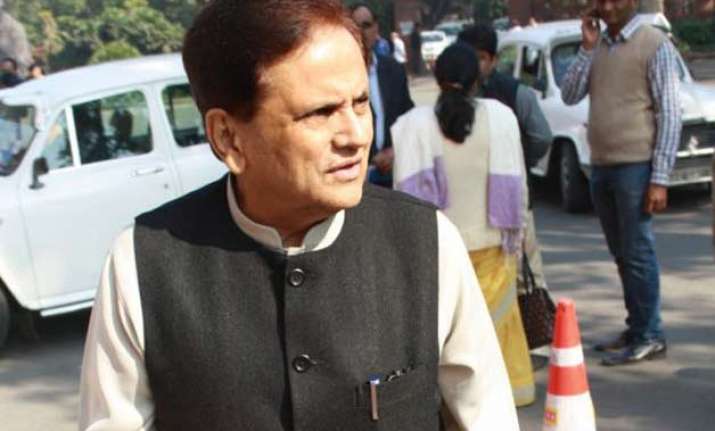 Vadodara: Senior Congress leader Ahmed Patel today accused Prime Minister Narendra Modi of not taking opposition parties into confidence on issues of prime importance like Pakistan.
"Modi has given up the practice of consulting leaders of opposition parties on affairs related to Pakistan and on other foreign issues which was followed by the Manmohan Singh-led UPA government... The foreign policy seems to be woven around Modi alone," Patel said.
The Rajya Sabha MP said that during the UPA rule, the National Security Adviser used to take leaders of BJP and other rival parties into confidence before making any move with the Pakistani government on any issue "whether small or big".
"Before becoming the PM, Modi used to criticise UPA ministers saying they were eating biryani with their Pakistani counterparts. When he took up the top post, he gave a warm welcome to Pakistani Prime Minister Nawaz Sharif, who visited Delhi to attend the swearing in ceremony last year," he said.
Patel was addressing a meeting of the extended executive of Gujarat Pradesh Congress Committee (GPCC) held on the outskirts of the city.
Questioning Modi's silence over scams involving Chief Ministers of Rajasthan, Madhya Pradesh and Chhattisgarh, Patel said, "The Vyapam scam in Madhya Pradesh and the rice scam in the Raman Singh-led government run into several crores of rupees."
Countering criticism that no business could be transacted in Parliament in the first week of the ongoing Monsoon session due to resistance by opposition parties, leading to loss of several crores of taxpayers' money, Patel said during the UPA rule, too, BJP and other opposition members used to hold the government to ransom in a similar fashion.
The Congress leader said none of the NDA government's programmes have realised so far. "Be it Swachh Bharat Abhiyan or 'Make in India', none of his programmes have taken off really," he said.
There has hardly been any new investment in the 14 months of the NDA rule, he said adding "on the contrary, India has witnessed a slump in job creation after the 'Make In India' campaign was launched.
Patel alleged that the 'Gujarat Model of Development' was more "hype" than substance.
Calling upon Congress workers to gear up for the upcoming local body elections in Gujarat, Patel urged them to join the "pro-farmer movement" initiated by party chief Sonia Gandhi and Rahul.
Gurudas Kamat, AICC general secretary in-charge of Gujarat and Rajasthan, questioned why Modi does not have time to visit the farmers in crisis.
He also targeted Union Agriculture Minister Radha Mohan Singh for his comment that dowry, love affairs and impotency were among the reasons for the deaths of over 1,400 farmers in India this year.
"It's like rubbing salt in their wounds," Kamat said.