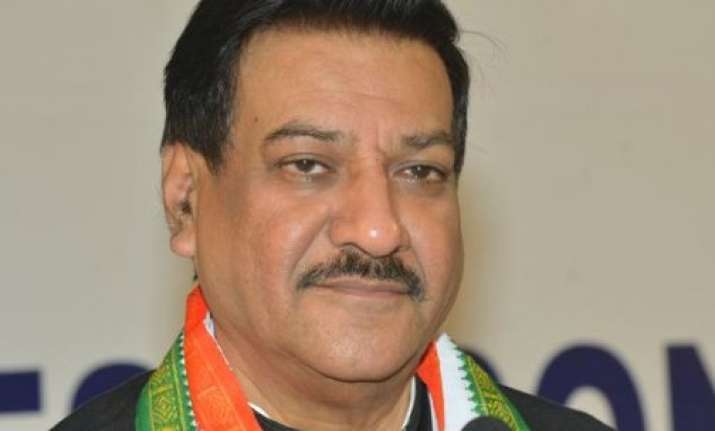 New Delhi: BJP does not have any face to lead its Assembly poll campaign in Maharashtra and the party is trying to hide its weakness through Prime Minister Narendra Modi's "blitzkrieg" in the state, former Congress chief minister Prithviraj Chavan said today.  
"Modi's blitzkrieg is unprecedented in the history of independent India. No prime minister has ever held so many rallies for any state elections. It is their weakness they (BJP) are trying to cover up," Chavan said.  
"BJP in the state does not have a face after the demise of Pramod Majahan and Gopinath Munde. In order to cover that weakness, Modi is all over the state. What is unusual is the number of rallies which Mr Modi is being forced to undertake," Chavan told Karan Thapar on the show, 'To the Point', on TV news channel.
Chavan said that BJP had become "arrogant after the Lok Sabha victory" even as he ridiculed the party for "importing" leaders into its Assembly poll campaign in Maharashtra.  Apart from Modi, senior BJP leaders like Rajnath Singh, Sushma Swaraj, Venkaiah Naidu and Rajasthan and Goa chief ministers, respectively, Vasundhara Raje and Manohar Parrikar are also campaigning for the party in the state which goes to polls on Oct. 15. Modi is expected to address some 22-24 rallies in the state.
"BJP does not have the inherent ground strength. It does not have adequate leaders, which is why it is importing leaders for campaigning. That shows the lack of confidence in the local BJP leadership," he said.
Chavan had to quit office at the head of the Congress-led government in Maharashtra after its ally NCP withdrew support in the walk up to the Assembly polls.
The former chief minister slammed the Sharad Pawar-led party for withdrawing support to his government, saying that had led to the "handing over of the state to Modi" through the route of President's rule.
After 15 years in power in Maharashtra, Congress is not only battling a strong anti-incumbency factor but also facing a division of votes following the split with NCP and its poor performance in the Lok Sabha polls.