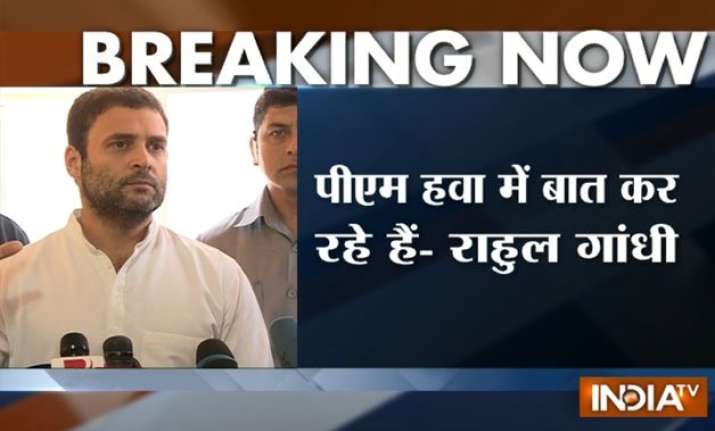 New Delhi: Deadlock continued in the both Houses of Parliament today with Congress-led Opposition and BJP launching attack on each other over several issues.
While the opposition was adamant on demand for resignations of External Affairs Minister Sushma Swaraj and CMs of Madhya Pradesh and Rajasthan, the BJP launched a counter-attack on Congress over Rober Vadra's Facebook post against political leaders and liquor scam involving Uttarakhand CM Harish Rawat.
Highlights:
* Rajya Sabha adjourned till tomorrow.
* If rules have been made, they should be followed. Saying they did it in the past, so we will do it doesnt make sense: Sumitra Mahajan
* What stand? Congress has not kept a stand yet for it to be telecast: Speaker Sumitra Mahajan
* Does Rahul Gandhi come to the Parl to be telecasted on the TV?: RS Rathore (MoS, I&B)
* Rajya Sabha adjourned again till 2 PM after uproar by Congress over Vyapam and other issues
* Lok Sabha adjourned for the day
* Congress should give a record of all the scams that happened under them, all the money that they looted: Prakash Javadekar
* Congress politics is anti-development. They didn't let development happen under their tenure & stalling development even now: Prakash Javadekar
* Rahul Gandhi and leaders of three opposition parties -- AAP, JMM, NCP-- decide to continue "no resignation, no discussion" stand in Lok Sabha
* PM had assured nation that 'na main khaonga na khaane doonga', his credibility is going down: Rahul Gandhi
* She (Sushma Swaraj) is minister of the govt who has done a criminal act. When you do a criminal act you go to jail. : Rahul Gandhi
* Your are the PM of India and not the PM of BJP: Rahul Gandhi
* Congress Lok Sabha MPs including Rahul Gandhi wear black arm bands to Parliament as mark of protest
* That is Modi's style of suppressing: Rahul Gandhi on allegations that opposition protests inside Lok Sabha not being shown on camera
* Opposition protests inside Lok Sabha not being shown on camera: Sonia Gandhi
* Rajya Sabha adjourned till noon
* Cacophony in Rajya Sabha. Arun Jaitley citing rules, opposition yells shame-shame
* Lok Sabha adjourned till noon
* Yes we are going to raise Sushma Swaraj issue in Parliament today: Rahul Gandhi
* Prime Minister Narendra Modi is currently meeting top ministers of his Cabinet to decide the strategy to be adopted in Parliament
* Liquor scam: To hide its own misdeeds the BJP is creating baseless conspiracies against Uttarakhand Chief Minister Harish Rawat, says Congress leader Kishore Upadhyay
* Baseless allegations of Congress just show the impatience and frustration in them: Rajiv Pratap Rudy, BJP
* Congress has trapped itself by indulging in scams: MoS Parliamentary Affairs Mukhtar Abbas Naqvi
* All opposition parties are united in parliament,we are talking to them: Jyotiraditya Scindia, Congress
* When in Opposition, BJP coined formula 'pehle isteefa, phir charcha', so we are just following that: Rajiv Shukla, Congress
* People of the country are happy, development is happening. Congress has no issue, it should rethink its stand: Venkaiah Naidu
The parliament failed to transact any business on the first two day of the ongoing Monsoon Session with opposition disrupting the both Houses over demand of resignation of Swaraj, Vasundhara Raje and Shivraj Singh Chouhan.