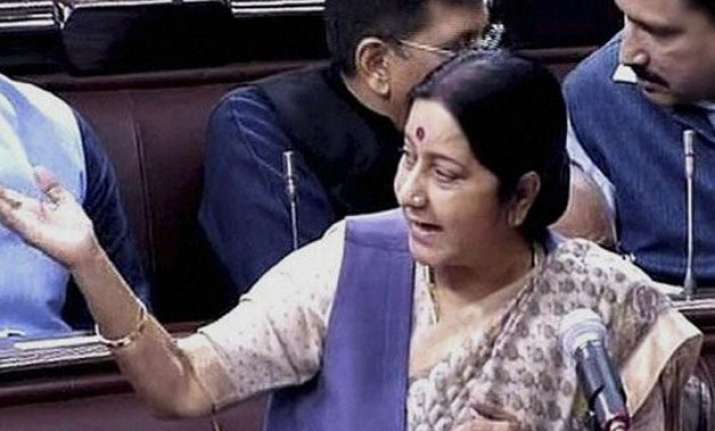 New Delhi: The three-week long Monsoon session of Parliament begun today with playing of national anthem in both Rajya Sabha and Lok Sabha.
Highlights:
* Rajya Sabha adjourned for the day due to continuous uproar over the Lalit Modi controversy.
* Rajya Sabha adjourned till 3 pm in view of uproar over Lalit Modi issue.
* Shri Arun Jaitley has conveyed this to the House. We are looking forward to the Opposition's response: Sushma Swaraj tweets
* I am ready for a debate today itself. I asked Shri Arun Jaitley to convey this to Rajya Sabha: Sushma Swaraj tweets
Finance Minister Arun Jaitley, who is Leader of the Upper House, said government offered that the issue can be discussed in the House with Sushma Swaraj making a statement on it, but the opposition rejected it.
"We get a distinct and clear impression that the opposition wants disturbance for some time. They don't want a discussion. The government is publicly declaring, as we have in the House, that we are ready for a discussion in any format, at any time," he told reporters after Rajya Sabha was adjourned repeatedly over the issue.
"We offered that Sushma Swaraj could reply to the discussion. Other central ministers if necessary will also reply to the discussion and in case they want her to make a statement, we can even start with her making a statement and the discussion could be structured around her statement. We left the option to the opposition which has not been accepted by them," he said.
Rajya Sabha adjourned thrice over Lalitgate
Rajya Sabha was adjourned for the third time following Opposition uproar over the Lalit Modi issue.
* Sonia Gandhi & Rahul Gandhi along with Congress leaders to hold silent protest at Gandhi Statue in the Parliament tomorrow: Sources
* Rajya Sabha adjourned again for 30 minutes after uproar over Lalit Modi issue.
* If debate on state issues happens then why only on Rajasthan? Also on Goa former CM Digambar Kamat, and Kerala CM issue: Ravi Shankar Prasad, Union Telecom Minister
* Anand Sharma maintains that PM Narendra Modi should break his silence over Lalit Modi controversy. "The PM promised transparency, but is not fulfilling it," he said.
* Congress will not allow Parliament to function till Swaraj and Raje are sacked from their posts: Anand Sharma
* Congress reiterates demand of removal of External Affairs Minister Sushma Swaraj and Rajasthan Chief Minister Vasundhara Raje over Lalit Modi row.
* Rajnath Singh, Arun Jaitley, Venkaiah Naidu meets Lok Sabha Speaker
* Meeting of Congress Lok Sabha MPs with Sonia Gandhi underway
* By protesting, Congress's image will be damaged further, we support Sushmaji: Shiv Sena leader Sanjay Raut on Lalit Modi row
* Rajya Sabha adjourned till 12 pm after uproar over Lalit Modi row
* If Anand Sharmaji wants a discussion then External Affairs Minister Sushma Swaraj is ready to speak on the issue: Arun Jaitley in Rajya Sabha on Lalit Modi
* Opposition parties creat ruckus in Rajya Saba over Lalit Modi row
The Lok Sabha paid tributes to a sitting member and 13 former MPs who died in the recent past on the first day of the Monsoon session today, following which the House was adjourned without transacting any business.
Lok Sabha Speaker Sumitra Mahajan also informed the House that TRS member from Warangal in Telangana Kadiyam Srihari had resigned on June 11 and she has accepted his resignation.
* Where is the question of humanity in this?: Congress leader Anand Sharma in Rajya Sabha on Lalit Modi row
* Central govt should remove Sushma Swaraj and Vasundhara Raje. It is a serious issue: Mayawati on Lalit Modi row
* There was news that BSP supports Land Bill, but I will clarify that its false news, we are against this bill: BSP chief Mayawati
* We will try to ensure session runs smoothly and work gets done: Speaker Sumitra Mahajan
* PM Modi meets senior ministers, Rajnath Singh, Venkaiah Naidu, Sushma Swaraj, Arun Jaitley and Manohar Parrikar.
Prime Minister Narendra Modi today expressed hope that the Monsoon Session of Parliament will be fruitful and all MPs will contribute towards making good decisions.
"I hope that promises made by some political parties during the last session to help good decisions in this session will be kept," Modi told reporters outside the Parliament.
64 legislations pending
Sixty-four bills, including the Land Acquisition Legislation, are pending in the Parliament at various stages. According to PRS Legislative Research, other important pending bills are GST Bill (122nd Amendment Bill); Prevention of Corruption (Amendment) Bill, 2013 and Whistleblowers Protection (Amendment) Bill, 2015.
There are some bills like Companies (Amendment) Bill, 2014; Regional Rural Banks (Amendment) Bill, 2014 and Public Premises (Eviction of Unauthorised Occupants) Amendment Bill, 2014 which have been passed in Lok Sabha, but are waiting the approval of Rajya Sabha to become a law.
There are some bills like the Nuclear Safety Regulatory Authority Bill, 2011 which were introduced by the then UPA government but are yet to be passed by the Parliament.
The government has a majority in Lok Sabha, but does not have the required number in Rajya Sabha, which has resulted in non-passage of many legislations. For a bill to come into force and get a presidential assent so that it can become an act, it has to be passed by both the Houses.
Yesterday, in a meeting of National Democratic Alliance (NDA) leaders, Modi told allies that the government should not be on the backfoot against the opposition. He also called on the allies to appear united, and promised to look into the concerns of allies opposing the Land Bill.
The opposition parties are prepared to launch an attack on the government over issues ranging from the Lalit Modi controversy to the Vyapam scam, with the Congress insisting on the resignation of "scam-tainted" ministers.