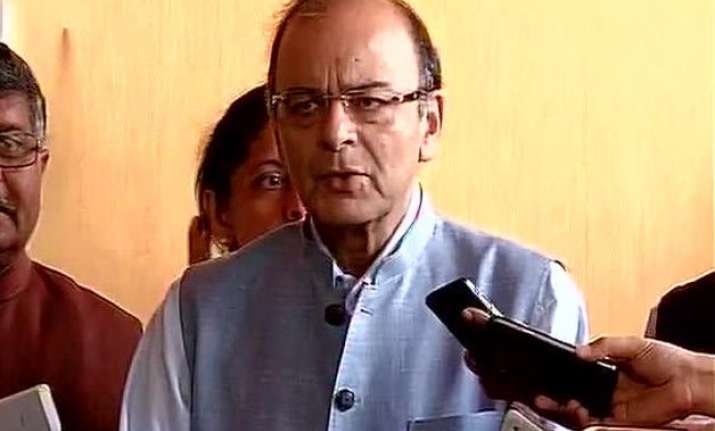 New Delhi: A combative government today accused opposition parties of running away from a debate as they created uproar in Rajya Sabha over Lalit Modi controversy ignoring its offer of a discussion and a statement by External Affairs Minister Sushma Swaraj on her help to the former IPL chief.
Finance Minister Arun Jaitley, who is Leader of the Upper House, said government offered that the issue can be discussed in the House with Swaraj making a statement on it, but the opposition rejected it.
"We get a distinct and clear impression that the opposition wants disturbance for some time. They don't want a discussion. The government is publicly declaring, as we have in the House, that we are ready for a discussion in any format, at any time," he told reporters after Rajya Sabha was adjourned repeatedly over the issue.
Jaitley said the government offered that it was ready for a discussion on any issue but opposition rejected the offer.
"We offered that Sushma Swaraj could reply to the discussion. Other central ministers if necessary will also reply to the discussion and in case they want her to make a statement, we can even start with her making a statement and the discussion could be structured around her statement. We left the option to the opposition which has not been accepted by them," he said.
The Finance Minister said government even offered to adjourn the House till lunch to enable the opposition to come prepared for a discussion on the issue, but the opposition was not ready for it.
To a question on the demand for Swaraj's resignation raised by the opposition, Jaitley said, "Let the facts come out and whether anyone is at fault or not, things will become clear."
He said the opposition had given a notice under Rule 267 for suspension of Question Hour and proceedings and to take up a discussion against Sushma Swaraj and some state leaders, including Chief Ministers.
Jaitley, however, said state issues cannot be discussed in Parliament as per past precedents and the federal politics of the country.
"Obviously state issues can't be discussed. There has not been a single precedent in the history of Indian Parliament where state issues are discussed. That's the part of federal politics of India. But as far as other issues are concerned, we offered that we are ready for discussions and we are ready right now for a discussion," he said.
The Lok Sabha was today adjourned after paying homage to a deceased member Dalip Singh Bhuria, but Rajya Sabha was disrupted by the opposition led by Congress.
The Rajya Sabha saw repeated adjournments on the controversy over Swraj helping the former IPL Commissioner to get travel documents.