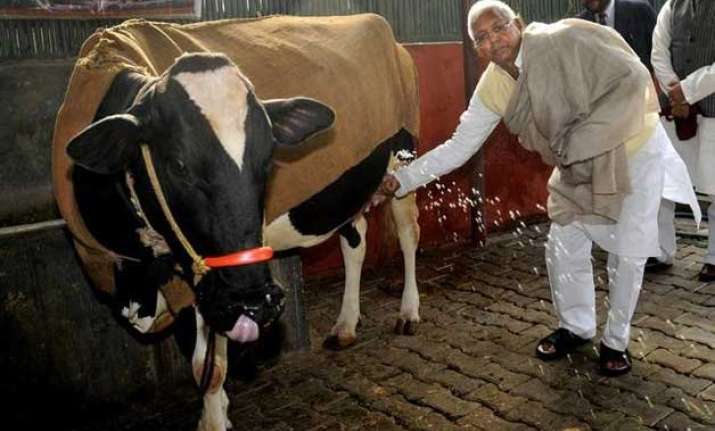 Patna: Senior BJP leader Sushil Kumar Modi on Wednesday charged RJD supremo Lalu Prasad Yadav with hiding black money that he allegedly made out of fodder scam by running dairy business and rearing cows.
"It's not out of respect for cow, a sacred animal for Hindus that Lalu Prasad is running dairy business and rearing cows, but he was doing so to hide black money that he has made out of the fodder scam," Sushil Modi tweeted.
Questioning the RJD supremo's faith in cow being a sacred animal, he said in another tweet, "He does not rear cows out of faith and that is why he advocates beef eating ... Lalu Prasad should clarify whether his sons and daughters know about making dung cake or milk cow?"
Under persistent attack from the BJP over his remarks that "Hindus too eat beef", Prasad had on Tuesday attacked its leader for lacking faith in cow being a sacred animal and asked as to how many of them have cowsheds at their homes.
Accusing the BJP leaders of keeping dogs as pets, the RJD supremo had slammed them for questioning his faith in cows saying that he runs a cowshed with 100 to 500 cows. "Kutte paalne wale hum gau palakon ko na sikhayen (those who keep dogs as pets should not teach us (cattle rearers) about anything," the RJD supremo had retorted at the BJP leaders for gunning for his head for his controversial remarks.