Follow us on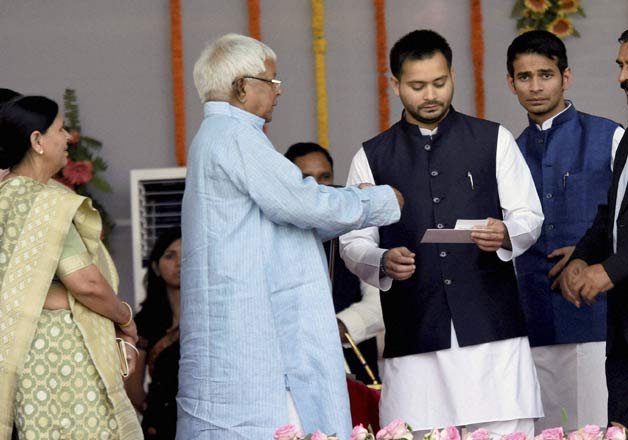 New Delhi: Nitish Kumar on Friday took oath as Bihar's Chief Minister for the fifth time and along with him 28 others swore oath as ministers in his cabinet.
Lalu Yadav's younger son Tejashwi Yadav, 26, has been named Deputy Chief Minister. He has been entrusted with portfolios of Road Construction, Building Constructions & Backward Class Development.
Tejashwi's elder brother Tej Pratap Yadav has been also made minister in Bihar cabinet. He is given some high profile departments such as Health, Forest and Environment, Backward & Extremely Backward Class Welfare Ministry.
Tejashwi and Tej Pratap's rise to power signifies the next generation of Lalu Yadav's political dynasty. Many have accused him of indulging in dynastic politics.
While defending his decision to field his sons in assemble elections, Lalu said recently, "A doctor's son becomes a doctor, an engineer's son becomes a doctor then why a politicians' son can not become a politician."
What is interesting here is that the sons of once "charwaha" own super bikes, luxury cars and property, both moveable and immoveable, worth in few crores.  
Here is the complete list of what Yadav brothers own:
Tej Pratap Yadav:
1- According to his election affidavit, he is 25 years old.
2- His educational qualification is upto Intermediate (class 12th) from BSEB college, Patna.
3- Tej Pratap has movable assets of Rs 1.12 crore (Rs 1,12,25,199.90 to be exact).
4- He owns a BMW car which is worth over Rs 29 lakh. He also owns a Honda CBR Motor Cycle which he claims is worth over Rs 15 lakh.
5- The elder of Yadav brothers also owns agricultural land, commercial and residential properties in Gopalganj and Patna districts of Bihar. He shares most of his properties with younger brother Tejaswi Yadav.
6- His total income is Rs 4.45 lakh (Rs 4,45,105 as shown in income tax return).
7- He is contesting from Mahua assembly seat in Vaishali district, a Yadav dominated area.
Tejashwi Yadav:  
1- The election affidavit filed by Tejashwi shows that he is 26 years old.
2- He has played First Class Cricket and represented Jharkhand in domestic circuit. He was bought by the IPL team of Delhi Daredevils in the IPL but never played in a match.
3- He is considered to be the political successor of Lalu Yadav.
4- Tejashwi studied in Delhi's renowned RK Puram branch of Delhi Public School but dropped out after class 9th.
5- His total movable assets are worth Rs 1.4 crore (Rs 1,40,93,822). He also owns some properties in Gopalganj and Patna districts.
6- He does not own a car in his name but earns more than his brother. His total income is Rs 5.08 lakh (Rs 5,08,019 as shown in income tax return).
7- He has filed his nomination from Raghopur assembly seat in Vaishali district.