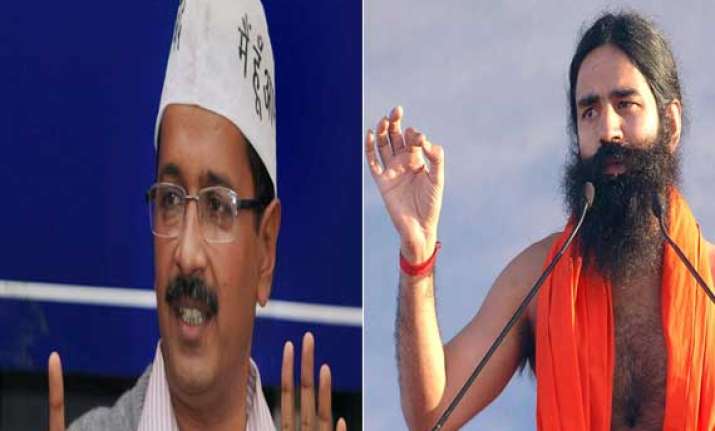 Jammu: Hitting out at Delhi Chief Minister Arvind Kejriwal for calling leaders corrupt "without any proof", yoga guru Ramdev today said the Aam Aadmi Party leader who had set out to cleanse the system has "lost his way".
"We should give proof while levelling allegations. It is the biggest dishonesty to label people as dishonest and defend your own corrupt people like Somnath Bharti, who has created uproar in the country with his acts," he told reporters here.
Describing Kejriwal as his "former associate", Ramdev said they had backed him on the issue of war against corruption "but he is deflecting from his mission. There is difference between his words and deeds now. I feel sorry for him.... He has got derailed from the path. It pains us."
"AAP has lost its sense and also Kejriwal, who labeled (BJP leader Nitin) Gadkari as corrupt in order to prove himself as honest person. He is trying to portray himself as honest and all other leaders as dishonest. That is bad".
He said people, who have come up as an alternative to the traditional politics in the country, should go for clean politics and issue statements with seriousness.
"His (Kejriwal's) workers do not desist from terming Narendra Modi as corrupt. By doing this, he will further lose his respect and dignity," Ramdev, who has openly backed the BJP primeministerial candidate, said.  He also questioned the CM's allegations against Union Minister Farooq Abdullah.
"Farooq Abdullah is a very serious person. Whatever Kejriwal is doing is a cheap act," he added.