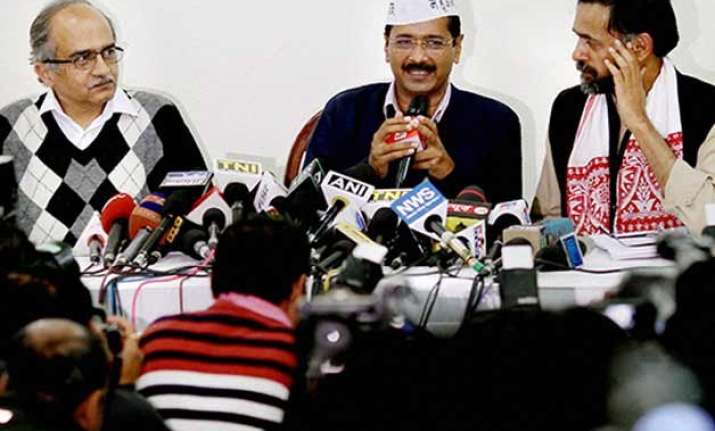 New Delhi: The Aam Aadmi Party (AAP) is preparing grounds to throw out two rebellions Prashant Bhushan and Yogendra Yadav from party when the 350-member National Council will meet on March 28.
Also party's national convenor Arvind Kejriwal, who returned to Delhi yesterday evening after undergoing treatment at Jindal Institute of Naturopathy in Bengaluru, will resign from the top party post on same day, FIRSTPOST reported today.
Sources said that party bigwigs Sanjay Singh, Ashutosh and Kumar Vishwas are strong contenders for the post.
ALSO READ: Sign of a truce in AAP, senior leaders meet Yogendra Yadav
"Efforts are on to reach a consensus on the proposed ouster of the rebel leaders. The Kejriwal camp wants to throw them out. After removing all dissenters, Kejriwal will also quit the post of party convenor," a senior party leader was quoted as saying in the report.
The duo was axed from top decision making body, political affairs committee (PAC), earlier this month. However, they are still members of the party's national executive.
The rift within the AAP came out in the open soon after its victory in the Delhi Assembly polls. The infighting was reported in media after few letters exchanged between the top leaders were leaked.
Meanwhile, the AAP chief today responded to Yadav and Bhushan who had yesterday extended an olive branch to Kejriwal by seeking time to meet.
"Will meet soon," Kejriwal replied. An SMS was sent to Kejriwal yesterday morning on behalf of both the leaders.